2 March 2015 Edition
1916 centenary programme of events launched
Birthplace of Irish Volunteers in 1913 chosen to unveil Sinn Féin's 'national conversation' on the deeds and ideals of the men and women behind the Easter Rising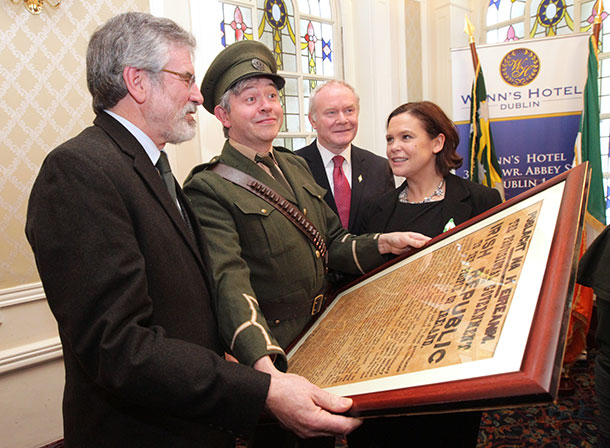 THERE could be no more fitting place for the launch in February of Sinn Féin's nationwide 'Programme of 1916 Commemorative Events' than Wynn's Hotel in Dublin, where the Irish Volunteers and Cumann na mBan were founded. And it could have had a no more fitting audience than descendants of the men and women of the 1916 Easter Rising joining Sinn Féin and the Ambassadors of the revolutionary states of Palestine, South Africa and Cuba.
Under the banner of 'Revolution 1916', Bartle D'Arcy, National Programme Co-ordinator of the Sinn Feín Centenaries Commemorations, told the packed room that Sinn Féin's events are to be inclusive and public participation are key to bringing the deeds and ideals of 1916 to new generations. They are not the preserve of Sinn Féin, he said, telling An Phoblacht: "1916 belongs to the people of Ireland, not any single party."
Deputy First Minister Martin McGuinness MLA said Sinn Féin's "impressive range of national events" aims to "engage people, including our political opponents, in a national conversation about where we have come from and where we are going to as a country, as an Irish nation in 2016 and beyond".
James Connolly's great grandson, James Connolly Heron, said many of the relatives are happy to support Sinn Féin's programme. Described by Mary Lou McDonald TD as "a formidable campaigner" in a 14-year battle to save from shopping centre developers the historic Moore Street last HQ of the rebels evacuating the GPO garrison, James Connolly's descendant paid tribute to Sinn Féin Dublin City councillors for their leading role to save "the lanes of history".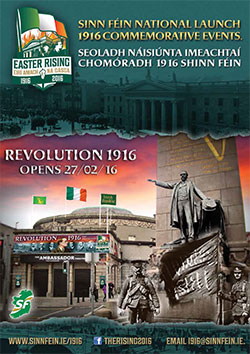 Sinn Féin President Gerry Adams TD said that Ireland needs "the spirit and the vision, the selflessness and generosity, of those who struck for freedom almost 100 years ago". He added:
"Our goal, like theirs is to build a new future; a New Republic.
"The centenary celebration of the Easter Rising is a time to build.
"It is a time to rededicate ourselves to the achievement of the politics of Wolfe Tone, of Pádraig Pearse and James Connolly, of Máire Drumm and Mairéad Farrell, and of Bobby Sands.
"Let us remember and honour those who rose in rebellion but, more importantly, let us complete their work."
A PDF of the initial programme of events (other events are being added) can be viewed or downloaded at sinnfein.ie/1916, where you can watch the Sinn Féin 1916 video.
Programme of 1916 Centenary Events
Revolution 1916 Éirí Amach Exhibition, from February 2016
Opening on Saturday 27 February 2016 for 33 weeks in The Ambassador Theatre, O'Connell Street, Dublin 1. 
This is part of the Rotunda complex and the birthplace of Sinn Féin in 1905. It is where the men of 1916 signed up for the Irish Volunteers in 1913.
O'Donovan Rossa Funeral Centenary 
Saturday 1 August 2015
Sinn Féin working with the Glasnevin Trust and other groups will re-enact the 1915 funeral procession with horse-drawn hearse and guard of honour from City Hall to Glasnevin Cemetery for a drama of the famous graveside oration by Pádraig Pearse.

Women of the Revolution – Mná na Poblachta
2pm Sunday 6 March 2016. O'Connell Street and GPO
Celebrating International Women's Day (8 March) on Mothers' Day by honouring Cumann na mBan and all the women who took part in the 1916 Rising, fighting for Irish freedom and women's rights. Over 220 women were in the 1916 garrisons.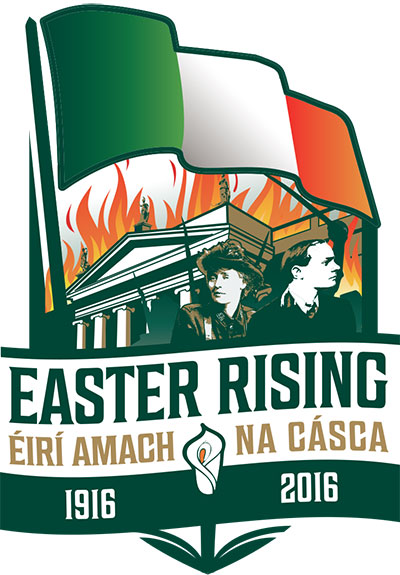 Easter Weekend, 26 to 28 March 2016
Easter Saturday 11am. Irish Citizen Army parade from Liberty Hall to St Stephen's Green Garrison. Sinn Féin will welcome home the Diaspora from around the world to take part in a series of special events over Easter Weekend.
Easter Sunday. Nationwide Easter commemoration parades including Dublin, Belfast, Cork and Galway. Commemorative plans for Banna Strand, Enniscorthy, Ashbourne and other areas of activity.

The Rising 2016 Son et Lumiere
Using the portico of the GPO as a giant screen, The Rising 2016 will run nightly from 24 to 29 April (the actual dates of the Rising) 2016 and will depict through 3D video mapping projection the story of the 1916 Rising played out on the actual headquarters. Watch as the GPO comes under shell fire and catches fire, see the rebels escape and their last stand. Witness the trials and experience the executions before the grand finale interpreting the events that followed the Rising.
'Reclaim the Vision of 1916 – A Citizens' Initiative for 2016'
Sinn Féin is working with the Citizens' Initiative supporting the 'Reclaim the Vision of 1916' celebration on Sunday 24 April 2016. This will be the biggest mobilisation of 2016. 
Prison Vigils – Fáinne Geal an Lae: The Dawning of the Day
Dawn vigils on execution dates at Kilmainham Jail at 3am on 3, 4, 5, 8 and 12 May; Cork on 9 May; and Pentonville in London on 3 August.
Belfast – Ag Fíorú na Phoblachta
A series of events marking the life of James Connolly and the unveiling of a piece of public art from 12 May.