2 March 2015 Edition
SIPTU community workers fight privatisation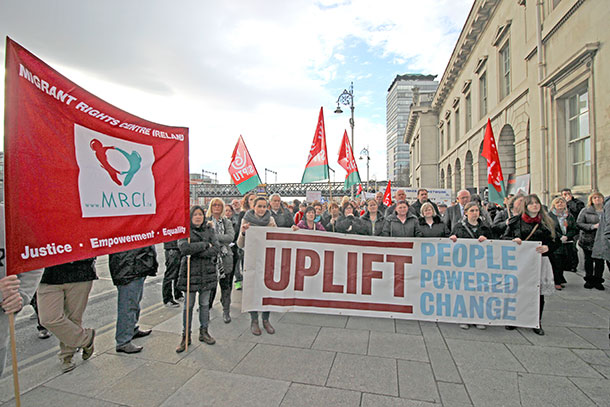 'The threat of privatisation will be an issue for everyone in the community and voluntary sector unless we take a stand now' – SIPTU'S Darragh O'Connor
SIPTU members working in the Local and Community Development Sector held a protest outside the Department of Environment, Community and Local Government (DECLG) in Dublin on Wednesday 18 February to highlight the Government's drive to privatise community social inclusion programmes (SICAP). 
The more than 500 protesters from across the state also highlighted the refusal of the DECLG to negotiate with community workers and their union representatives concerning changes to their conditions of employment and threatened job losses despite a Labour Court recommendation supporting such talks.
Local Development Companies provide a range of services including access to employment, adult education, training, enterprise support, community development, childcare and rural development. Just under 2,000 workers are employed in these companies which also manage a range of employment programmes such as LEADER, TUS, Rural Social Schemes and the Community Employment Programme. They have already endured cuts of 50% to core funding, and a new tender process initiated by the DECLG may see up to 15 such companies close.
Speaking at the rally, SIPTU's Darragh O'Connor said:
"Privatisation is the emerging ideology within Government departments. The social inclusion programme (SICAP) is the guinea pig for the department's free market experiment as community organisations are pitched against each other to win tenders. This is not just an attack against the social inclusion programme; the threat of privatisation will be an issue for everyone in the community and voluntary sector unless we take a stand now."
SIPTU community sector activist, Donnie O'Leary, said: "Workers across the country are being placed on protective notice with some having already been made redundant. We are calling on Minister Alan Kelly to respect the recommendation of the Labour Court and direct his department to immediately engage meaningfully with community sector workers through our union in order to ensure that our concerns over privatisation, terms and conditions and job losses are addressed."