14 February 2015
Born this day – Seán Treacy killed in Dublin City Centre shoot-out with British agents, 1921
Remembering the Past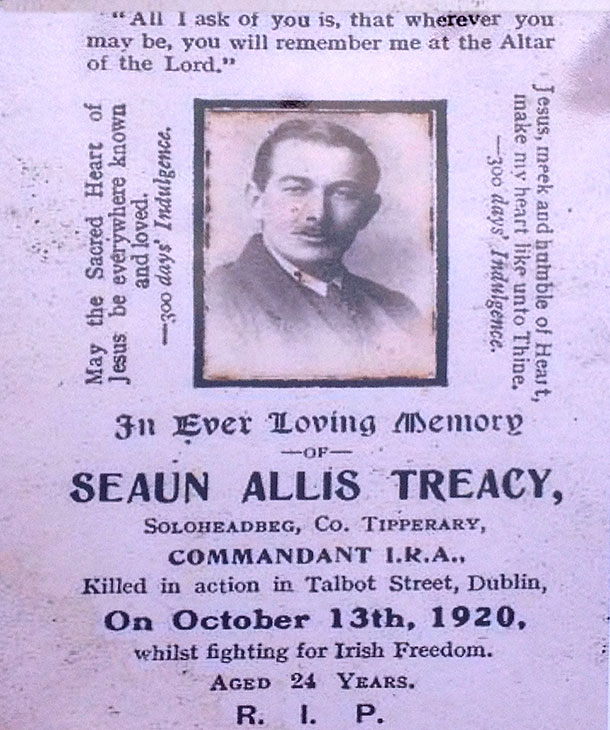 ON 14 October 1921, Seán Treacy was killed during a gun battle in Dublin City Centre's Talbot Street with British agents and troops.
Treacy, from County Tipperary, had one of the most distinguished careers of an Irish rebel. He was with Dan Breen at Soloheadbeg, the ambush where the first shots of the Tan War were fired; he took part in the attack on Lord French at Ashtown; and he once single-handedly attacked a patrol of British soldiers in Cahir.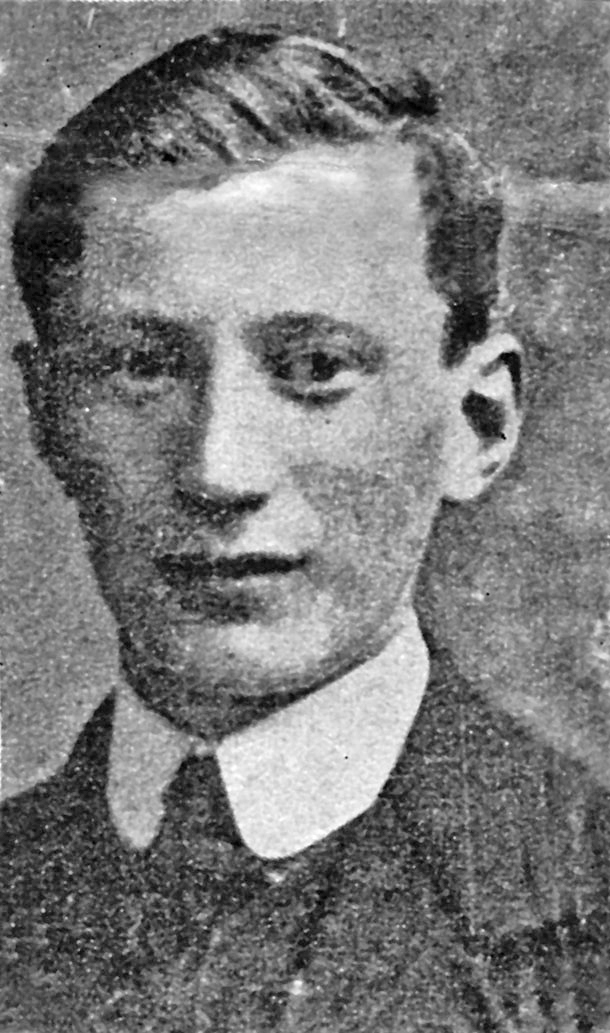 A young Seán Treacy
Seán Treacy and Dan Breen had come up to Dublin to meet with the IRA's GHQ. On 12 October 1921, while staying in Fernside (a 'safe house' on the Drumcondra Road), they were raided. Police and the British Army surrounded the house but, following a shoot-out, Dan (who had received five gunshot wounds) and Seán made their escape by jumping through a conservatory roof and passing through the grounds of St Patrick's College.
Dan Breen was taken to a nursing home in the Mater Hospital while Seán Treacy waited in the city for news of his comrade's health.
Over the next two days, Seán evaded many of the spies and spotters that Dublin Castle had sent out to find the two men. On the 14th, his luck ran out.
Séamus Robinson, Seán Treacy, Dan Breen, Michael Brennan and Seán Hogan (inset)
Seán attended a meeting at the "Republican Outfitters" on Talbot Street (a well-known IRA haunt owned by the Boland family) with Dick McKee, Leo Henderson and Joe Vize.
At 4.15pm, the meeting concluded and the four men were standing close to the entrance of the shop when they heard the approach of two lorries full of armed soldiers. Dick McKee was closest to the door and, after looking out, he shouted: "They're coming – get out!"
Seán rushed out of the shop and grabbed a bicycle that was not his own and was too big for him. He overbalanced and was immediately fired on by two of the plainclothes detectives that had accompanied the soldiers. Seán returned fire and drove them off; one of them, Francis Christian, a Castle spy, collapsed and died. Two more assailants fired at Seán from close range. As Treacy turned to tackle one he was shot through the head at five yards' range and fell dead. One of his opponents, Price, was killed outright and lay dead at Seán Treacy's feet.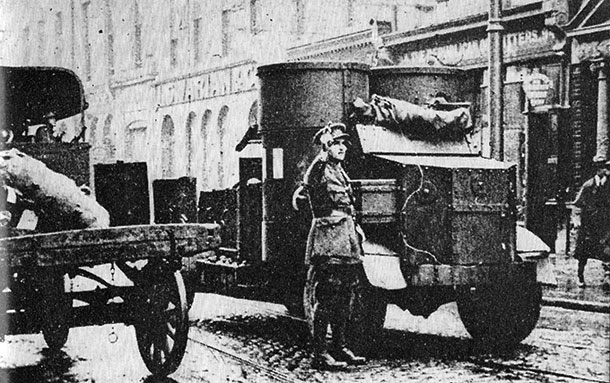 Panicked British soldiers firing indiscriminately on the crowds of civilians caught on the street killed two innocent bystanders 
Seeing some of their agents fall caused panic among the British soldiers and they began firing indiscriminately on the crowds of civilians caught in the street. Two innocent bystanders were killed by the soldiers: a 15-year-old messenger boy called Patrick Carroll and Joseph Corringham, who was hit in the stomach by a bullet as he cycled up the street.
After the gun battle, an IRA Volunteer named Seán Brunswick managed to remove papers, dispatches and personal belongings from Seán's lifeless body and deliver them to IRA GHQ.
Seán's body lay in state in the Procathedral until it was brought to his beloved Tipperary on 18 October 1921 and buried in Kilfeacle Graveyard. When the last prayers had been said, Brigade Adjutant Con Moloney came forward and said:
"Seán Treacy is dead. His death is a great blow to us and to Ireland. But his loss must not unnerve us. Rather must it strengthen our resolve to continue on the path he opened for us, to strive for the ideals for which he gave his life, if necessary to die fighting as Seán did."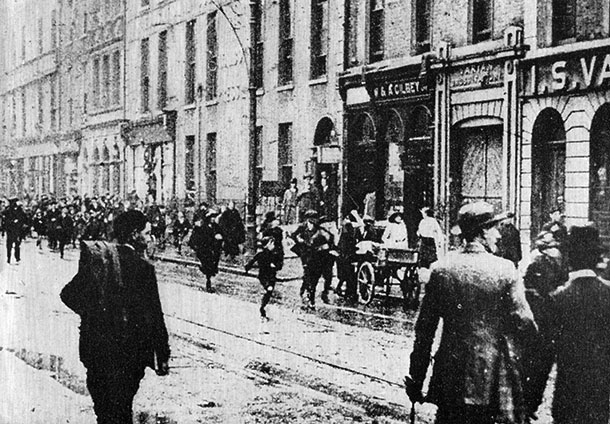 Crowds rush up Talbot Street after the shooting
Seán Treacy fatally wounded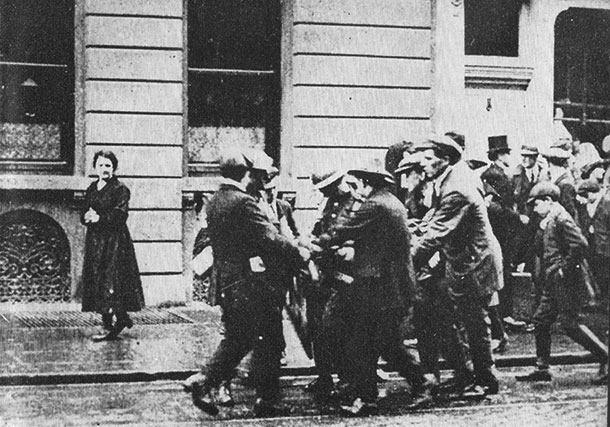 Francis Christian, a Castle spy, is carried down Talbot Street to the British Army lorries after he had collapsed and he died shortly after
The dead bodies are removed