7 February 2015
Peter Barnes and James McCormack – Hanged in England, 7 February 1940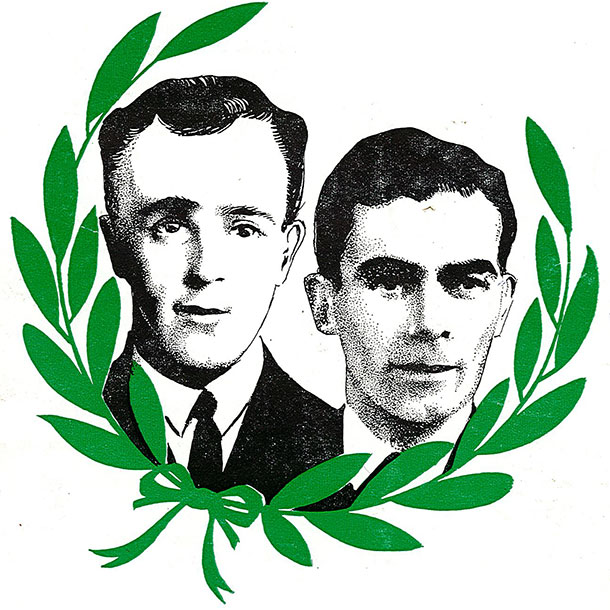 IRISH REPUBLICANS Peter Barnes and James McCormack were hanged in Winson Green Prison in Birmingham on 7 February 1940. They were buried in the prison grounds and plain crosses with only their initials marked the graves. It took nearly 30 years before relatives were allowed to reclaim their bodies.
Peter Barnes was born in Banagher, County Offaly, in 1907. At the age of 14 he joined Fianna Éireann and, three years later, the IRA. He was one of the first to volunteer for active service in England during the campaign of 1939 and was appointed Transport Officer, operating between Glasgow, Liverpool and London.
James McCormack was born in Mullingar, County Westmeath, in 1910. He joined the IRA in Tullamore. In early 1939, he volunteered for active service in England. He served for some time as Operations Officer in London and Birmingham before being posted to Coventry in May 1939. By August 1939, he was appointed O/C of Coventry.
On 25 August 1939, a bomb exploded outside a shop at the Broadgate Centre in Coventry, killing five people. The bomb was concealed in the carrier of a bicycle and prematurely exploded. It is believed it was intended for an electricity generating station outside the town. Neither Barnes nor McCormack was responsible for placing the bomb.
Within hours of the explosion, Peter Barnes, who was in London on the day of the explosion, was arrested at 176 Westbourne Terrace, where he was lodging. Three days later, McCormack (alias James Richards) was detained along with the other tenants of 25 Clara Street.
• Peter Barnes and James McCormack
TRIAL
The trial commenced in December 1939. Peter Barnes and James McCormack were convicted and sentenced to death by hanging. Throughout the court case, McCormack remained silent until he told the court: "As a soldier of the Irish Republican Army, I am not afraid to die, for I am dying in a just cause."
Barnes addressed the court, stating:
"I would like to say as I am going before my God, as I am condemned to death, I am innocent, and later I am sure it will all come out that I had neither hand, act or part in it. That is all I have to say."
On the night before his execution, Peter Barnes wrote to his brother, protesting his innocence:
"If some news does not come in the next few hours, all is over. The priest is not long gone out, so I am reconciled to what God knows best. There will be a Mass said for us in the morning before we go to our death. Thank God I have nothing to be afraid of. I am an innocent man and, as I have said before, it will be known yet that I am."
On the same night, James McCormack wrote a letter to his sister, both his parents being deceased:
"This is my farewell letter as I have been just told I have to die in the morning. As I know I am dying for a just cause, I shall walk out tomorrow smiling, as I shall be thinking of God and of the good men who went before me for the same cause."
In Winson Green Prison, at 8:50am on 7 February 1940, Barnes and McCormack received a final blessing. Minutes later, they walked together to the scaffold and were hanged by four executioners. Widespread protests by Irish people at home and abroad and pleas for clemency were ignored by the British Government. Public mourning was widely observed in Ireland on the day of the executions.
• The re-internment in Mullingar was attended by 15,000 people
MULLINGAR
As early as 1949, a committee was formed in London to press for the return of the bodies. This was finally fulfilled in 1969. The bodies were removed from the prison yard and flown to Dublin. On arrival at Dublin Airport they were met by family members and an IRA guard of honour.
The reinterment in Mullingar was attended by an estimated 15,000 people. Mass was said in Irish in the Cathedral before the funeral to Ballyglass Cemetery. Among those attending were three brothers of Peter Barnes and a sister and brother of McCormack.

Funeral of Peter Barnes and James McCormack
The funeral was also notable for the graveside oration by veteran Belfast republican Jimmy Steele. He denounced the political direction of the IRA leadership in remarks that were a prelude to the split in the IRA and Sinn Féin later that year. The split was to be precipitated by the cataclysmic events in Belfast and Derry in August 1969, just a few weeks after the Mullingar funeral.
● Peter Barnes and James McCormack were hanged on 7 February 1940, 75 years ago this week.