14 December 2014
Detroit Water Brigade memento from Dublin Sinn Féin councillors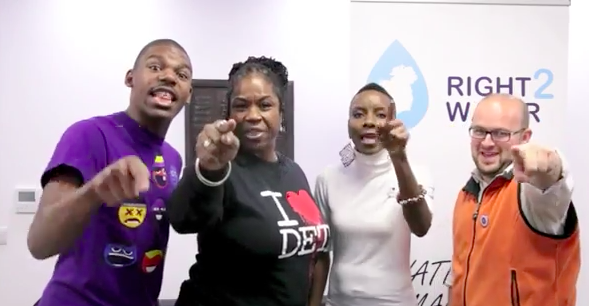 THE Detroit Water Brigade, who travelled more than 4,000 miles from the United States to show solidarity with the Right2Water campaign, were given a special 'James Connolly connection' presentation by Sinn Féin.
The gesture was made at an event hosted by Sinn Féin Councillor Larry O'Toole and attended by a cross-section of Left councillors.
The text reads:
To the Detroit Water Brigade
Solidarity from Dublin Sinn Féin
"Our demands most moderate are – we only want the earth" – James Connolly
ON the occasion of your visit to Ireland, Dublin Sinn Féin salutes the Detroit Water Brigade. We share a common struggle for water as a basic human right – not a source of private profit. 
We recall the visit to your city, Detroit, Michigan, by our Irish revolutionary leader James Connolly in December 1902 during his first speaking tour of the United States. He spoke in Bamlet Hall and told workers that they had within them the power to defeat poverty and injustice.
James Connolly, lived, worked, struggled and died for human freedom. He was executed by the British Government on 12 May 1916 for his part in the Easter Rising. 
In solidarity from Dublin Sinn Féin, December 2014
Ní neart go cur le chéile – Unity is strength
Sinn Féin Councillor Mícheál Mac Donncha said:
"I found the Detroit connection with James Connolly in his biographies. He spoke there on his first speaking tour in the United States in 1902."
◼︎ Special thanks to Mark Dawson of An Phoblacht for designing the presentation.
● Below: Dublin City Councillors Larry O'Toole, Mícheál Mac Donncha and Ciarán O'Moore at a water tax protest against an Irish Water executives' visit to City Hall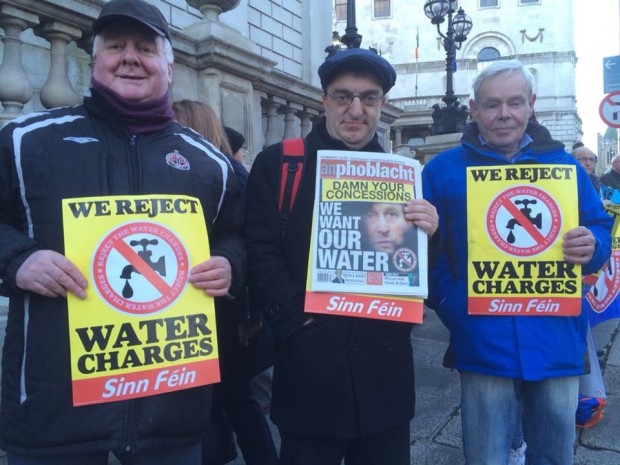 An Phoblacht on Twitter

An initiative for dialogue 
for reconciliation 
— — — — — — —
Contributions from key figures in the churches, academia and wider civic society as well as senior republican figures