10 December 2014
Óglach Antoine Mac Giolla Bhrighde remembered at Coolcalm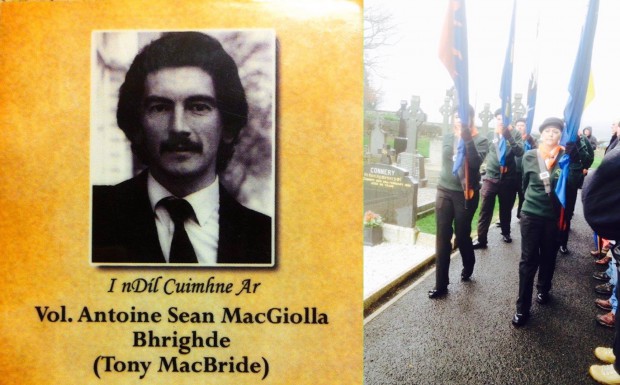 THERE was a large attendance at Sunday's republican commemoration at Coolcalm Churchyard (Desertmartin) to mark the 30th anniversary of the death on active service of Óglach Antoine Mac Giolla Bhrighde.
Antoine died while engaging enemy forces along the Fermanagh border on 2 December 1984. His comrade, Ciarán Fleming from Derry City, lost his life in the same IRA operation which would also see an SAS trooper die in combat.
Family, friends and comrades of Antoine were among the large crowd that heard former IRA leader, H-Block escapee and current Sinn Féin Six-County Chair Bobby Storey pay tribute to Antoine for his dedication as a republican soldier and a Sinn Féin representative at home in Ireland and abroad.
The South Derry Martyrs Flute Band played at the event, which was chaired by lead organiser for County Derry Sinn Féin Republican Youth, Seán Bateson.
An Phoblacht Magazine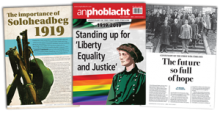 AN PHOBLACHT MAGAZINE:
Don't miss your chance to get the first edition of 2019 published to coincide with the 100th anniversary of An Chéad Dáil and Soloheadbeg.
In this edition Gerry Adams sets out the case for active abstentionism, Mícheál Mac Donncha takes us back to January 21st 1919, that fateful day after which here was no going back and Aengus Ó Snodaigh gives an account of the IRA attack carried out on the same day of the First Dáil, something that was to have a profound effect on the course of Irish history.
There are also articles about the aftermath of the 8th amendment campaign, the Rise of the Right and the civil rights movement.
An Phoblacht on Twitter

An initiative for dialogue 
for reconciliation 
— — — — — — —
Contributions from key figures in the churches, academia and wider civic society as well as senior republican figures