6 December 2014
Hooded Men – Testimony on torture during internment
Taken from 'Torture – The Record of British Brutality in Ireland' (1972)
'At one stage I was put into a room with my face against the wall. A shot was fired. It sizzled past my ear and either lodged in the wall or went right through it, I am not sure which. There were several police outside and they all had a good laugh at this.'
William (Liam) Anthony Shannon (24), St James's Crescent, Belfast.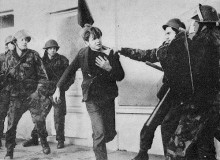 I WAS TAKEN into custody by the military at St James's Road on Saturday, October 9th 1971, at approximately 11:30pm.
I was first taken to Springfield Road Police Barracks where I was held for one hour. I was taken there by the military. I should state that before I was taken into custody I panicked and ran and two shots were fired, neither of which struck me.
I was then taken to Girdwood Park Military Barracks, Antrim Road, in an armoured military vehicle. This was early on Sunday morning. 
I was there for approximately half an hour and was removed by the military from Girdwood to Holywood Military Barracks. I was in Holywood Military Barracks till Monday evening.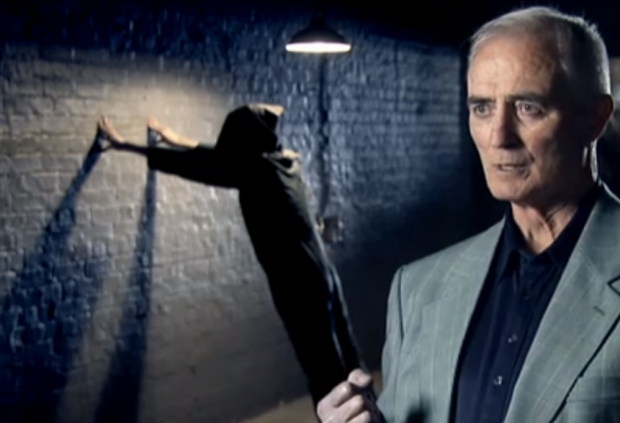 ● Another of the 'Hooded Men': Gerard McKerr (Image: RTÉ)
I was interrogated by a member of the Special Branch.
I was spreadeagled against the wall. My feet were kicked from under me. I was made count the holes on the wall, a section of which appeared to be made of pegboard material. I told him there were 23 spots. He said I was wrong and I got a thumping.
I was threatened with a truth drug. He took my coat off. He had a syringe in his hand. He asked me had I any illnesses. I told him I had an ulcer. He then remarked, "Maybe it's well not," meaning not to inject the truth drug.
He had the needle up to my arm and was about to inject it. He kept punching me on the head and on the shoulders and back, as well as in the sides and in the back of the neck. This happened over a period of approximately one hour and a half.
He then sent me into a room with a lot of other fellows. I was made sit facing the wall. Periodically, from Sunday to Monday afternoon, I was pulled out of the room and back into the first room. On Sunday morning, I, with others, was made clean the whole place out.
Interrogation continued on and off all day Sunday.
At one stage I was put into a room with my face against the wall. A shot was fired. It sizzled past my ear and either lodged in the wall or went right through it, I am not sure which. There were several police outside and they all had a good laugh at this.
In a room off this room, which had cubicles in it, about six policemen kept taking out their guns, emptying them and pulling the trigger. They were in uniform. All this carry-on went on until Monday.
I got a couple of hours' sleep on Sunday night. On Monday morning the interrogation commenced again by two young Special Branch officers. Again I was spreadeagled. Continual interrogation. I was put back into a cubicle. I was always made face the wall and not allowed to look around me.
I was beaten three or four times by a police officer in uniform who had had some sort of a plastic hose. He was not satisfied as to how quick we were cleaning up the place.
On the following Monday I was taken to Crumlin Road Prison.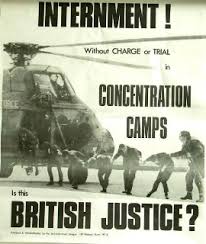 I was there no more than ten minutes and then taken out again. I do not know where I was taken to after that. I remember going down the inside of the jail.
My coat was taken off and wrapped round my head. I was heaved out of a tender for about 15 minutes. I do not know where. I was put into a helicopter. The engines roared and it lifted but I do not know whether it actually took off or not. There were two Special Branch men. I appeared to be in the helicopter for about 20-30 minutes.
The helicopter then landed. I had the coat still on my head. I was thrown out onto the ground as soon as it landed. This appeared to be quite a drop of about three or four feet.
I was then put into what I think was an army lorry. The coat still round my head. The lorry drove off and I appeared to be about ten minutes in it. I was taken out of the lorry and put into a room.
A doctor took the coat off my head.
This was a square room with no windows. I was told to strip completely and was examined. I think he was an army doctor. He appeared to be very English.
I was then taken into another room. I do not know where this was – still undressed – the bag was put over my head again and I was put against the wall. The bag was then pulled off and I was photographed. I was made turn around and the number '21' was drawn in blue on the back of both my hands. The bag was then taken off again and I was given a pair of overalls. I put them on. I was then taken away. There was then more interrogation. I do not know where I was.
I was made stand for hours at a time spreadeagled.
At one stage I was taken out into a garden. I had the overalls on me and there was only one button and the bag, over my head. There was a man at each side of me and they dragged and made me run all over the garden. This was taken in relays by the two men and lasted for about half an hour. I was then taken inside again against the wall and spreadeagled again. This was all on Monday but I do not know where.
The bag was taken off my head three times during interrogation. I did not recognise any of the men at this stage.
My feet were very badly bruised. I had no shoes or socks on me, only the overall. On the same day I was put into a room with a fantastic noise like steam hissing through a pipe. I was completely disorientated from this until today, i.e. the following Monday.
I had nothing to eat for, I reckon, four days except a cup of water and one round of dry bread each time. I got asleep after three days.
This went on and on. I had no idea where I was. I lost all track of time.
The noise of steam was varying – roaring at times then it would calm down and then roar up again. At one stage I was completely exhausted.
I was taken outside – I do not know where. I was put against a rough brick wall. The overall which had only one button was pulled open. The bag was still over my head and I was rubbed against the wall.
When eating (i.e. the dry bread and drinking the water) I was allowed to lift the bag up as far as my nose and no more. I got my first meal two days ago and I got my first wash today, Monday 18th October.
I arrived at Crumlin Road Prison at 1pm today, Monday. I have no idea where I was. I was taken out today, Monday, with a bag over my head and put into a helicopter.
The journey by helicopter appeared to be about half an hour (i.e. the helicopter journey today when I was taken to Girdwood Park). During the flight I heard someone with an English accent say that they had to stop to refuel before they crossed the sea. The helicopter came down and then took off again.
I was taken from Girdwood to the prison by a police Land Rover via Cliftonpark Avenue. I have bruises on my feet, legs, back and shoulders. I was made take a good wash before I was taken to Girdwood today.
The torture was mostly psychological with the exception of the punchings which I got on my first day there. I was warned by a Special Branch officer not to say anything about being ill-treated before I arrived at Girdwood.
On Sunday last when I was in Holywood a telephone call came through when I was in the cubicle.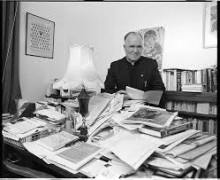 A man with an English accent answered the phone and said to a police officer, (bag not over head at this time), "This is that f ***** Faul again. He wants to know who's here." The Peeler replied: "Tell him to f *** off." [This is no doubt a reference to Fr Denis Faul, pictured above right, who has been phoning Holywood continually as to the whereabouts of Shannon.]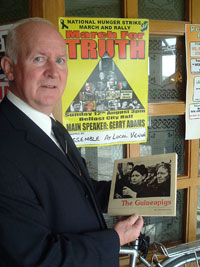 Liam Shannon in 2007
On Monday last, October 11th, when I arrived at Crumlin Road Prison, the Deputy Governor told me that the police wanted to remove me but he had no idea where I was being removed to.
On quite a few occasions during this interrogation, at wherever I was, a gun was put at the back of my head and the trigger pulled. From Monday last I have lost all conception of time. I do not know where I was. In fact I might say that I have seen daylight for the first time in a week today.
– Taken by Paschal J. O'Hare, solicitor.

Seán McKenna (42), Violet Hill, Newry.
I WAS ARRESTED at home about 4pm on Monday the 9/8/71 by the British Army.
I was taken to the UDR [Ulster Defence Regiment] centre at Belfast Road, Newry. I was searched here, photographed by the army and put in a room with about 30 others. About 11am (I think) we were taken outside and threw into a 3-ton lorry, about 10 or 12 of us.
We were forced to lie flat on the floor of the lorry and we were taken to Ashgrove School about a half-mile away. We left the school after 15 minutes and went towards Ballykinlar. Somewhere along the way we stopped and changed to another lorry.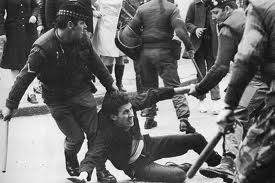 ● During internment, British soldiers did not worry about being filmed batoning nationalists in public – a taste of what was waiting away from the cameras
During the changeover from one lorry to the other we were kicked, punched, batoned, swore at and generally given dogs' abuse. We were forced to lie on the floor of this lorry. I was at the rear of it.
Various times during the trip I was kicked. My head was constantly rapped with a baton then my nose was on the flat of the lorry, as ordered. One soldier caught me by the hair and really roughed me up, much to the amusement of his comrades. He told me when we got to Ballykinlar he would take me into a room and "do" me properly.
The language on the trip was scandalous and it made me sick – "Fenian bastards" was the most common phrase. One other lad, Seán White from Newry, got a really vicious 'doing' and I felt very sorry for him.
In the front of the lorry the abuse was so bad the man who was in charge of the party was constantly ordering them to "lay off" but to no avail. The rest of the soldiers paid no heed to him. One time a car came up behind the lorry and he told them to "pack it in" as he didn't know that it might have been following us.
When we arrived at Ballykinlar Camp we were hauled out by the feet onto the ground. The soldier who had threatened me on the journey took me into the compound on the way there and stood in front of me. Pat White, from Newry, fell and two soldiers gave him an awful beating with batons while he was on the ground, and hauled him to his feet. It was really terrible.
The soldier with me had my left arm in an arm-lock grip and he was running me forward at great speed. As we approached the corner post of the compound – it was concrete with wire netting on it – he went to the side of it and rammed me into the post as hard as he could.
I was not expecting this as I thought we were going past it. I tried to save myself but the wrist on my right side took most of the blow and it is still very sore.
The soldier still held on to me. The crowd of army personnel thought this was very funny. I didn't. One heard screams of the men caught and the vile, unchristian language will live with me until I die. I didn't think man could be so cruel to his fellow man.
We had to give our names etc at the hut we were taken to and then made to sit with our hands behind our heads, put up against the wall and look at the yellow paint about six foot from the floor. There was approximately 40-50 men in the hut.
This sitting went on all Monday and well into the night. We were taken out occasionally but most of the time we were given exercises to do, which were enough. All the time they seemed to be grading the men in the hut as they brought men out and others in. About 3am Tuesday, the 'exercises' stopped and we were allowed to lie flat on the floor and sleep as we were, if we could.
I slept as I was exhausted. It only lasted for an hour or even less.
Tuesday brought the same routine.
Every position was a torture to me. Time is hard to remember but I think it was about 11am when we were taken out for a walk to a washroom. The distance from the hut to the washroom was about 50 yards and along this road we were ordered by soldiers to double our steps, run on the spot, run again, etc. We had about two minutes in the washroom, had to dry our faces with a filthy towel and then were dashed out again and the performance was repeated back to the hut. The shouting at us was outrageous.
During Monday and Tuesday we had any amount of water to drink, on request, and half a mug of nasty stew was served to us on Monday night, and on Tuesday we got tea some time in the morning, I'm pretty vague about what we had after that.
Tuesday night, about midnight, the torture closed. I was in agony both in mind and body.
An officer came in and told us we would get mattresses and blankets. At this time there was only four of us left and if we behaved ourselves we would have the use of the bedding, otherwise it would be the floor.
We brought the mattress and blankets in ourselves, under guard, and put one in each corner of the billet. Eventually we got to bed but after about 11 minutes we were ordered up outside one at a time and did six laps of the ground outside. Constantly we were ordered to run faster, given a lot of filthy swearing to egg us on. After about six laps we were ordered to relieve ourselves in a bunch in a hole in the ground in the centre of the yard.
Back to bed then, made to say "Goodnight, Corporal" (or Sergeant) and allowed then to get back to the mattress. This treatment went on at intervals until just before daylight.
Sometime before light we were allowed to rest for about 30 minutes. I couldn't sleep. I was absolutely frozen. I had only a nylon shirt, coat and pants, shoes and socks. A helicopter came about dawn and we had bags over our heads.
We were handcuffed and put aboard the 'copter. We were badly abused on the way to the 'copter, but when on it all abuse stopped. The cuffs were extremely tight. After a period in the 'copter we were transferred to a truck, then to a 'copter, then we were taken to a trench. I don't remember how often we were there, how often we were changed over but we eventually finished up in some place.
I thought it was a mental home and the noise of people, crying, wailing, lamenting was dreadful.
During my stay here I was made to stand with my legs straight and my hands on the wall, getting continued abuse. Legs, hands, backside, all got it. I went numb and my hands had swollen. I lost all trace of time. Most of the time I prayed for courage to take what they were giving. It was all I could do.
Sometime Wednesday I was put aboard a vehicle and taken to some place where two uniformed RUC men and two soldiers sat behind a table.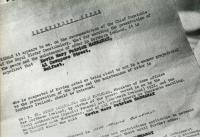 The board was lifted back and I was returned to the mad house. The noise here must have been on a tape because it was so consistent and loud. Here I was permitted to read the 'detention order' signed or stamped by [Ulster Unionist Party Prime Minister Brian] Faulkner. I was returned to the position against the wall still hooded.
I had no idea of time but on 7-8 times the hood was socked up to my nose. I was sat on the floor and served with a piece of dry bread (was sliced) and a mug of water. I was immediately put back against the wall. On these occasions I was massaged on the arms and feet before I could grasp the bread or the mug of water.
Once near the end I was given a half-cup of water. By this time I had a really sick head. I think the water was drugged because immediately after drinking it my mind went wild. I was crying. I couldn't stand and I was trying to grip the wall.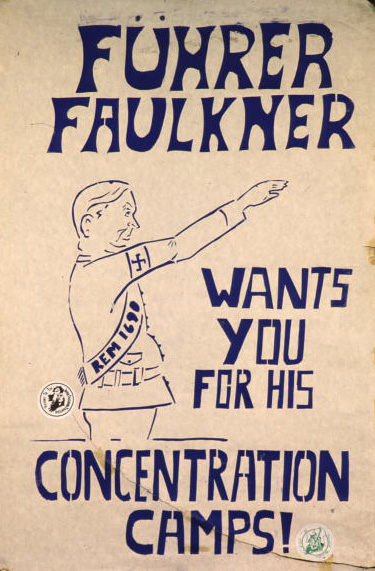 A hand was placed on my shoulder and I was asked if I wanted to tell now. I asked what he meant. I couldn't see because of the hood but the reply was "about your IRA certificates".
I didn't answer but sometime later I was carried somewhere and I saw a Special Branch man sitting opposite me at a table. The hood had been removed. I couldn't even remember my name or my children's names or ages. I just couldn't focus my mind, the voice kept saying, "Come on, Seán, think now, keep thinking, Seán." I remember I told him I was in Sinn Féin but had no IRA connections – at least I think I told him that. Even during the interrogations I knew I was talking beside myself, whether I was drugged or mental.
I was removed and put back to the wall in the other room. My mind went completely blank and I came to lying on a mattress in a room all by myself. I was wearing a soldier's suit and the mattress was on the floor. There was no window and the light was on. I took my hood off to see this.
I have no idea of what day or time it was. At intervals I was given bread and water but I was always hungry from it.
I received two hot meals and I was delighted to hold the plate which was very hot. It was the first time I had felt my hands working back from my arrival in Crumlin Prison. I think the meals would have been on Monday 16/8/71 and Sunday 15/8/71.
I got tea on several occasions on what I judge to be the last couple of days. The hood had to be worn except when eating.
My last morning I was washed and shaved by a Special Branch man – my hands were numb. In fact, my head still won't focus right and I can't read for very long, and I detest being alone even now.
I still feel that if I was isolated from the rest of you here I would break down and cry to myself.
In some sort of a flying machine I was brought to Girdwood Barracks. I was unhooded and marched over to Crumlin Road Jail. The sunlight was blinding. Since I arrived my eyes don't see light now. I attach this to the condition my head is in. I can't read small print very well and I don't use glasses. I had never any bother with my sight before.
I was photographed before I left whatever it was – 'the madhouse' – in the nude and I can assure you I was extremely glad to see jail and company again.
That's about it. I never imagined that anyone could be so cruel to his fellow man. I hope to have no occasion to go through it again. I don't think I'll be the same again.
Signed: Seán McKenna
Witness: Seamus Loughran 
◼︎ On 5 June 1975, Seán  McKenna, at the age of just 45, died after suffering a heart attack.
Torture – The Record of British Brutality in Ireland, Dublin (1972): Northern Aid, in co-operation with the Association for Legal Justice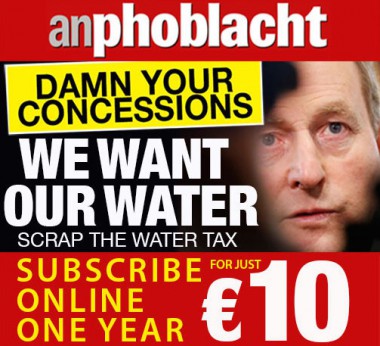 An Phoblacht on Twitter

An initiative for dialogue 
for reconciliation 
— — — — — — —
Contributions from key figures in the churches, academia and wider civic society as well as senior republican figures