1 December 2014 Edition
Lost leaders
Book review
In the years to come, Ireland will honour those who risked all for her honour at Easter in 1916 – Éamonn Ceannt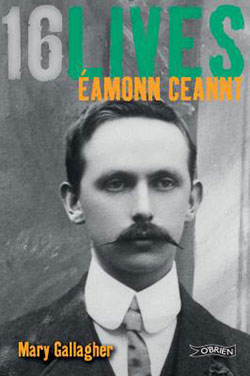 THE LATEST in the 16 Lives series are biographies of Thomas MacDonagh and Éamonn Ceannt, both signatories of the Proclamation and both commandants of republican garrisons during Easter Week. Ceannt commanded in the South Dublin Union where some of the fiercest fighting took place while Thomas MacDonagh commanded in Jacob's biscuit factory, where there was relatively little action.
They were quite different men. MacDonagh was an intellectual; Ceannt a man of action. MacDonagh was a lecturer in University College Dublin and in Pearse's school, St Enda's; Ceannt worked in the City Treasurer's Office of Dublin Corporation. (This was located beside City Hall where a plaque honours him today.) Ceannt formed his republican beliefs and joined the IRB early on and was, in his own words, never a Home Ruler; MacDonagh, like Pearse, came relatively late to republicanism, being more interested in the cultural aspects of the struggle and assumed that Home Rule would be granted and would open the way for political progress.
Yet MacDonagh and Ceannt had much in common also.
They both made significant contributions to Irish culture. Ceannt was a committed Conradh na Gaeilge activist and he founded the Pipers' Club, himself playing both the uilleann pipes and the war pipes. MacDonagh was a talented poet and co-operated with Joseph Plunkett in fostering Irish drama and producing the Irish Review, a cultural and political journal.
Ceannt and MacDonagh were progressive on social issues also. Ceannt helped to found the Dublin Municipal Officers' Association for clerks in the Corporation and supported the workers in the 1913 Lockout, as did MacDonagh.
For both men the founding of the Irish Volunteers was the critical political event. They immersed themselves in its organisation and were central in the whirlwind of activities from November 1913 to Easter Week 1916.
Like their executed comrades, they truly were lost leaders whose deaths deprived Ireland of men of great talent and commitment. The contrast between them and the members of the political class who have ruled the roost in the 26 Counties for decades is enormous. No wonder Taoiseach Enda Kenny & Co fear to speak of Easter Week.
Once again, the O'Brien Press and the series editors and authors are to be commended for this great series of biographies of the 16 executed leaders. e to see.