1 December 2014 Edition
The last outpost amongst the 'brutish masses'
ISRAEL'S DUBLIN EMBASSY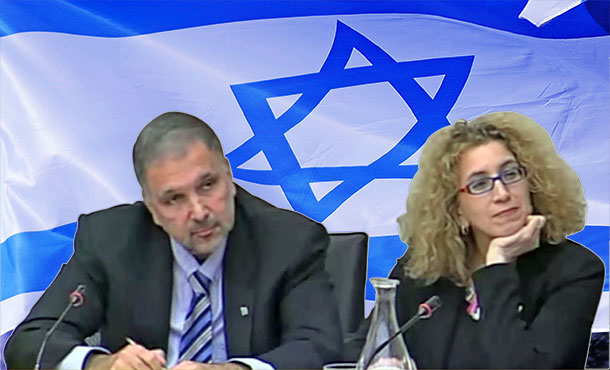 The Israeli Ambassador to Ireland's glittering career at the Israeli Foreign Ministry came to a shuddering halt when he was slapped with a restraining order from a female co-worker he admitted harassing
A HUGE BANNER hangs from the second floor of Carrisbrook House on Pembroke Road in Dublin City. It's been there so long that the lettering advertising office space for rent has largely faded. The prime location of these business units in the capital's swish 'D4' district seems to be offset by the neighbours a potential tenant would be forced to endure.
The eight-storey building hosts just one other occupant — the Israeli Embassy — and nobody seems to be jumping at the chance to share an address with those who spend their time attacking their host country and plotting to slur human rights activists, critics and commentators.
When Israel launches its all-too-frequent attacks on Palestine, Carrisbrook House is usually surrounded by angry protesters and gardaí, nearby roads often impassable.
Those who lead the propaganda campaign on behalf of the Israeli state in Ireland are Carrisbrook residents Ambassador Boaz Modai and his wife, Deputy Ambassador Nurit Tunari-Modai.
Boaz Modai appears to have been dispatched to Israel's embassy in Ireland after his glittering career at the Israeli Foreign Ministry came to a shuddering halt when he was slapped with a restraining order from a female co-worker he admitted harassing. He took over the reins at the Dublin Embassy in 2010, shortly after the Irish Government expelled another Israeli diplomat over the use of forged Irish passports in the Mossad death squad murder of Palestinian Mahmoud al-Mabhouh at a hotel in Dubai.
Since then, the paranoid and deluded ramblings of Embassy officials on Twitter and Facebook have frequently made headlines across the globe. 
Examples included the Embassy's official online accounts claim that "Hitler couldn't have been made happier" by the United Nations condemnation of Israeli aggression towards defenceless Palestinians; or Christmas wishes posted to Facebook which claimed that if Mary and Joseph were around today they'd be "lynched in Bethlehem by hostile Palestinians". 
In Israel, the Foreign Ministry has described Ireland as "the most hostile country in the EU". The Embassy's provocative output has even won it awards back in Israel from Haifa University.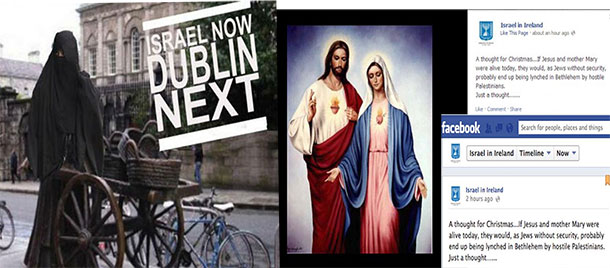 • Israel's Dublin Embassy is notorious for its online racist gaffes
Molly Malone
The recent Israeli onslaught against the defenceless and surrounded Gaza Strip sparked outrage across the world. The extremists of Pembroke Road went into over-drive in their upholding of their rogue state's actions. One Facebook post showed the Molly Malone statue in Dublin covered in a traditional Muslim niqab with the slogan "Israel now, Dublin next" beside it. 
Others depicted Michalangelo's famous 'David' sculpture in Rome wearing a suicide belt and the Mona Lisa portrait wearing a headscarf and carrying a rocket. The photos featured, apparently without irony, the caption: "Israel is the last frontier of the free world." The Embassy removed the images after they sparked international uproar, with the Ireland Palestine Solidarity Campaign noting that the Embassy's output has been "routinely racist and anti-Palestinian". 
Speaking on Israel's Army Radio during the conflict, the Deputy Ambassador described pro-Palestinian activists in Ireland as "'incited, anti-Semitic, brutish masses harbouring a profound, deep-rooted, rapacious hatred of Jews". 
She continued in a frenzied diatribe:
"Behind the mask of concern for the rights of Palestinians they blame Israel for crimes against humanity, for a holocaust [against Palestinians], and being the personification of evil. 
"They burn Israeli flags and vandalise stores selling Israeli products. They throw goods on the floor. It's complete hysteria.
"They protested here in every city last weekend. This is frustrating, it's challenging, but we have no other choice than to be victorious."
Slurring protesters — who believe bombing defenceless women and children hemmed into the world's largest open-air prison camp is wrong — as 'anti-Semitic' has become the standard refrain of the Israeli Government.
But what happens when those leading the pro-Palestinian campaign in Ireland are in fact Jewish or themselves Israeli citizens? According to the Deputy Ambassador, a plan should be hatched to smear them as having "sexual identity problems" and to "humiliate and shame them".
When this despicable scheme was exposed by Channel 10 News in Israel, the Israeli Foreign Ministry responded to the Deputy Ambassador's proposal, describing her as "entirely confused" and her proposals as "deranged ideas". She is still the Foreign Ministry's Deputy Ambassador here, though.
In recent months there have been consistent calls for the Israeli Ambassador to be expelled from Ireland. More than 33,000 people signed a petition calling on Taoiseach Enda Kenny to give Boaz Modai the boot. The Fine Gael leader didn't listen, of course. When the Ambassador appeared before the Oireachtas Foreign Affairs Committee, he gloated that he was "sorry to disappoint" those TDs who had hoped he would be expelled. His rant then descended into endless "whataboutery", deflection and finger-pointing.
All that Israel's most zealous defenders in Carrisbrook House have done is to expose the very worst qualities of this rogue state for many more to see.