3 September 2010
Fianna Fáil TD's 'Bob Cratchit attack' on jobs rights agency
A FIANNA FÁIL TD's 'Bob Cratchit attack' on the Employment Rights Agency has been lashed by Sinn Féin TD Martin Ferris (right), who said the agency fights for workers denied wages and fair conditions.
Ferris, Sinn Féin's Workers' Rights spokesperson, said Fianna Fáil TD Frank Fahey's call for Government funding for the Employment Rights Agency be cut or that it be 'amalgamated' with another agency seeks to undermine an agency that is clearly unpopular with some employers.
Martin Ferris said:
"Deputy Fahey claims that some workers would prefer to sleep overnight in the hotel they work in so that they can fill another shift later on the same day. It reminds me of Bob Cratchit in Dickens's A Christmas Carol, when Bob agrees to come in early on St Stephen's Day in return for having Christmas Day off.
"No doubt there are such arrangements but one wonders how voluntary or mutual they really are.
"Given the fact that the Employment Rights Agency dealt with over 30,000 telephone enquires in the first three months of this year alone, and that in the same period it secured unpaid wages of over €430,000, one has to imagine that we are dealing more with the Ebenezer Scrooge before he met Marley's Ghost."
The Sinn Féin TD said the fact is that the Employment Rights Agency is unpopular with rogue employers and fulfils an important role in attempting to prevent the exploitation of lower-paid and most vulnerable workers.
"Any attempt to use flimsy excuses to have it neutered must therefore be seen for what it is."
ENDS
An Phoblacht Magazine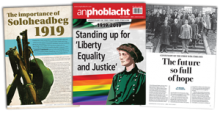 AN PHOBLACHT MAGAZINE:
Don't miss your chance to get the first edition of 2019 published to coincide with the 100th anniversary of An Chéad Dáil and Soloheadbeg.
In this edition Gerry Adams sets out the case for active abstentionism, Mícheál Mac Donncha takes us back to January 21st 1919, that fateful day after which here was no going back and Aengus Ó Snodaigh gives an account of the IRA attack carried out on the same day of the First Dáil, something that was to have a profound effect on the course of Irish history.
There are also articles about the aftermath of the 8th amendment campaign, the Rise of the Right and the civil rights movement.
An Phoblacht on Twitter

An initiative for dialogue 
for reconciliation 
— — — — — — —
Contributions from key figures in the churches, academia and wider civic society as well as senior republican figures