1 December 2014 Edition
Abuse victims' support sought by Sinn Féin from ministers
All-island initiative by Martin McGuinness and Gerry Adams through North/South Ministerial Council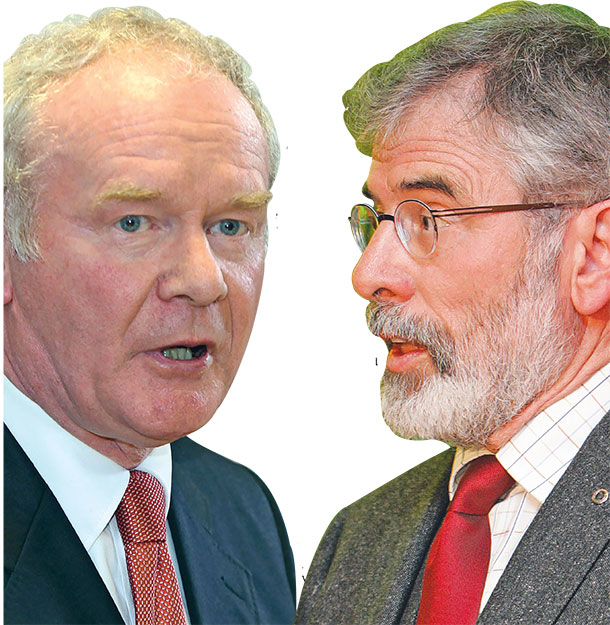 'Some survivors of abuse did not get the support they needed nor the justice they deserved. They were failed by the state, by the RUC, by Social Services and, in some cases, by republicans' – Gerry Adams
MARTIN McGUINNESS, deputy First Minister, has asked for a meeting with An Taoiseach Enda Kenny to discuss the Sinn Féin MLA's proposal for an all-island process to deal with the issue of support mechanisms for those who were victims of sexual abuse during the conflict. 
Martin McGuinness has also raised the issue with First Minister Peter Robinson and he will be tabling it at the next meeting of the North/South Ministerial Council.
The initiative proposed by Martin McGuinness would ensure that victims and survivors have access to professional services, including counselling and therapy, and a channel through which complaints can be made to the appropriate statutory agency or police service. For it to work, it needs to be all-Ireland and to be fully resourced by the North's Executive and the Irish Government.
Supporting the proposal, Sinn Féin President Gerry Adams TD said there is an urgent need for such an all-island, victim-centred process to ensure greater access to supports. There is also a need to facilitate victims and survivors to access the justice system to make official complaints, he said.
"I believe consideration should also be given to dedicated 'hot lines', North and South, to facilitate victims and survivors who wish to come forward.
"Survivors must be empowered to access these services and all parties should do everything possible to ensure those survivors who want to come forward feel safe in doing so.
"Any survivor who comes forward to Sinn Féin will be immediately supported in accessing appropriate support services and the authorities.
"I have called on former IRA Volunteers who have any information on the expulsion of abusers to bring that information forward to the appropriate authorities or agencies which deal with sexual abuse cases. We are calling for all those with information to come forward." 
On 24 November, Gerry Adams expressed his disappointment that, despite two letters from Martin McGuinness to the Taoiseach over a number of weeks, the North's deputy First Minister "has yet to receive a substantial reply".
Survivors of abuse must get the support they need and the justice they deserve
GERRY ADAMS, speaking on behalf of Sinn Féin during the five-hour Dáil debate in November regarding allegations made by Máiría Cahill, said the public discussion around her allegations have brought very sharply into public focus the fact that at a time in the North when large sections of the population did not trust or engage with the RUC, victims of abuse were failed.
"In this climate of fear and alienation, many in the nationalist community turned to the IRA to enforce a policing role it was ill-equipped to perform," Gerry Adams said.
"IRA Volunteers were ordinary men and women. They had no training in dealing with criminality, no resources – legal or judicial or penal – to help respond to or investigate allegations of anti-social behaviour, car theft, robbery, death-riding, sexual abuse and rape, or any criminal actions that a normal police service deals with every day.
"When other warnings or appeals or community interventions failed, the IRA punished offenders. Some criminals, including sex abusers, were shot or expelled. Anecdotal evidence suggests that some went to Britain."
The Sinn Féin leader pointed out that the NI Association for the Care and Resettlement of Offenders (NIACRO) – an organisation supported by the Probation Service and other statutory bodies, publicly funded and resourced, and which has given evidence to Westminster committees – helped in relocating alleged and convicted offenders. "And this continues to this day," Gerry Adams said.
While members of the IRA may have been well-intentioned, he added, the IRA was "inadequate and inappropriate" in seeking to tackle criminality. "We cannot change that. I have acknowledged the failure of the IRA to deal properly with these difficult issues. And for that I have apologised."
He also said that some survivors of abuse were failed by the state, by the RUC, by Social Services and, in some cases, by republicans.
"Victims and survivors include those who were subject to sexual abuse, threat and exploitation, whether by individuals who were members of state forces or of non-state combatant groups, including the IRA, or by other individuals.
"Survivors of sexual abuse and rape deserve acknowledgement, support and justice. Perpetrators of abuse need to be subject to the law and brought before the courts."
The Sinn Féin leader told the Dáil he had received information from a republican source anonymously which "while I cannot vouch for it" he believed to be authentic 
"However that is not a judgement for me. So I have passed this information to An Garda Siochána."
Gerry Adams wished Máiría Cahill well and expressed the hope that she gets justice.