1 December 2014 Edition
Hopes for first feature-length film on the 1916 Rising
Ireland's revolutionary history on the big screen
'These people allowed us to lift our heads. They weren't happy with the scraps from the Empire's table'
BORN IN ENNISKILLEN, film-maker Kevin McCann grew up on the other side of the Irish Border. The Border is something which features heavily in his work. 
His production company is called Maccana Teoranta ('Sons of the Border') while his latest 30-minute drama Volkswagen Joe (which has won eight awards at international film festivals) deals with the division within a small Irish Border town during the 1981 Hunger Strikes.
He's currently in Boston, meeting members of the Irish Diaspora to secure support for his latest project The Rising, a full-length feature film on the 1916 Easter Rising which he hopes to release to coincide with the 100th anniversary in 2016. 
The film will focus on one of the lesser-known signatories as the main character. 
Kevin says the idea came about when he was filming the 2012 documentary Leitrim During the Troubles. "People kept referring to Seán Mac Diarmada," Kevin tells me, "and to my shame I had never really heard of him." 
He began to research  the idea of  a major feature on the Rising with Seán Mac Diarmada as the central character and was helped along the way by Leitrim County Council, who provided a grant. He moved to Belfast and worked closely with Dr Gerard MacAtasney, who has written biographies of Seán Mac Diarmada and Thomas Clarke.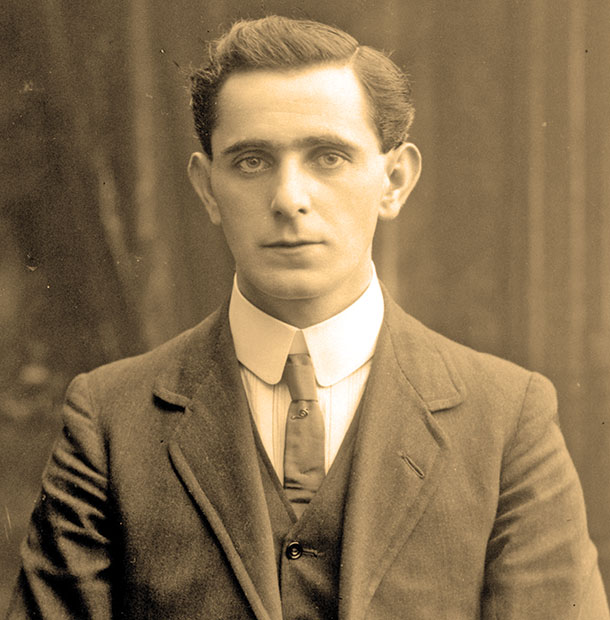 • Seán Mac Diarmada
So why Mac Diarmada? 
"He's a forgotten hero," says Kevin. "He was the mastermind of the revolutionary movement that led to the Easter Rising. He was Michael Collins's hero; he was Tom Clarke's right-hand man. It was Seán, starting in Belfast, who was key to this huge revolutionary movement throughout Ireland that ended with his execution."
He says underdog stories of fighting for freedom from oppression resonate with people worldwide.
"It's classical hero 'slave versus master' material. A farmer's son from Leitrim befriends a Quaker (Bulmer Hobson), becomes the disciple of an old fighter (Tom Clarke) and masterminds an uprising against the most powerful empire on earth."
He hits at those who criticise the Easter Rising of being political naive or a military failure. 
"It was a victory, not a failure. All war is regrettable but 1916 was an act of construction, not destruction. 
"These were men and women who influenced the Irish nation and made the stepping stone from a Famine Ireland to a free Ireland.
"These people allowed us to lift our heads. They weren't happy with the scraps from the Empire's table."

• Kevin McCann has been in the US for most of the last year to secure investment for the project
While Leitrim and Cavan county councils, along with NI Screen, have backed the project, Kevin has spent most of the last year in the USA trying to raise some of the estimated €6million needed to produce the film. He says they are relying on the Diaspora because in Ireland "it's clear there is no interest from the state for remembering 1916". He asks and answers the question that naturally follows: "Are we going to allow that to happen? We can't." 
"Any other country or culture would gladly embrace their history," Kevin says, pointing to our nearest neighbour for just one example.
"Next year in Britain a film is being made about Admiral Nelson. They'll have no problem getting backing to make a film on one of their heroes."
Commenting on the Irish Government's launch of a video that was supposed to outline the Government's plan for the centenary of the 1916 Rising yet managed to not even mention the rebellion, he said: 
"I'm completely disgusted by the Government's video. 
"There is no plan from them to commemorate 1916 and ultimately I think anybody with a conscience will see this as an abhorrence. The centenary is happening on our watch; we can't push it down the road five years. It's up to us to do what we came to study and educate ourselves about our history – and that's what I want to do with this film. I don't make 'bubblegum', I make films about who we are and I think a film on 1916 that properly explores the revolutionary movement will be of benefit to Ireland today."
While nobody has been confirmed for any roles yet, Kevin says his team have spoken to Irish actors Brendan Gleeson (Braveheart, The Guard), Fionnula Flanagan (Some Mother's Son, The Others) and Colin Morgan (The Fall, Testament of Youth), all of whom have expressed interest in the project. 
He also says relatives of those who fought in 1916 have pledged their support.
"It's up to all of us to ensure that the men and women of 1916 are remembered. There's going to be a tumbleweed in 1916 and we're all going to hang our heads in shame but I'm saying 'Not on my watch'. I'm pulling out every stop. All my other projects have been put to one side. I have to make this film."
To find out more about The Rising movie or support the project, visit: www.therising.ie