1 December 2014 Edition
Austerity still hitting people at home
Therein lies the rub. Enda & Co have no idea of the effect their laissez faire attitude has on their own neighbours. Tax cuts for the rich stand side by side with extra bills for people who have next to nothing
RATHFARNHAM is a leafy suburb in South Dublin, the ideal place to raise kids, with great schools, parks and museums right on our doorstep.
We moved here five years ago. When I started my advice clinics in Whitechurch Community Centre, my perception of Rathfarnham as a cushy middle-class suburb changed completely when I saw the hidden poverty that exists right on our doorstep.
'Denise' (not her real name) is a young mum with three kids. Her youngest is just 11 weeks old. She has two other kids, happy bright kids like many others, at local schools.
Her relationship with their dad broke down whilst she was pregnant and things became unbearable at home. Although he is a good dad, their relationship with each other had completely deteriorated and he became emotionally abusive and hostile.
She explained her desperate situation. She was terrified of having to bring her newborn home from hospital to one of the shabby and frightening hostels in Dublin city centre. She could no longer call their rented accommodation in a nice estate 'home'. She had to get out and needed somewhere to take her kids, a place where they could close the door in the evenings and shut out the world, had a bed to call their own, could cook a wee dinner and watch telly.
There were no houses at all available; no apartments; nowhere for her to go.
I referred her to Threshold, who made some representations on her behalf, to no avail.
Denise had been sleeping on her friend's floor with the baby in a 'Moses basket' beside her and her two girls on the sofa. 
She walks the streets during the day while the girls are at school, pushing the baby around the park. She has nowhere else to go.
Her place on the sofa is now gone too. Her friend is already living in overcrowded conditions with her own kids and now has to accommodate a brother recently returned from abroad.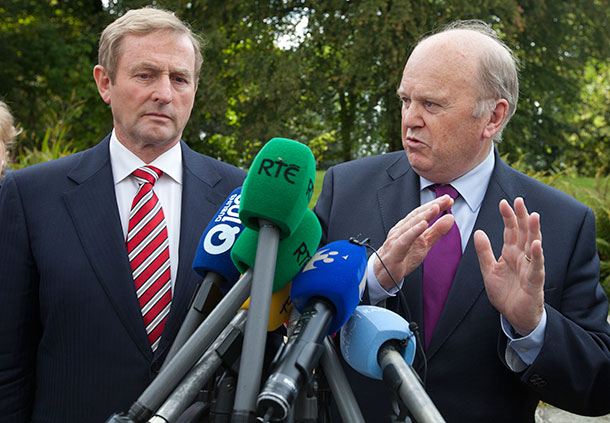 • Enda & Co have been celebrating an 'end of austerity'
Denise has been calling into the homeless unit in South Dublin County Council daily. I call her every few days to see if there is any news. Following persistent calling, she was offered a place in a B&B in Glasnevin, on the north side of the city. The cost of getting her kids to school every day and back across the city again would have been too much for her. She has no disposable income whatsoever.
'Shona' is another Rathfarnham mum with three kids. They all attend local schools and are a handful. Her oldest little boy has been diagnosed with ADHD. Shona's partner, 'David', is a former heroin addict who is now on a methadone programme. He made a superhuman effort to get off drugs for his kids' sake.
They are a happy family who have been through their share of ups and downs. Shona is articulate and bright, as is David. Last year, their landlord had his assets seized and the house the couple were living in was repossessed by the bank and sent to a liquidator for management. The liquidator promptly sent them an eviction notice.
They came to Sinn Féin for help in desperation. Their local authority would not listen to them and treated them with contempt, they said, because of David's addiction problems. They felt utterly alone and completely at a loss what to do. The liquidator would not accept their calls; the letting agent would not return their calls. The liquidator stopped accepting rent, as this would make it easier to secure an eviction.
We managed to secure them a new lease for their home, which was subsequently bought over. Luckily, the new landlord let them stay on but the whole episode brought out the problems facing working-class families. They are subject to the whims of multinational corporations and greedy landlords who keep asking for more.
They have no one to champion them, no one to fight their corner, no trust in the institutions which are supposedly there to serve the people.
In stark contrast, rumours abound that some of their public representatives are organising parties to celebrate the end of austerity. They spend freely on shindigs whilst the people they represent don't even have a table to put food on. The tax cut for top earners announced in Budget 2014 should cover the cost. Therein lies the rub. Enda & Co have no idea of the effect their laissez faire attitude has on their own neighbours. Tax cuts for the rich stand side by side with extra bills for people who have next to nothing. Austerity is over? Some people have never experienced it; for others, it will never end.