2 September 2010
Don't miss out on Winter Fuel Allowance, Derry Sinn Féin urges elderly
SINN FÉIN Foyle MLA Raymond McCartney has urged older people to make sure they don't miss out on the Winter Fuel Allowance (WFA). People over the age of 60 are entitled to the benefit, which helps alleviate the financial strain on older citizens during the winter period.
"There are many people over 60 who do not realise that they are entitled to claim this money. They have been paying taxes all their lives and now should avail of this payment especially in the present economic conditions.
"In order to apply for the Winter Fuel Allowance you must be aged 60 or over during 20 to 26 September 2010 (born on or before 5 July 1950) and normally live in the North of Ireland.
"Those who are eligible can get up to £250 which increases to £400 if the person is aged 80 or over.
"Many people do not understand the complicated benefit system and are missing out on benefits that they are entitled too. There are millions of pounds  of unclaimed benefits each year and one of the biggest sections that missed out was pensioners.
"People can receive these forms through the Department of Social Development website. Alternatively, people can contact the helpline on 084 59 15 15 15 ."
ENDS
An Phoblacht Magazine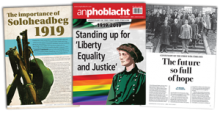 AN PHOBLACHT MAGAZINE:
Don't miss your chance to get the first edition of 2019 published to coincide with the 100th anniversary of An Chéad Dáil and Soloheadbeg.
In this edition Gerry Adams sets out the case for active abstentionism, Mícheál Mac Donncha takes us back to January 21st 1919, that fateful day after which here was no going back and Aengus Ó Snodaigh gives an account of the IRA attack carried out on the same day of the First Dáil, something that was to have a profound effect on the course of Irish history.
There are also articles about the aftermath of the 8th amendment campaign, the Rise of the Right and the civil rights movement.
An Phoblacht on Twitter

An initiative for dialogue 
for reconciliation 
— — — — — — —
Contributions from key figures in the churches, academia and wider civic society as well as senior republican figures