4 August 2014 Edition
The republican austerity guide to holiday reading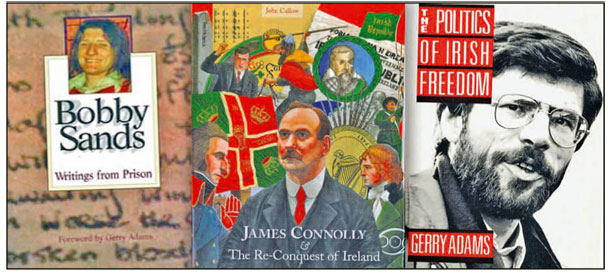 In this era of austerity isn't it time to peruse your own bookshelves for the tomes you've already bought in good faith?
IS THIS THE YEAR to resist the temptation to splurge on new holiday reading purchases?
Bookshop displays are stacked high with the latest lightweight thrillers, romances and other holiday fodder. Even on 'staycations' it's hard to fight the impulse urge to buy a brand new book. But in this era of austerity isn't it time to spend a few moments perusing your own bookshelves for the tomes bought in good faith but rarely got past a few minutes on the couch before the telly took your attention?
Then there are the books you read but can't remember. There is no shame in reading them again. Haven't you always wanted more spontaneous Connolly, Pearse or Tone quotes to spout at will?

Welcome then to the austerity guide to holiday reading.
Books are easily shared and if you have not read your Collected Connolly, Volumes 1 and 2, chances are your friends haven't got past the preface of Bartlett's Life of Wolfe Tone, so why not swap your follies?
One of my most shameful book-buying expeditions happened in Dublin's Connolly Books in Temple Bar, when I asked the guy on the till where did he think I could buy a copy of the collected writings of Thomas Davis. He said: "Why not borrow one?"
Did I mention that the assistant was veteran political activist Michael O'Riordan, author of the Connolly Column, his memoir of fighting with the International Brigade in the Spanish Civil War?

I bought the Davis writings from an antiquarian bookshop for €40 and still haven't read it all. And I have a hardback Connolly Column, which cost €100 (and, yes, I haven't got past the preface). I won't be sharing these, though – they need to mock me from my bookshelves.
So in the summer of 2014, what is worth revisiting?
A good first stop would be George Orwell's 1984. In the wake of the Snowden surveillance revelations and the seemingly all-enveloping social media, this book is more relevant than ever.
Dave Eggers's The Circle is a more tongue-in-cheek 21st century version of the pitfalls of the Google generation. Good news is that this book is now heavily discounted in most shops. I recommend it as a present for those annoying people who think everyone should live in an iPhone, iPad, Snapchat, Twitter, Instagramed world.

Danny Morrison's West Belfast is a good read and back in the day I did finish it. What about some of your extensive Gerry Adams collection? My relationship with Gerry Adams's books is a bit like how many people see Bob Dylan — they prefer the early stuff. With that in mind, dust off Cage 11 or The Politics of Irish Freedom.
Eamon McCann's War and an Irish Town is still one of the definitive books of the civil rights campaign of the 1960s and the resulting spiral into conflict.
If you like the 19th century, how about George Bernard Shaw's The Unsocial Socialist. It is easily the best of his five novels and he did win a Nobel Prize for Literature.
Bobby Sands's One Day in My Life or Writings from Prison captures the spirit of freedom behind the motivation of republican struggle. Why not compare it with One Day in the Life of Ivan Denisovich by Aleksandr Solzhenitsyn, or the recently-republished Jottings in Solitary, by Michael Davitt? (Now there's an idea for a book club.)

There is, sadly, an academic industry in anaemic books on Irish nationalism, each more bland than the next and so Seán Cronin's Irish Nationalism or Robert Kee's The Green Flag are way better than any other offerings. Cronin's biography of Frank Ryan is another great book. Ernie O'Malley's On Another Man's Wound is the definitive account of the Tan War (first published in 1936), a work of literature and first-hand historical reporting.
Finally, if you are going to blow the budget, why not spend the precious euros on John Callow's reproduction of Jame's Connolly's The Re-Conquest of Ireland. It has the original Connolly text, some great biographic detail on the times he lived and comes with extensive illustrations.
Also new but a bargain is Revolution in Dublin by Liz Gillis, and not too taxing for our smartphone wifi world.
Some people have confessed to me that they've yet to finish Eoin Ó Broin's Sinn Féin and the Politics of Left Republicanism or Robert Fisk's The Great War for Civilisation. Now is the time. Put away your Game of Thrones box set and open a book.