4 August 2014 Edition
Asgard Gun-Running Centenary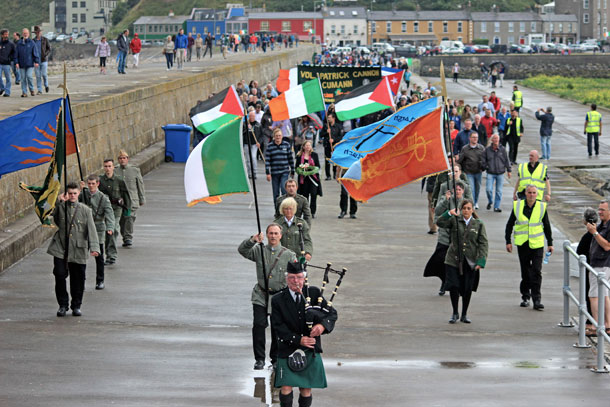 HUNDREDS of people gathered in the north Dublin fishing village of Howth on Saturday 26 July to mark 100 years since the Asgard yacht, loaded with 900 rifles and 29,000 rounds of ammunition destined for the Irish Volunteers, landed on the East Pier in 1914.
Weather conditions, warm with some heavy rain showers, were similar to those described a century ago when members of Fianna Éireann and the Irish Volunteers greeted the Asgard and its skipper Erskine Childers beneath the lighthouse.
The commemoration emulated the march down the East Pier behind a piper and the Dublin Republican Colour Party, who wore Irish Volunteers uniform.
Members of the crowd who had travelled to Howth following demonstrations across the country in solidarity with Gaza carried Palestinian flags among the republican standards and banners.