4 August 2014 Edition
Putting your head above the parapet
Alliance MLA talks to An Phoblacht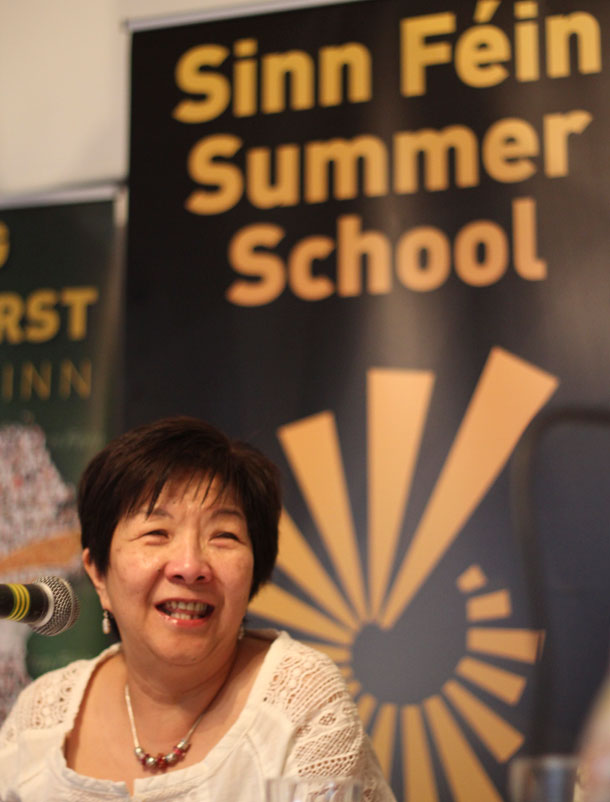 'I thought maybe it was about time I turned the table around and rather than asking politicians to do things for me I could get into a position where I could make changes'
ANNA LO is down in the beautiful Gaeltacht village of Baile Bhurine, County Cork, to take part in a Sinn Féin Summer School debate, 'Women in Politics – Towards Equal Representation'. She argues strongly in favour of gender quotas to increase representation of women in politics. It's the first time Anna has visited County Cork. "I previously did the Ring of Kerry," she says, adding, "it was beautiful."
Born in Hong Kong in 1950 while it was still a British colony, she became the first-ever ethnic minority candidate elected to Stormont. So how did she end up getting involved in politics?
"There was no politics in Hong Kong when I was growing up. It was total direct rule. But I was very much involved in student politics; I was a class representative, chair of the student union, that kind of thing. I wouldn't say I was an agitator but I was quite prepared to put my head above the parapet to challenge the school structures on issues we thought needed to be changed."
After she finished school she went to work as a secretary in London and while there she married Belfast journalist David Watson, whom she had originally met in Hong Kong. She moved to Belfast at the height of the conflict in 1974 and shortly after the unionist Ulster Workers' Council strike. She describes the experience as a "culture shock" and says many of her friends in England thought she was "bonkers". Her parents were also very concerned for her safety. In Belfast she worked for the FarmWeek newspaper and later for the BBC's Chinese service.
"I started noticing Chinese people in Belfast. Being me, I would just go up and say 'Hi' and I realised that many of them had very little English and almost all worked in the catering trade. They were very isolated and had very little access to information or services. Most usually had to bring their children with them to see a doctor to interpret for them."
It was then she decided to start a class teaching English for Chinese immigrants in 1978 on a voluntary basis. She also gained a university degree in social work. During this period she was heavily involved in campaigning to bring the Race Relations Act from England to the North of Ireland. She also became head of the Chinese Welfare Association, the main representative group for Chinese immigrants, and helped found the Council for Ethnic Minorities.
Despite all this work in grassroots political campaigning, it was many years before she became involved in electoral politics.
Her first foray into the electoral area came after she was approached by the Alliance Party's Naomi Long to stand for the party in South Belfast in the 2007 Assembly election. She had known Naomi from her membership on the Good Relations Panel in Belfast City Council, which Naomi chaired.
"I thought maybe it was about time I turned the table around and rather than asking politicians to do things for me I could get into a position where I could make changes. Another thing was I really wanted to test out the attitudes of people in Northern Ireland. There had never been a member of an ethnic minority politician. I was keen to see would they accept someone who was very obviously from outside and who very clearly does not identify with one side or the other.
"I was really pleasantly surprised by the responses on the doorsteps, and then I got elected and I suppose that's really history."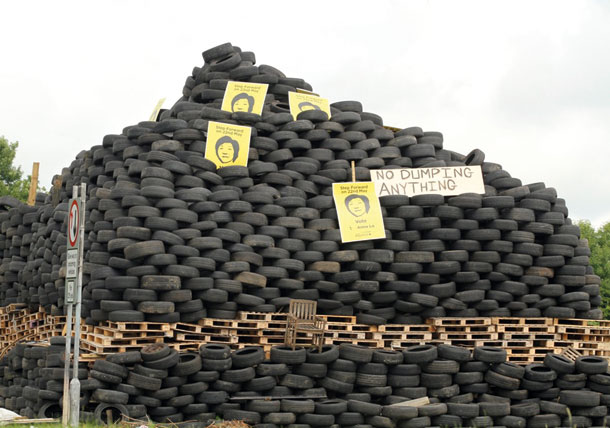 • Posters of Anna Lo were placed on an Eleventh Night loyalist bonfire in Carrickfergus (and many other bonfires)
In recent months, Anna has been the target of racist abuse from loyalists. During the EU election campaign (she was the Alliance candidate, polling 44,000 first-preference votes) she was particularly shaken by an incident in which a loyalist mob followed her from an east Belfast shopping centre hurling vile racist abuse. At the time she said:
"If I hadn't decided to act quickly and get out of there I don't know what would have happened to me."
She also revealed that her two sons had asked her to join them in England, where they live, out of concern for her safety.
After weeks of sectarian attacks against ethnic minorities in Belfast which the PSNI blame on the UVF, and the support of First Minister Peter Robinson for anti-Muslim remarks made by Pastor James McConnell (a man Anna previously  described as "a lunatic"), she announced in an emotional media interview that she was leaving politics for good.
"I'm planning not to seek re-election in 2016," she tells An Phoblacht.
"I think maybe it's about time I leave politics and do something different, allow younger people to come forward and bring their ideas. I would like to see more young people coming into politics, particularly as they don't have the baggage of the past. We need to normalise politics, to bring real issues rather than all the time harping back to the bad old days."
She says the recent controversies over the Union flag and Orange parades show we still have a long way to go. "I think many parties are still bogged down by the issues of the past."
She's passionate about the need for integrated education, shared spaces and shared housing.
"If we are to have a shared future we need to bring people together and create a comfortable, inclusive environment where young people grow up together, are educated together, share their lives together and where neighbours see neighbours as human beings rather than always trying to suss them out and see which side they are on. How can people feel at ease with each other if they live in segregated areas?"
She says that if there were areas anywhere else in the world designated specifically for people of a certain religion or ethnicity, there would be outcry, but in the North it is seen as normal.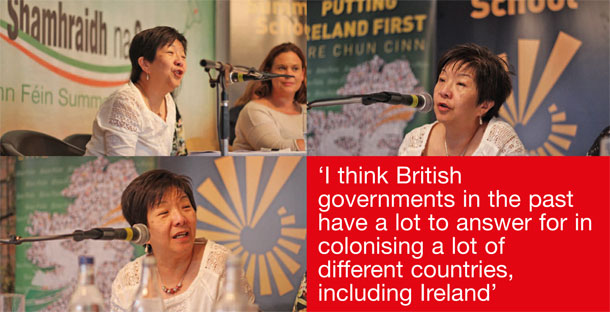 Anna Lo also became the target for unionist anger when she identified herself as "anti-colonial" and described the partition of Ireland in 1921 as "artificial". She went on to say that a united Ireland would be "better placed economically, socially and politically".
She tells me she was "surprised" by some of the public reaction to her comments but says overwhelmingly the Alliance Party was "very, very supportive" of her.
"I think it's important for Alliance to show that, because we are a cross-community party, we have people from both sides and people from none. I wouldn't call it a tipping point but I think it was a good opportunity to say there are people within the Alliance Party who hold an aspiration for a united Ireland on a very long-term basis," she says.
"I come from Hong Kong, a former British colony, and of course I don't like colonisation; and I think British governments in the past have a lot to answer for in colonising a lot of different countries, including Ireland."
In 1999, she received an MBE (Member of the Order of the British Empire) award for her community work. I ask her whether there is a contradiction in describing herself as "anti-colonial" while accepting such a title.
"I accepted an MBE in 1999 and I asked my committee did they think it's a good thing. To be honest I do not like these type of titles, I see them as causing division. It is certainly a good recognition of people who have done a lot of voluntary work but I was given this for doing a job I loved and a job I was paid to do. So I asked the committee of their opinion whether they wanted me to accept it. And they thought it was a great thing and very much a recognition of the Chinese community."
She smiles as she adds: "I felt honoured to take it but I was not particularly 'Oh, I must take this!'"
She lists Nelson Mandela as somebody who she looks up to. Mary McAleese is another who she describes as "a woman of vision, so sensitive at how she approached the division in Northern Ireland."
Burma's Aung San Suu Kyi is another. "Putting your head above the parapet is not easy," she says, noting her perseverance at being under house arrest for so many years.
"I admire a lot of strong women."
So, with her planning to end her political career in 2016, what are her plans for the future?
"I plan to retire," she smiles again.
"I've always had an ambition to write a book about my experiences of politics, of first arriving in Belfast – it was quite a culture shock to me going there in the 1970s – and also I have a very unusual family background.
"There are a lot of rumours about my grandfather's and grandmother's background, rumours that they were rebels. I'm not sure how you would describe my grandfather. He was a traditionalist and conservative but he inherited millions of  pounds when he was 19 and he squandered all the money! Not a penny left for the grandchildren, unfortunately," she says laughing loudly.
"A very interesting background and a lot of myths about the family including claims there was a curse on them. So I want to do more research on it and then put it to paper."