4 August 2014 Edition
British Prime Minister meets Sinn Féin ... after 4 years
Series of firsts in Westminster last month
At our meeting with Labour leader Ed Miliband, and through our discussions with many Labour MPs, there is no doubt that Labour sees itself as part of the pro Good Friday Agreement axis
THE British Prime Minister has finally had his first-ever meeting with a Sinn Féin leadership delegation led by Gerry Adams – after four years in government.
Although he had met Martin McGuinness in his capacity as joint First Minister, David Cameron had (astonishingly) never met our party's political leadership since he came to power in May 2010.
Our delegation (which included Martin McGuinness, Mary Lou McDonald and myself) also met Labour leader Ed Miliband and his team.
The backdrop to the meetings was the mounting and untenable difficulties in the political process. While we welcomed the meeting, the disinclination of David Cameron to seriously engage with the Sinn Féin leadership until now epitomises the nature of his government's approach to Ireland and to the Peace Process. The abject failure to drive the process forward – and, worse, the de facto facilitating of unionist intransigence – has threatened to seriously undermine the hard-fought-for advances made over nearly two decades.
None of this can be lost on the British Labour leadership.
•  Ivan Lewis MP, Mary Lou McDonald TD, Ed Miliband MP, Gerry Adams TD and Michelle Gildernew MP
At our meeting with Ed Miliband, and through our discussions with many Labour MPs, there is no doubt that Labour sees itself as part of the pro Good Friday Agreement axis. Labour celebrates its role in the Peace Process as one of its best achievements in office. Moreover, the need for this role is not past.
Whatever the difficulties during some of that time, there is no doubt that those governments were, by and large, engaged in the process, and highly so at crucial moments. Unfortunately, the current Conservative Party/Liberal Democrat Government is not playing this role.
Failing to fully commit to the Haass/O'Sullivan compromise proposals, engaging in dishonest gesture politics over the OTR issue, pandering to unionist blocking of progressive change, and outstanding issues of the Good Friday Agreement such as the Bill of Rights and Irish Language Act, and now entertaining notions to unravel agreements on parades – these all add up to a negative shift in policy.
All of this is coupled with a continued insistence by the British Government in imposing austerity. We have been absolutely clear in our opposition to this and the so-called 'welfare reform' programme that has austerity at its core. It has already had disastrous consequences for ordinary people in Britain.
Instead of this we need the fiscal autonomy to determine our own economic responses and which suit our specific circumstances. Devolution cannot simply be about implementing British Tory-led government policy.
On the positive side, all of our engagements in Britain reveal that most British politicians (and of course the overwhelming majority of the Irish diaspora community and beyond) support the Peace Process. Many are highly concerned at the extent to which the British Government's approach is undermining it.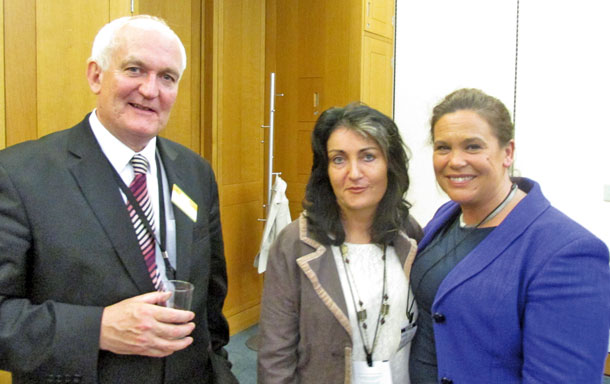 •  Chair of All-Party Parliamentary Group for Irish in Britain Chris Ruane MP, Travellers Movement leader Yvonne McNamara and Sinn Féin's Mary Lou McDonald TD
Our annual Sinn Féin Summer Reception in Westminster at the beginning of July saw a packed Portcullis House event with people from across the political, social and cultural spectrum, who clearly expressed that sentiment.
Many were also evidently heartened to hear Mary Lou McDonald's message about the electoral advance of Sinn Féin and the growing support for our progressive alternative to austerity, and for a new Irish politics and republic.
Mary Lou reiterated our calls for the British Government – alongside the Irish Government – to step up to the plate and to begin to deliver its responsibilities to the Peace Process.
As we look beyond the summer, between now and the Westminster election in May 2014 we have to ensure that there is a growing pressure for a step-change on these issues. The many friends of Ireland in Britain, and indeed the vast majority of people, support the Peace Process. It is time for this pro-Agreement axis to assert itself and to be reflected in government policy.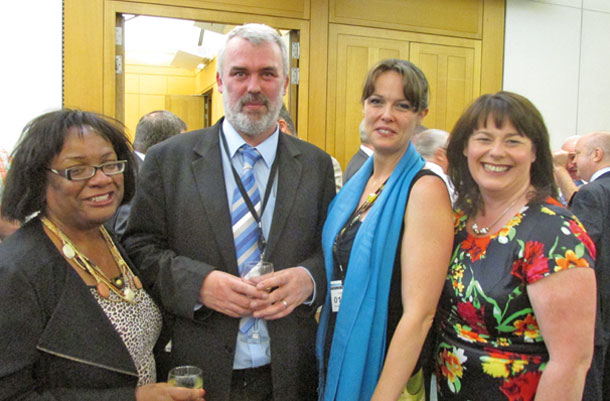 • Diane Abbott MP, Seán Oliver, Caroline Murphy and Michelle Gildernew MP at the annual Sinn Féin Summer Reception