4 August 2014 Edition
'In the eyes of the law some people are more equal than others'
Garda whistleblower John Wilson is questioned by An Phoblacht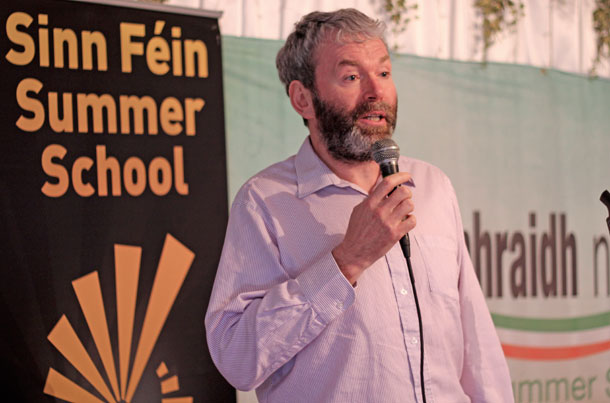 When Garda John Wilson opened his front door there was a dead rat tied to it. It was a clear warning to him to stop exposing police corruption
FLICKING through the pages of the June edition of An Phoblacht, retired Garda John Wilson laughs: "Having a copy of this was enough to get you a fair bit of unwanted attention from the Garda."
We're at the Mills Inn in Baile Bhuirne, west Cork. He's here to address the Sinn Féin Summer School in the panel discussion 'Standing up for the Public Interest'. He's to speak alongside investigative journalists Gemma O'Doherty and Frank Connolly. (Gemma lost her job at the Irish Independent for 'doorstepping' Garda Commisioner Martin Callinan to ask him about the Garda penalty points scandal.)
The exposure by Garda John Wilson and fellow whistleblower Sergeant Maurice McCabe of corrupt practices within An Garda Síochána directly led to the resignations of Justice Minister Alan Shatter. When he first brought the issues to public attention, John Wilson and Sergeant McCabe were demonised by the Establishment and ridiculed by then Justice Minister Alan Shatter. Garda Commissoner Callinan (who soon after took a surprise early retirement) told an Oireachtas investigating committee he thought the whistleblower's testimony of widespread malpractice in his police force was "disgusting".
John tells of being sent out from Pearse Street station to police a Sinn Féin protest against the 1984 visit by US President Ronald Reagan, who was funding right-wing Contra terrorists trying to overthrow the popular left-wing government of Nicaragua.
He says gardaí were told to harass and annoy Sinn Féin protesters. Skipping through An Phoblacht again, he recognises our regular columnist and now Dublin City Councillor Mícheál Mac Donncha – "I remember having a few angry exchanges with that man at a protest once," the former garda grins.
John's parents moved from Cavan to Birmingham in England to find work before moving back to Cavan, where he was born. He describes his family as "a good Fianna Fáil family."
He applied to join the Garda, aged 18, and was "delighted and very proud" to join the force in December 1982. After graduating from the Garda training college in Templemore, County Tipperary, his first station was in Pearse Street in Dublin.
"I was a big fan of US cop shows so being in the big city I felt like I was in Heaven. I realised very soon though that everybody wasn't equal. That went against how I was brought up. In the eyes of the law, some people were more equal than others."
He says his first experience of being asked to "fix something" was shortly after he started in Pearse Street.
"I was on the beat around Grafton Street and got a message to return to the station, where I was told a very important man was going to phone and I was to sit there and wait."
Shortly afterwards the phone rang and a person he describes as "a very prominent politician" was on the other end of the line.
"We exchanged a few pleasantries and he asked me to do him a favour. I had prosecuted a friend of his for a minor motoring offence. He says to me, 'I want you to look after it.' And I ended up striking out the case in court because that is what was expected of me. The other two geniuses in the office knew all about the request that was going to be made. I was rocked out of all the ideals I had about justice and equality. I realised I was living in the real world."
He served in other Dublin stations before being based in Cavan/Monaghan in 2001. John says he first met fellow whistleblower Sergeant Maurice McCabe in Clones in 2002.
"He ran a tight ship. In Dublin you operated on a wing and a prayer because you were so busy, but he insisted on the highest standards."
John says that before he arrived in Clones his own name had been destroyed by a campaign against him because he had fought against protocol by refusing to shave his beard off. Gardaí in Clones were told he was a troublemaker, no good, and to keep an eye on him.
It was in Clones that he began to carry out inquiries into the use of the Garda PULSE computer system. PULSE (Police Using Leading Systems Effectively) stores personal information on people who receive fines, motoring offences and so on.
"You knew straight away there was a problem.
"There were incidents where people had been caught speeding repeatedly, some up to eight times, but the penalty points were scrapped.
"Many names were very familiar – gardaí, judges, solicitors and politicians. These vast number of terminations were corrupt.
"On an annual basis, around 10,000 tickets were being 'fixed'. These terminations were never meant to be discovered. In the majority of cases the comments box on why they were dropped was left blank. There was about 200 officers involved in this and a small number were serial fixers."
He points out that Sergeant Maurice McCabe got a speeding ticket several years ago and paid it.
"That was highly unusual," says John. "I'd say you could count on one hand the number of gardaí who paid such fines. There are individuals driving the roads of this country with clean records, people who should be off the road."
After numerous attempts to have the corrupt practices addressed internally, he passed the information on to TD Clare Daly, as he was legally entitled to do.
He says "all hell broke loose" in Garda HQ after Clare Daly raised the issue in the Dáil and appeared on RTÉ TV's PrimeTime programme.
Superiors and colleagues knew who they were very soon "because they could see we'd checked the terminations on the system".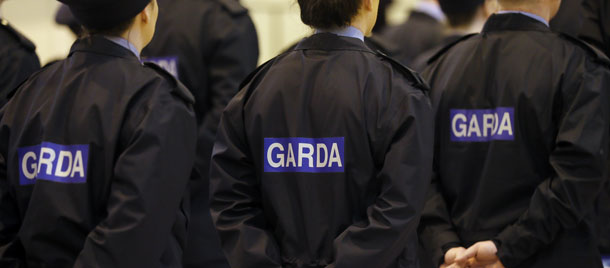 In December 2012, he says he was confronted by a detective in Cavan Garda station while using the PULSE system.
"I was asked what I was doing. I told him I was carrying out inquiries into the corrupt terminations of lawfully-issued fixed charge penalty points. He demanded I tell him who in the Oireachtas I was talking to and I refused."
Two days later, the Garda Commissioner issued what was effetively a gagging order, warning John and Sergeant McCabe about using the PULSE system. He wasn't given a copy of the order; it was only communicated to him verbally. It essentially prohibited him from using the PULSE system or passing on information to members of Parliament.
He says that when the word 'corruption' was used in the media about the penalty points scandal, Garda HQ went "absolutely bananas".
Ironically, it was John and Maurice McCabe who were treated like suspected criminals instead of the gardaí who were cancelling penalty points.
"I was even stopped and subjected to a humiliating search by the side of the road by a garda sergeant."
Two weeks later, he was in bed at home when his dog started barking and scratching at his door. "I thought one of the cats had taken his bed," he laughs. The dog started scratching and whimpering at the door. "When I opened the front door there was a dead rat tied to it." It was a clear warning to him to stop exposing the corruption within the ranks of the police service.
He says that he has no doubt that at least some phone calls between himself and Maurice McCabe were being monitored and even in their day-to-day conversations they used codenames for journalists including Gemma O'Doherty ('The Diamond') and Sinn Féin TDs Mary Lou McDonald ('The Country Singer') and Pearse Doherty.
He describes the campaign against him by those within senior ranks of An Garda Síochána as a witch-hunt:
"They were going to arrest us last summer. I know they were; they had an investigation team already formed.
"Despite us acting lawfully at all times, and going to members of the Oireachtas as we were legally entitled to do, it just shows you the level of arrogance of these individuals. They believed they were untouchable and operate in whatever way they liked. That was the leadership of your policing service."
How has he been treated by former colleagues?
He says it is a mixed bag. There are many who support himself and Maurice McCabe speaking out but others are angry that they have broken the Garda's own version of the Mafia code of silence, 'omertà'.
Of Maurice McCabe, who is still a serving member of the force and who has received death threats, he says:
"This is a man who doesn't feel safe even going into his own Garda station. He fears that if he ever needs urgent assistance he will be left waiting. He's under desperate pressure."
So what needs to be done to reform the Garda?
"As a matter of urgency we need an Independent Garda Authority. Not in two years' time – we need it now. The next Garda Commissioner must be from outside An Garda Síochána, a person who has no loyalty to the organisation; an individual who can go in there and reform the organisation from top to bottom. Otherwise we'll end up having the same tune played by a different orchestra."