4 August 2014 Edition
'Speaking Out and Standing Up'
Sinn Féin Summer School 2014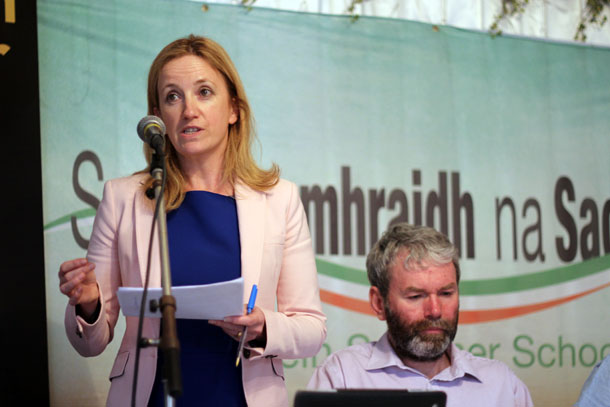 The Sinn Féin Summer School has grown in stature year-on-year to become a staple of the Irish political calendar
HUNDREDS of people descended on the pictueresque village of Baile Bhuirne in the Muskerry Gaeltacht of west Cork over the weekend of 27 June for the fifth annual Sinn Féin Summer School, an event that has grown in stature year-on-year to become a staple of the Irish political calendar.
Newly-elected Sinn Féin MEP Liadh Ní Riada welcomed the Summer School to her local area and introduced the theme for the weekend, 'Speaking Out and Standing Up.'
The opening secton (chaired by Councillor Stephen Cunningham) dealt with the ongoing search for truth in relation to British state collusion in Ireland.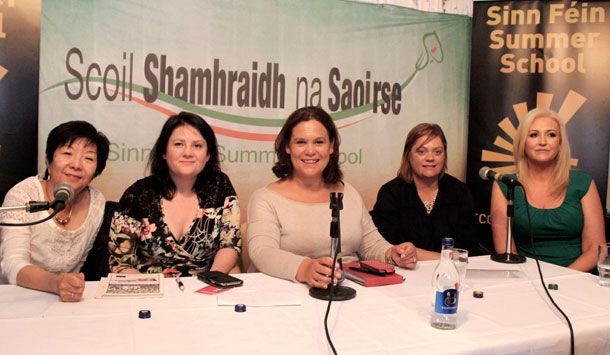 • Anna Lo MLA, Michelle O'Connell-Keating, Mary Lou McDonald TD, Catherine O'Halloran and Brigid Quilligan take part in the 'Women in Politics' debate
Former BBC journalist Anne Cadwallader, now a researcher with the Pat Finucane Centre, is author of the best-selling Lethal Allies: British Collusion in Ireland. She delivered a gripping and emotional talk on the so-called 'Glenanne Gang', a terrorist group made of serving and former members of the Royal Ulster Constabulary and British Army Ulster Defence Regiment with members of the illegal Ulster Volunteer Force and Ulster Freedom Fighters, which operated with impunity in Armagh. Using the British Army's own internal documents and records, Anne outlined in intricate detail how the British state armed, trained and directed these unionist killer gangs.
Margaret Urwin of Justice for the Forgotten explained how the families of the Dublin and Monaghan bombings by the UVF and British agents in 1974 are taking a civil court case against the British Government and the PSNI over the long-standing refusal to release all their files on the attacks. "The families feel they have no other option," she said.
On the 'Standing up for the Public Interest' panel (chaired by Councillor Donnchadh Ó Laoghaire) Garda whistleblower John Wilson spoke out about his experiences of 30 years within An Garda Síochána and the criticism and ostracisation he faced from within the force as he and Sergeant Maurice McCabe exposed the penalty points scandal. (Read his interview in this issue.)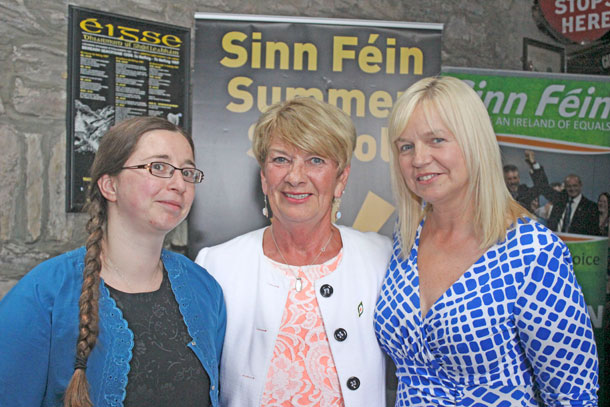 •  Feminist activist Maureen Considine, Mother and Baby Home survivor Joan McDermott and Cork East Sinn Féin TD Sandra McLellan
Investigative journalists Gemma O'Doherty and Frank Connolly spoke in-depth about their work and how they were demonised by the political Establishment for the stands they took on real issues in the public interest.
The 'Women in Politics – Towards Equal Representation' debate drew a big crowd as Mary Lou McDonald TD, Anna Lo MLA, Daily Star Political Correspondent Catherine O'Halloran, Brigid Quilligan of the Irish Traveller Movement, and Michelle O'Donnell-Keating from Women for Election discussed the issue of the under-representation of women in public life and politics. (See Anna Lo's interview in this issue.)
During a discussion on the outrageous recent disclosures on mother and baby homes in the state (chaired by Sandra McLellan TD), survivor Joan McDermott gave a harrowing description of the ordeal she faced as a young pregnant woman incarcerated in the Bessborough Mother and Baby Home in the 1960s.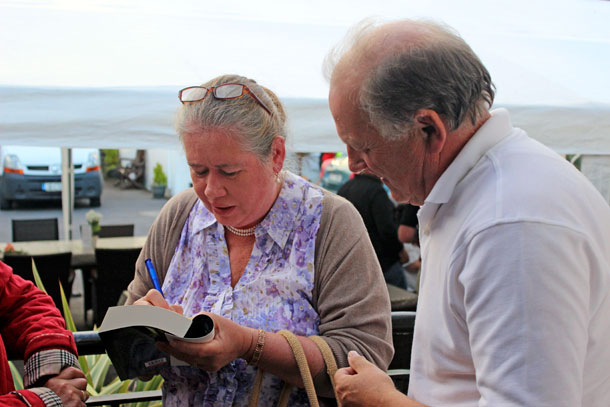 •  Journalist Anne Cadwallader signs a copy of her book 'Lethal Allies: British Collusion in Ireland' at the Mills Inn in Baile Bhuirne
She also told an audience, which was both horrified and enthralled, of her tenacious campaign to get access to her own records and be reunited with the son who was taken from her so many years ago.
Feminist activist and artist Maureen Considine also spoke of her work in solidarity with those who had suffered in mother and baby homes.
The arts section (chaired by Senator Trevor Ó Clochartaigh) closed the event and included beautiful renditions of traditional Irish songs by local Seán Nós singer Nell Ní Chróinín.
Visual artist Shane Cullen who withstood attempts by Fine Gael figures to remove his artwork from a gallery in Athlone based on the "comms" written by the 1981 Hunger Strikers spoke of the power of art and its use in speaking truth to power.
• Senator Trevor Ó Clochartaigh, comedian PJ Gallagher and artist Shane Cullen enjoy a laugh during the arts section
Before Pearse Doherty wrapped up proceedings with a special appearance by Cór Cúil Aodha (whose stirring rendition of the song Mo Ghile Mear went viral on YouTube) was a particular highlight, the final speaker was comedian PJ Gallagher (aka 'Jake Stevens').
PJ had told An Phoblacht last month he "hadn't a clue" what he was going to speak about but had the audience in stitches as he spoke of his work and life.
Explaining how he got into doing stand-up comedy, PJ told the audience the greatest gift he had was his "lack of ability to do anything practical". Giving some great insights into how he comes up with new material, he says it mostly comes from situations he finds himself in or overheard conversations on the streets of Dublin. "I don't know if I consider myself an artist . . .  If you're from the Revenue, I'm an artist!"
• Investigative journalist and author Frank Connolly