4 August 2014 Edition
Ready for Government?
Another View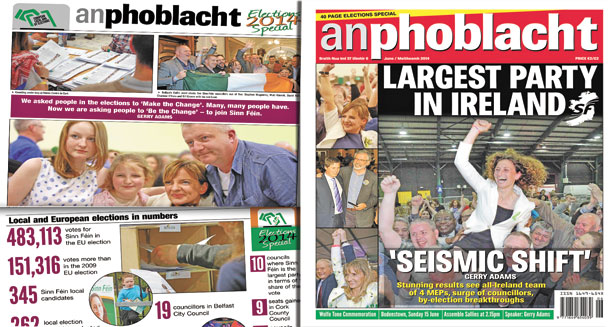 Progressive forces have squabbled about the best route to a more equal society – reform or revolution?
THERE IS A LOT OF TALK of Sinn Féin in government these days. Gerry is telling us to get ready. Micheál and Enda are saying no way. The Indo is in panic mode. Things seem to be getting serious.
There is no doubt that Sinn Féin wants to be in government in the South. But big questions remain, one of which is: 'Are we ready?'
The straight answer is no, we are nowhere near ready to participate in government in Leinster House. But there is enough time to get ready, if we use that time wisely.
So what must we do?
The first thing is to learn from the mistakes of the past so as not to repeat them.
The experience of our Left republican predecessors in Ireland must be fully understood.
Why did Clan na Poblachta's challenge to Fianna Fáil hegemony collapse after such a bright start. Was the implosion of the Workers' Party and the dissolution of Democratic Left inevitable?
We must also take seriously the failure of Labour to have a meaningful long-term impact on Government policy or to permanently break beyond its half-party subordinate role in Southern politics.
International experience must also be understood.
Why have European democratic socialist parties suffered (electorally and organisationally) from their participation in Government in France, Italy and Sweden? What explains the return of the Right to government in Norway after the Left coalitions successful two terms in office?
If we want to enter Government to achieve real political, social and economic transformation then we need to debate and understand these failures in order to develop strategies that allow us to achieve our goals in ways that our Irish and international predecessors did not.
Then there is the question of what kind of social, economic and political transformation are we talking about.
Sinn Féin policy is strong on end points – we know where we want to get to. But we have yet to map out, in concrete policy terms, how we would get there.
How do you get from a dysfunctional and wasteful two-tier, partitioned health system to an all-Ireland, free-at-the-point-of-delivery, one-tier system? If we can't answer these kinds of questions then we won't be able to deliver the change we promise.
There is an urgent need for the party to map out the detail of our vision for Ireland and the route by which we plan to get there – step by step, policy decision by policy decision, across the key areas of political, social and economic life.
But policy detail is not enough. We also need to start building the coalitions for change required to overcome the already existing power alliances of the status quo.
Sinn Féin cannot deliver the kind of transformation we are seeking alone. We need to be part of a myriad of movements for change – some local, some national, some short-term and tactical, some long-term and strategic.
These alliances must be social and political, institutional and popular. They must involve people and organisations and combined must constitute a mass movement for a better Ireland.
For over a century, progressive forces across the globe squabbled about which was the best route to a more equal society – reform or revolution?
Today this debate is redundant. There are elements of both philosophies and strategies that are necessary if we are to fundamentally change our society.
Our goal is the radical transformation of the political, social and economic fabric of Ireland. This can only be achieved by securing a critical mass of reforms within the institutions supported by a strong and diverse popular movement for change outside the institutions.
Sinn Féin are trying to do something that all of our predecessors, in Ireland and internationally, have failed to achieve to date.
Our success will depend on many things, including on how well we prepare for government.
What cannot be doubted is the seriousness of our intent. Maybe that's why the political establishment is starting to panic.