4 August 2014 Edition
End the onslaught on Gaza
Editorial • Eagarfhocal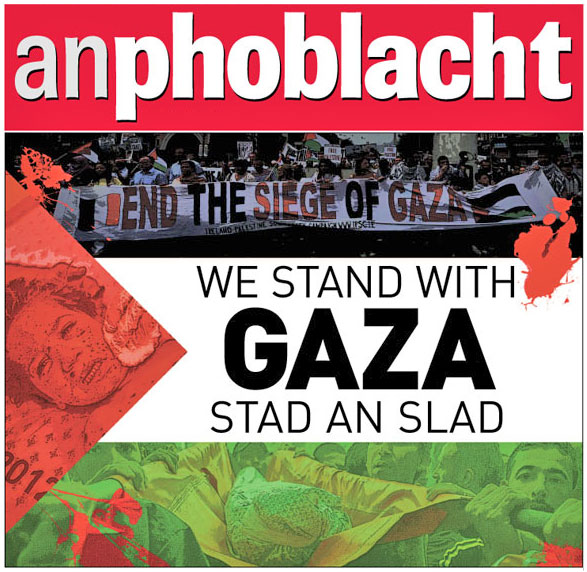 Sinn Féin has urged the Irish Government "to go beyond the politics of empty rhetoric" and expel the Israeli Ambassador to set an example for the rest of the EU
THE ONSLAUGHT on Gaza by Israel is being relentlessly and vindictively pursued by one of the most powerful war machines in the world. Israel is daily pounding a tiny strip of land smaller than County Dublin that has no army, air force or navy with which to defend itself and which was being blockaded economically even before this current air blitz and invasion.
This must end.
This is not 'an eye for an eye'.
More than 1,110 Palestinians have been killed in Israeli bombings, artillery barrages and ground assaults by tanks, commandos and elite infantry units.
Three civilians in Israel have been killed by rocket or mortar fire from Hamas*.
Eleven hundred against three – this is not 'an eye for an eye'.
And it is now accepted that the abduction and murder of three Israeli teenagers in the West Bank in June was not in fact carried out by or on the orders of Hamas – the pretext for the Israeli state's collective punishment of the people of Gaza.
Sinn Féin has urged the Irish Government "to go beyond the politics of empty rhetoric" and expel the Israeli Ambassador to set an example for the rest of the EU.
On 29 July, Sinn Féin President Gerry Adams TD spoke by telephone from the Dáil to Saeb Erekat in Ramallah. Saeb is the Chief Negotiator of the Palestinian Unity Government.
"He told me that there is no oil, no water, and no electricity in Gaza. Saeb described to me this current Israeli assault as seeking the total destruction of Gaza."
Gerry Adams said that, a week after writing to An Taoiseach requesting the recall of the Dáil to discuss the Gaza crisis, he had still not received the courtesy of a reply. This was even though the Taoiseach's advisers had been busy telling the media that he will not agree to the Dáil discussing Gaza during his Government's summer holidays.
Sinn Féin wants the Dáil to debate Ireland's response to Gaza, including the Irish Government's refusal to support a United Nations Human Rights Council motion calling for the setting up of an International Commission of Investigation into events in that war-torn region.
The recall of the Seanad makes any excuse for not recalling the Dáil redundant.
"Given our own history as a people, our experience of conflict and our peace process," Gerry Adams said, "we can and should play a constructive role in seeking to find a resolution to conflict in the Middle East.
"I appeal to the Taoiseach to request the Ceann Comhairle to immediately recall the Dáil."
* Fifty-two members of the Israeli invasion force have been killed by Palestinian resistance fighters.