17 July 2014
Dáil stands in solidarity with Gaza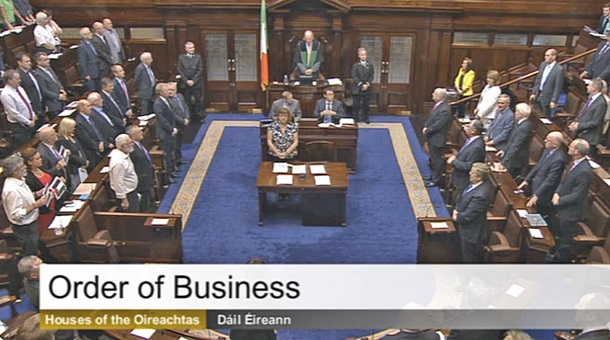 THE IRISH PARLIAMENT held a moment of silence in solidarity with the besieged people of Gaza on Thursday after a request by Sinn Féin leader Gerry Adams. During the silence Sinn Féin TDs held Palestinian flags.
The Louth TD said:
"At the end of the debate I called for the Dáil to stand for a minutes silence in solidarity with the people of Gaza. I very much welcome the positive response to this."
The Sinn Féin leader added:
"The Tánaiste's refusal to allow a debate on Gaza is shameful. The Dáil meeting for a special debate would have sent a powerful message to the world and particularly the people of the Gaza Strip.
"The Israeli assault on this besieged community is an act of collective punishment against a civilian population which has left 200 people, mostly civilians and children dead and many more injured.
"The Palestinian people have been robbed of their land, imprisoned by separation walls and borders into ghettoes, Gaza has been under siege for 7 years and they have little power or influence.
"Israel by comparison is a first world, highly developed, rich and heavily armed super-state with nuclear weapons."