3 April 2014
Cumann na mBan celebrated 100 years on at its birthplace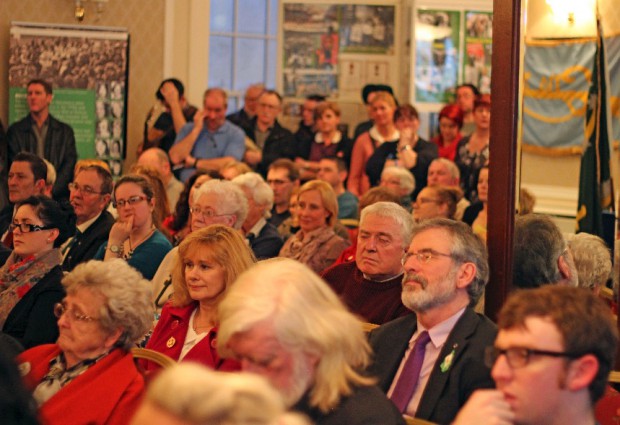 Sinn Féin TD Mary Lou McDonald spoke of the need for more women to become involved in the republican political struggle
IT WAS standing room only in Wynn's Hotel, Dublin, on Wednesday night when over 150 people attended a celebration of the founding of the revolutionary women's organisation Cumann na mBan exactly 100 years ago to that exact date in that very same building.
The event began with the launch of the book Doing My Bit for Ireland, originally published in 1917 and written by Cumann na mBan and Irish Citizen Army veteran Margaret Skinnider, a schoolteacher from Glasgow, detailing her role in the Easter Rising. Aengus Ó Snodaigh TD has since included a detailed prologue to the book to put it in its historical context.
Included at the event was an exhibition of photographs detailing the role of Cumann na mBan and from its foundation to the 1970s, when it was incorporated into the IRA.
Sinn Féin TD Mary Lou McDonald spoke of the need for more women to become involved in the republican political struggle. Author and historian Liz Gillis gave a detailed overview of the role of women in the Easter Rising, the Tan War, Civil War and later.
Those at the event included the relatives of some of the leaders of 1916 and a number of republican former prisoners, including Rose Dugdale, who received a standing ovation from the crowd. Many members of Sinn Féin's Oireachtas team (including Gerry Adams TD, Sandra McLellan TD, Seán Crowe TD, Michael Colreavy TD, Dessie Ellis TD and Senators Trevor Ó Clochartaigh and David Cullinane) also attended.
Music was provided by Fintan Warfield and the event was chaired by Dublin's Sinn Féin EU candidate, Lynn Boylan.