1 September 2010
Navan hospital cuts story broken by Sinn Féin Cllr Joe Reilly
THE SHOCK NEWS about the transfer of acute surgical services from Our Lady's Hospital in Navan to Drogheda was broken by local Sinn Féin Councillor Joe Reilly, a member of the Dublin North East Regional Health Forum. The HSE was trying to keep the move under wraps.
The Sinn Féin councillor said the moving of surgical services from to an already- overcrowded Drogheda hospital was being made despite huge medical concerns by 47 local GPs and other medical professionals in Meath.
He said the HSE has failed to produce any medical report justifing the decision.
"When this move is considered in conjunction with the proposed closure of the 24 bed psychiatric unit in Our Lady's by 2012, the closure of the A&E and the decision for the ambulance to bypass Our Lady's and go direct to Drogheda, it points to a huge crisis in our health service
"There's a desperate attempt to solve this crisis by jamming all services into an unsuitable and overcrowded Drogheda and killing off Our Lady's Hospital by a thousand cuts."
The economic  crisis means that thousands more of our people can not now afford private insurance and are now dependent on the public
health system."
He called for GPs, health services and communities to stand together in defence of their services and for Fianna Fáil TDs Minister Dempsey and Deputies Brady, Wallace and Byrne to go.
An Phoblacht Magazine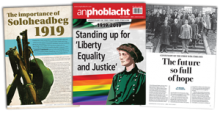 AN PHOBLACHT MAGAZINE:
Don't miss your chance to get the first edition of 2019 published to coincide with the 100th anniversary of An Chéad Dáil and Soloheadbeg.
In this edition Gerry Adams sets out the case for active abstentionism, Mícheál Mac Donncha takes us back to January 21st 1919, that fateful day after which here was no going back and Aengus Ó Snodaigh gives an account of the IRA attack carried out on the same day of the First Dáil, something that was to have a profound effect on the course of Irish history.
There are also articles about the aftermath of the 8th amendment campaign, the Rise of the Right and the civil rights movement.
An Phoblacht on Twitter

An initiative for dialogue 
for reconciliation 
— — — — — — —
Contributions from key figures in the churches, academia and wider civic society as well as senior republican figures