2 February 2014 Edition
Cairde na hÉireann – Scotland's Irish republican voice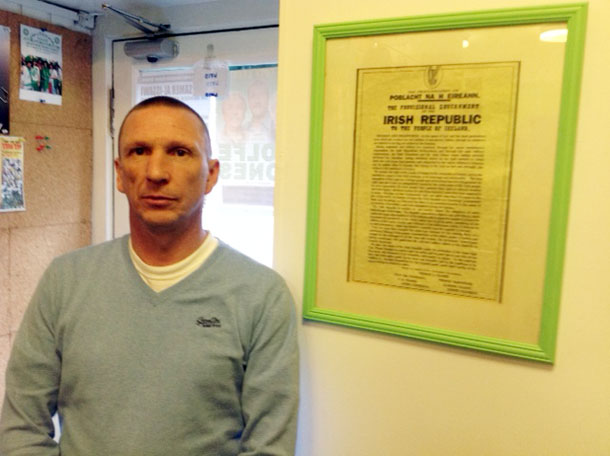 "When we started Cairde na hÉireann it included the bands and we had one or two Cairde cumainn and two or three bands," Franny says. "Now we have nine bands and 14 cumainn."
CAIRDE na hÉireann in Scotland marked its growth this year as one of the most vibrant organisations outside Ireland supporting Sinn Féin with the launch of a dedicated youth wing for young people aged 16 to 25.
It's a particularly notable achievement in what Cairde describes as "a hostile environment". That includes not only a large and often violent unionist/loyalist opposition most visible in the Glasgow Rangers FC fan base but an Establishment and mainstream media consistently misrepresenting republican marches as sectarian. It's a media that, until this year, refused to even acknowledge anti-Irish racism in Scotland.
Cairde National Organiser FRANNY McADAM spoke to JOHN HEDGES at the Cairde shop in Glasgow, near the famous Barras market.
 • Cairde was set up as an umbrella organisation to to give a political voice and outlet for Irish republican supporters in Scotland
The Cairde Shop in Glasgow stands at 260 Gallowgate, opposite The Emerald Isle and Bar 67.
Run by volunteers, the shop is open on Friday, Saturday and Sunday from 12 noon until 5pm and on 'big match' nights when Celtic are playing at home. It sells republican merchandise from the Sinn Féin Shop in Ireland as well as An Phoblacht.
Cairde na hÉireann is "the national structure for republicans in Scotland". Its work includes "campaigning for a united Ireland, supporting sister organisations in Ireland [i.e. Sinn Féin], promoting a new Ireland based on the principles of justice and equality, supporting initiatives aimed at improving the material conditions of the Irish community in Scotland, and campaigning against racism and sectarianism".
Franny McAdam became National Organiser for Cairde five years ago, a role he keeps up in between his full-time job and his family. He's been involved in Irish republican politics in some form or another for more than 30 years.
"My grandparents on both sides were from Ireland — from Donegal and the Falls Road — and it was my grandfather telling me as a boy stories about the struggle and giving me books about it. Dan Breen was probably the first book I read. Then I joined a republican band at 14 because, at that time, there was nothing else in Scotland, just bands, until Cairde started around ten years ago."
Going nationwide
Cairde was set up as an umbrella organisation at a meeting between republicans from Ireland and Scotland to give a political voice and an outlet for Irish republican supporters. "Before Cairde, nobody could join an organisation unless it was a band and that excluded a lot of republicans," Franny explains.
"When we started Cairde na hÉireann it included the bands and we had one or two Cairde cumainn and two or three bands," Franny says. "Now we have nine bands and 14 cumainn."
From its 'base' in the west of Scotland, Cairde is spreading nationwide.
"We've been having meetings with people in the north, south and east of Scotland."
Franny brushes away any idea that Cairde is primarily a Glasgow organisation, pointing to central Scotland and cumainn in Stirling, Inverclyde  and Port Glasgow in Greenock, Wishaw, Hamilton, Coatbridge, Plains — all outside Glasgow. "There's fewer cumainn in Glasgow than outside."
One of the biggest achievements of Cairde in Scotland in recent years has been "to get the Irish on a level playing field" by being recognised with other ethnic communities and the voice of the Irish heard, he says.
Cairde Youth
Young people in Cairde come in for huge praise from Franny.
"They do tremendous work. Cairde v Cancer was all started and driven by Cairde youth and Michael Traynor from the Plains cumann as well as other things, that's why we've formed Cairde Youth, pretty much on the lines of Sinn Féin Republican Youth."
He puts the influx of young people into Cairde down to it being an active organisation on the ground, running not only successful public meetings with Sinn Féin speakers over from Ireland and parades but social initiatives such 'Cairde v Cancer' (which has raised £6,500 for various charities in honour of IRA Volunteers Pól Kinsella and Brian Keenan) and the food bank initiated by its new youth wing from Cairde's Skinnider Centre in Coatbridge.
There's an anti-Irish racism in Scotland that doesn't only manifest itself at counter-demonstrations at republican events or soccer matches, Franny says.
"It's a day-to-day issue.
"Anti-Irish racism is rife throughout Scottish society, through every council we've met, through the Scottish police force, but Cairde and others are standing up against that and now we're recognised as a voice for the Irish community."
Aside from growing Cairde na hÉireann, Franny says he'd like to see the wider Irish community and its representative organisations come together "not necessarily under one banner but together in fighting for the rights of the Irish in Scotland".
CONTACT: [email protected]  | Twitter: @CNEScotland and @CairdeYouth