2 February 2014 Edition
Syria and refugees raised with Iran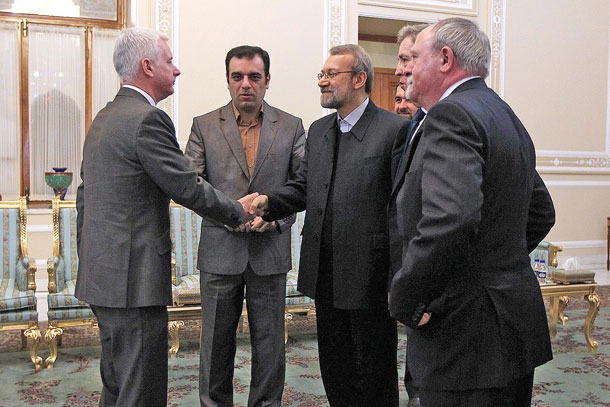 TRADE was the main issue when an Oireachtas Foreign Affairs Committee delegation met senior ministers in the Iranian Government in Tehran in January but Sinn Féin TD Seán Crowe used the opportunity to also discuss the war in Syria.
The three-year-old conflict has left over 100,000 people dead and millions displaced. Iran has close ties with the Syrian Government and pro-Iran Hezbollah militants are fighting alongside the Syrian Army against anti-government rebels and jihadists.
Seán personally spoke with Iranian Foreign Minister  Mohammad Javad Zari about the plight of Palestinian refugees trapped by fighting within Yarmouk refugee camp near Damascus. Seán told An Phoblacht:
"As rebel forces refuse to leave the camp it has been besieged by the Syrian Army and this is creating a severe humanitarian crisis. People in the camp have extremely limited access to food, medicines, and other vital supplies. Aid cannot reach the camp and people are dying of hunger."
The Iranian Foreign Minister told the Irish delegation he is working with the Syrian Government, and the governments of Turkey and Jordan, to try and secure a humanitarian corridor to allow urgent humanitarian aid to reach the camp.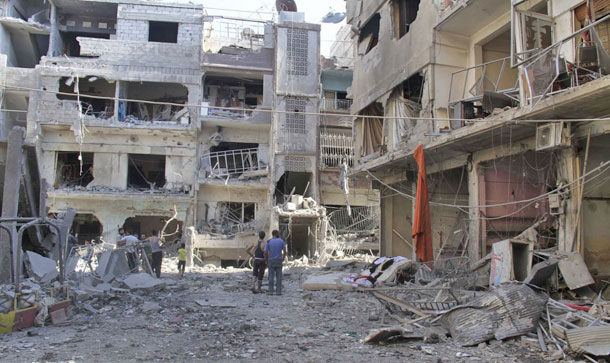 • Palestinian refugees have been trapped for months in Yarmouk refugee camp
Geneva II peace talks
As well as being critical of the decision by the UN-mediated peace talks in Switzerland dubbed 'Geneva II' to exclude Iran, Seán Crowe also said it was unfair to lump the Kurdish representatives in with the "all-encompassing" opposition. "The Kurds deserve their standalone representation at all negotiations," he says.
There are serious concerns as to what exactly Geneva II can achieve. With over 100,000 opposition fighters splintered into 1,000 different groups there are questions as to just how much influence the anti-Government Syrian National Coalition and its rebel Free Syrian Army (FSA) has on the ground. The FSA has been eclipsed by much larger and better-equipped Al Qaeda-linked forces.
Seán Crowe says he hopes one thing to come out of the talks will be the creation of humanitarian corridors to get aid to those most in need.
"I don't think anybody believes that these peace talks will solve the conflict or that the conflict can be solved overnight. That said, opposing sides coming together to talk is definitely a welcome and positive step that can be built upon."