2 February 2014 Edition
We need to be leaders in Europe
MARK MOLONEY talks to Sinn Féin's Ireland South EU candidate LIADH NÍ RIADA, daughter of renowned composer Seán Ó Riada
'I didn't get involved to be a politician. I became involved because I'm an ordinary person living the same struggle as everybody else and I think the ordinary voice is seriously lacking'
FROM A YOUNG AGE, Liadh Ní Riada was acutely aware of the anomaly of partition.
"When I was a child I could never get my head around what partition was. I couldn't understand the concept of living in a country yet we were divided."
She says the 1981 Long Kesh Hunger Strikes had a huge impact on her.
"I was babysitting for my elder sister when I was quite young and they had posters of Bobby Sands up. When the strikers died, our family wore black armbands. That had a huge impact on me, and just coming from a Gaeltacht region I was always very aware of who we are in terms of our cultural identity and as a nation."
A native Irish speaker from Cúil Aodha in the Muskerry Gaeltacht, Cork, Liadh has spent much of her life working in the media as a TV film director and producer as well as with numerous cultural organisations.
In school she had a passion for music and moved to live with her aunt in Limerick at age 15 so that she could study music for her Leaving Certificate. Her interest came as little surprise to those who know her family — she is the youngest daughter of renowned composer Seán Ó Riada, who passed away when she was just four years old. Seán is considered the single most important figure in the revivial of traditional Irish music during the 1960s. Although Liadh wanted to continue on in music at third level, she could not bring herself to leave Ireland to study abroad in Sussex, in England, to do the course she wanted. "Instead I ended up, by accident really," she smiles, "doing media work."
• Liadh's husband Nicky with their daughters Neans, Ailsa and Cáit
It was something that would see her go on to train with RTÉ and Údarás na Gaeltachta.
"Much of my life before joining Sinn Féin was taken up making documentaries for RTÉ and TG4. I produced well over 35 programmes which covered everything, all kinds of topics. I even directed a film called An Gobán Saor when I was 24, even though I had no experience in doing drama." The film starred the late Eamon Kelly and she worked alongside famed cinematographer Seamus Deasy. "I had a crew of about two dozen people and we got European funding for it as well as backing of the Irish Film Board. So it was quite an exciting move."
She was later appointed to the Coiste Bunaithe by then Arts Minister (now President) Michael D. Higgins, something she says she was truly proud to be a part of. Their role was to set up the national Irish-language station TG4. She later went on to work as a director for RTÉ in Cork City when it was European Capital of Culture.
• Sinn Féin candidates Liadh Ní Riada, Matt Carthy and Lynn Boylan at the EU Parliament in Brussels
Following her marriage to Nicholas, and the birth of their three daughters, she began working as a freelancer with her own succesful media production company.
"I was still able to do my own freelance work while being at home with the kids as well. It was really important to me to be there with my daughters."
Throughout all this time Liadh remained very strongly involved in community activities and development, working with local voluntary and cultural groups in her native Cork, particularly in the area of securing funding and organising fundraising activities. Liadh later became the only person in Ireland selected to do a European diploma in Cultural Project Management. Her studies took her right across Europe.
In recent years Liadh took on the role as National Irish Language Officer with Sinn Féin.
"I thought it was a great opportunity in terms of implementing policy for the language on all-Ireland basis."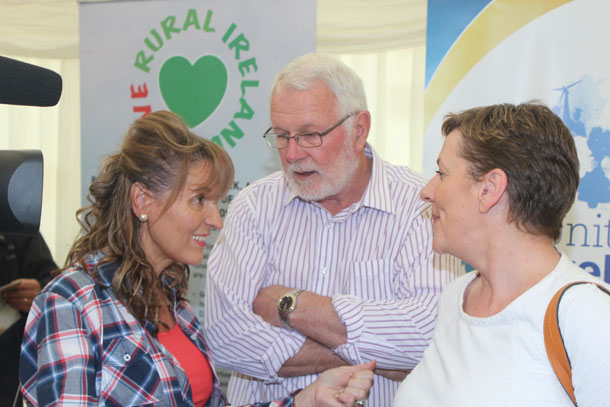 • Martina Anderson MEP, Martin Ferris TD and Liadh Ní Riada at the National Ploughing Championships
Before taking up the role, Liadh said she was involved in politics "as much as the ordinary person on the ground was".
"Politically, and from my own social conscience, Sinn Féin was the perfect fit."
Her experience with so many state bodies is something that has stood to her in her political and campaigning role.
"The frustration and the bureaucracy in dealing with state agencies, state bodies and semi-state bodies was something that was making me very much aware of how systems work — or don't work.
"At one point I was trying to access funding for a local singer. I had a huge debate (to put it mildly) with the Arts Council because they said he could only apply online. The man was computer illiterate. And even if he could use a computer it wouldn't have mattered because there was no broadband in the area! It was discrimination.
"So there were lots of instances where the person on the street is facilitating these box tickers in offices when really they should be acting as support structures to facilitate people. It goes right across to anybody working in small businesses or enterprises who are being forced to jump through hoops to get the support they need, and even at that they're not assured of it."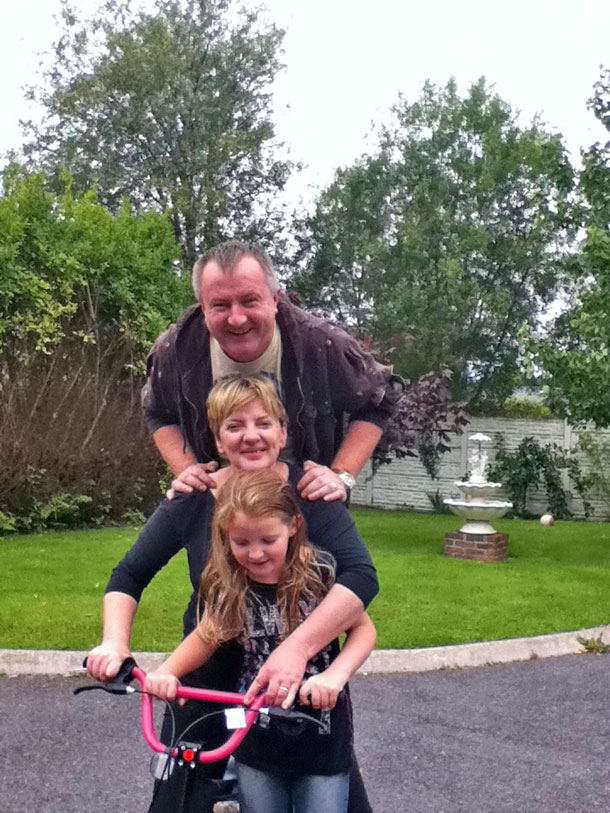 •  Liadh with her husband Nicky and daughter Cáit
Standing in the massive constituency of Ireland South (made up of the ten counties of Wicklow, Carlow, Wexford, Kilkenny, Waterford, Tipperary, Clare, Limerick, Kerry and Liadh's own native Cork), Liadh says rural regeneration is a key issue for her campaign.
"If facilities and jobs aren't there in rural communities then people are having to emigrate. We have garda stations being closed and local schools under threat. What's going to be left? Young people are leaving, and it's not just single people; entire young families are going. It has a detrimental effect on everything from local GAA clubs to community development because people simply aren't there.
"I'm not an experienced, polished politician," admits Liadh. "I didn't get involved to be a politician. I became involved because I'm an ordinary person living the same struggle as everybody else and I think the ordinary voice is seriously lacking. I just think a lot of Establishment politicians are greatly out of touch with what is happening on the ground."
Liadh says it is still unfortunate that women are so under-represented in politics.
"There are so many women out there doing fantastic work that go unrecognised. I suppose I want to become a role model for my own girls, to show them that you can do anything you can put your mind to and that you can make a difference."
She points to Joanne O'Riordan from Millstreet in County Cork, a young woman born with no limbs, the 2012 Young Person of the Year at the People of the Year Awards, as somebody she admires greatly.
"Despite all the difficulties she faces, Joanne has shown that nothing is impossible. She's really somebody who has never been afraid of anything, or let anything hold her back."
Hitting out at some politicians, Liadh says that much of the political jargon used in Europe is designed so that ordinary people switch off on hearing it.
"It's very inaccessible. They've so much terminology that lets them say one thing when they mean the other. You hear them go on about 'socio-economic deprivation' when what they're talking about is poverty — plain and simple. We need to speak in terms people understand: straight talking instead of getting bogged down in terminology and jargon."
Speaking of Irish MEPs generally (with a few notable exceptions such as Martina Anderson), she says most MEPs have simply gone along with the consensus in the EU Parliament.
Recognising that it can be difficult for such a small nation to make an influence in Europe, Liadh says that she and other Sinn Féin candidates will do their utmost to represent those who elect them and oppose the continued right-wing austerity-driven agenda emanating from Brussels. But she also believes that our MEPs should not merely oppose such policies.
"We should be coming up with visions ourselves of what we think Europe should be like. We need to be the leaders in creating policy."
Sinn Féin is the only party standing European Parliament candidates on an all-Ireland basis: 
Lynn Boylan (Dublin), 
Liadh Ní Riada (South), 
Martina Anderson MEP (Six Counties) and 
Matt Carthy (Midlands-North-West)