2 February 2014 Edition
Florrie French, Nobber, Meath
Fógraí Bháis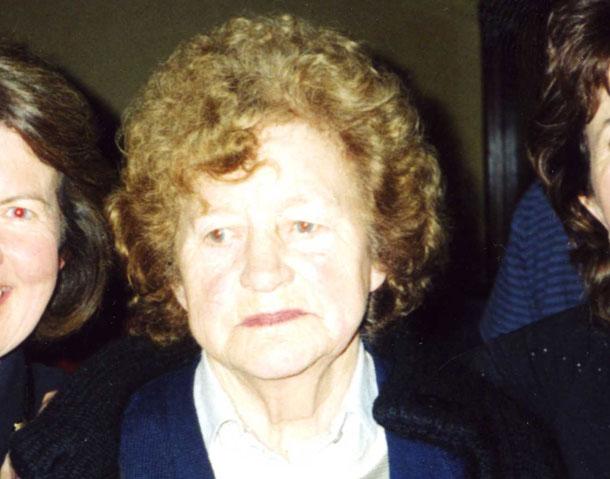 FLORRIE FRENCH, who passed away on 22 January, was born into a farming family in Ladyrath, County Meath, on 1 May 1923.
At the age of 20, Florrie met and fell in love with Ben French, a well-known republican who had fought in the Tan War and the Civil War in the 1920s.
Ben remained an active Volunteer for much of the first half of the 20th century and was fully committed to the cause of Irish independence up until his death in 1972. Florrie's sister-in-law spent time in Kilmainham Jail after the 1916 revolution.
As Florrie's relationship began with Ben, so too did a lifelong commitment to the Republican Movement. Florrie studied republicanism with the help of Ben through publications such The Wolfe Tone Weekly and The United Irishmen, copies of which dating from the 1950s remained in her possession. Florrie started selling The United Irishmen in the 1950s and continued with An Phoblacht up until 2007, at the age of 84.
In Florrie's heyday she sold to over 40 rural pubs throughout north Meath and Cavan. This involved selling on a Thursday, Friday, Saturday, Sunday night, selling 140 copies a week. It is estimated that during her selling years Florrie sold upwards of 300,000 copies of the United Irishmen/An Phoblacht, and tens of thousands of Easter Lilies and Republican Calendars.
Florrie's activities throughout the years offered invaluable support to IRA Volunteers and Sinn Féin activists who were given shelter during the toughest of times.
During one Special Branch raid on her home, an eager Garda superintendent wrongly identified the resin dust of Florrie's favourite fiddle as gun powder until such time Florrie reminded the superintendent that she had in fact played the fiddle in his company many times before.
In 1972, Florrie took part with Máire Drumm and Eileen Shields in the anti-internment march from the Hill of Tara to Navan. Florrie also hosted different Sinn Féin leaders, including Paddy McLogan and Gerry Adams.
Florrie was the last of an incredible generation stretching back to the Civil War. Ní bheidh a leithead ann arís.