12 January 2014 Edition
The centenary of The Irish Volunteers – Óglaigh na hÉireann
100 years on Famous publication to be digitised to An Phoblacht online subscribers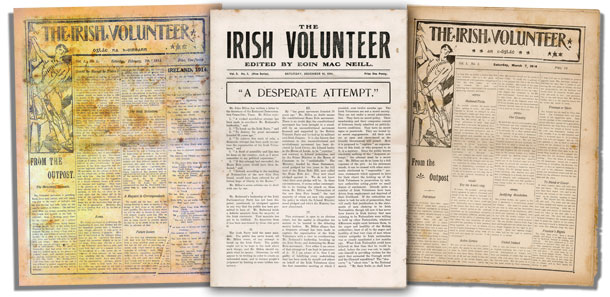 AN PHOBLACHT will be making all the editions of The Irish Volunteer, the newspaper of the Irish Volunteer movement, available to online subscribers each week over the next two years and exactly 100 years after they were first published.
The Irish Volunteer - Óglach na hÉireann was first published on 7 February 1914 and from then on every week until 22 April 1916, just days before the Easter Rising.
The official newspaper of the Irish Volunteers, it outlined the political views of the leadership and reported on manoueveres and important events, such as the Howth Gun Running of 1914. It played an important part in giving a nationalist and republican perspective on major news stories. While officially edited by Eoin MacNeill (who would later go on to issue countermanding orders in an attempt to cancel the Easter Rising) many of those involved were senior members of the Irish Republican Brotherhood.
The paper was incredibly important in influencing public opinion and garnering support for the Irish Volunteers, forerunners of the Irish Republican Army.
Included within its pages alongside political opinions and news reports are various advertisements from shops across Ireland selling items such as revolvers, bandoliers and military uniforms.
In its final edition, published just two days before the beginning of the Easter Rising and following reports of the capture of Roger Casement as he attempted to land weapons from a German submarine, the newspaper wrote:
"Arrangements are now nearing completion in all the more important brigade areas for the holding of a very interesting series of manoeuvres at Easter. In some instances the arrangements contemplate a one- or two-day bivouac. As for Easter, the Dublin programme may well stand as a model for other areas."
An online subscription to An Phoblacht costs just €10 for 12 issues and includes a digital copy of each new edition of the paper and IRIS magazine, access to our digitised historic archives, and copies of the Irish Volunteer?
Sign up at www.anphoblacht.com – only €10