12 January 2014 Edition
Running for an all-Ireland team in Europe
Dublin EU candidate LYNN BOYLAN talks to An Phoblacht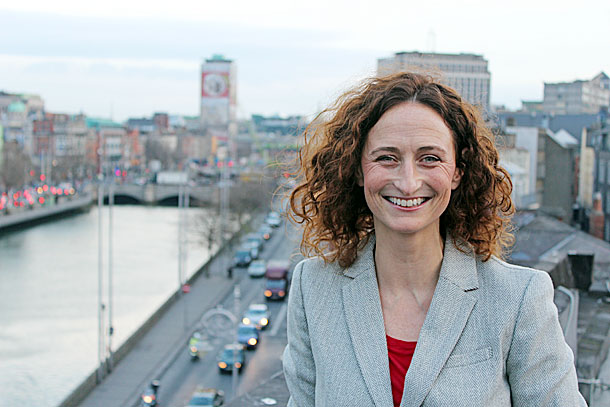 We're seeing a race to the bottom for workers across Europe. They are trying to lower working standards and reduce the minimum wage – Lynn Boylan, Sinn Féin Dublin EU candidate
AT THE AGE of 12, Lynn Boylan had her letter supporting a Dublin Bus strike over pay and conditions printed in the Evening Herald.
"My dad was trained as a butcher but the factories closed down. He was in and out of work before he eventually got a permanent job with Dublin Bus.
"I wrote a letter to the Evening Herald, telling them that Jim Larkin would be turning in his grave. It was the first time I realised I had a voice.
"As a 12-year-old, to be able to say something and then see it printed in black and white, that was great. I was always very outspoken on social rights and human rights."
Brought up in the Kilnamanagh area of Tallaght, in Dublin South-West, Lynn says that from a very young age she has had a great interest in Irish history and social rights.
Following school, Lynn did a college journalism course for a year in Ballyfermot, earning a certificate, but says it wasn't for her. "I went in as an idealist and came out as a cynic," she laughs, giving a particularly wide smile as we're doing the interview in the An Phoblacht offices.
She then began studies in the area of environmentalism and ecology. She earned post-graduate qualifications from University College Dublin in Environmental Impact Assessment and European Environmental Conservation Management, giving her a working knowledge of the European Union's environmental law.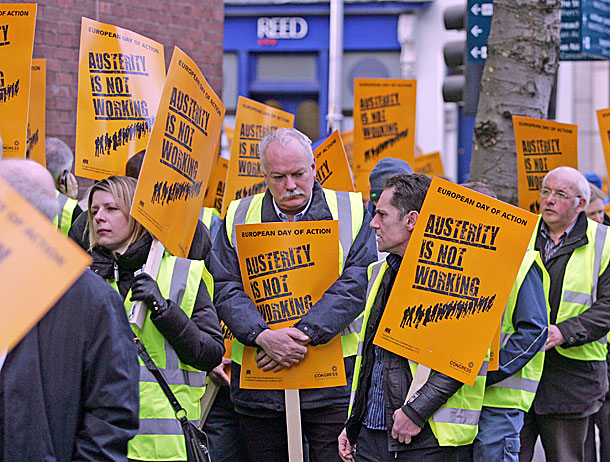 • Lynn Boylan says that workers' rights is a key issue for her
She put these skills to use when she began volunteer conservation work in Killarney, County Kerry. There she worked as a co-ordinator with the Irish Wildlife Trust before going on to full-time work in Killarney National Park and Education Centre as an ecologist and teaching ecology for students from primary up to third level.
It was while in Killarney, in 2005, that she joined Sinn Féin.
"I met the local 'Shinner' a few times in the pub near where I lived. I kept giving out to him, saying there was no coverage of Sinn Féin in the local papers. I did this for about a month and eventually he sent me a letter half-jokingly saying something along the lines of 'either join or stop complaining'. They were sick of me giving out to them," Lynn laughs again. "So I did join – and at my first meeting I was elected to be the publicity officer for the cumann!
"I think a lot of my friends would've expected me to join the Green Party because of my area of work but I've always voted Sinn Féin. When I was 15 my older sister had her first vote. She had no interest in politics so I pestered her to vote Sinn Féin."
While living in Killarney she went on to contest a local and general election on the Sinn Féin ticket.
Despite a previous background playing, and later refereeing, soccer, she says it was during her seven years in 'The Kingdom' that she became a "fanatical Dublin GAA supporter", in part due to the rough time she was given from the local Kerry GAA fans. "The worst part was that I was back in Dublin when we won the All-Ireland football final against Kerry in 2011, so I couldn't even gloat."
With the EU campaign ramping up in the new year, Lynn says she is very mindful of the important trust placed in MEPs by the electorate.
When we meet she's just back from Brussels and a number of meetings on EU policy issues with TDs, senators and advisors from the Oireachtas.
"You're not acting as a spokesperson for the EU – you're Ireland's representative in Brussels. I think a lot of MEPs go over there and just act as a rubber stamp for the system. Martina Anderson has been one of the few MEPs who has stood up for Irish interests, so if we could send over a team of four, representing all 32 counties, and standing up against the increasing right-wing shift of the EU, that'd be a fantastic result."
Speaking at a conference organised by the Peace and Neutrality Alliance (PANA) in Dublin at the end of last year, Lynn took apart the Labour Party for their hypocritical policies on EU militarisation.
"85% of people in this state support neutrality yet you see Irish MEPs undermining, neglecting or abandoning that position, something which they have no mandate to do. Irish people respect our neutrality."
She says she half-expects such a stance from Fine Gael, a party that has openly boasted it wants to join NATO and which produced a document called Beyond Neutrality. Labour and Fianna Fáil have been saying at home that they support neutrality but are then backing militarisation in Brussels.
"They voted in favour of a report which 'regretted' the cutting of military spending in defence budgets. Across the EU we have €164billion spent on arms and yet at home in the Dáil they are voting against Sinn Féin proposals of allocating €400million for a Youth Guarantee scheme, something which could have help stem the tide of young people leaving Ireland for Australia, Canada and elsewhere."
• Sinn Féin is the only party standing European Parliament candidates on an all-Ireland basis: Lynn Boylan (Dublin), Liadh Ní Riada (South), Martina Anderson MEP (Six Counties) and Matt Carthy (Midlands-North-West)
The fact that three of Sinn Féin's four candidates for the EU elections are women is something that she is particularly proud of.
"Gerry Adams has been a champion for gender equality for years," she tells me. She says that when she joined the party she had always felt there was focus placed on gender equality.
"Regardless of party affiliations, I'd advise women to be active in politics full stop. Women need to take a bigger role in society."
She describes Dr Kathleen Lynn as one of her heroes. The 1916 veteran revolutionised healthcare for children and the poor in tenement Dublin. A staunch supporter of workers during the 1913 Lockout, she was later imprisoned in Kilmainham Jail for her part in the 1916 Easter Rising and then deported to England. She later served as an abstentionist Sinn Féin TD for Dublin County.
As well as working with a community scheme in Ballymun, Lynn is currently the Chairperson of Safefood, the food safety body which runs public awareness and educational campaigns on issues such food safety, food hygiene and nutrition on the island of Ireland. The high-level position means she is constantly engaging with community organisations across Ireland, as well as government ministers North and South. Food and the environment also happen to be two areas on which the EU produces an enormous amount of legislation that has a bigger impact on Ireland than many other countries because of our history, development and size. Lynn hopes her wide-ranging experience in these fields will stand to her as an MEP.
As a child of the 1980s, she remembers hard times in that recession and growing up on an island referred to as 'The sick man of Europe'.
Having supported her father who was on strike while she was just 12, it's unsurprising that employment and workers' rights are key issues for Lynn.
"We're seeing a race to the bottom for workers across Europe. They are trying to lower working standards and reduce the minimum wage. I think the EU nearly wants to see a mobile workforce that will go wherever the economic boom is rather than respecting people's right to live and work where they want to. And that's very much why we need to invest in local economies, so people can stay, live and work in the families and communities where they're from."