12 January 2014 Edition
Leo Wilson RIP – A spirited republican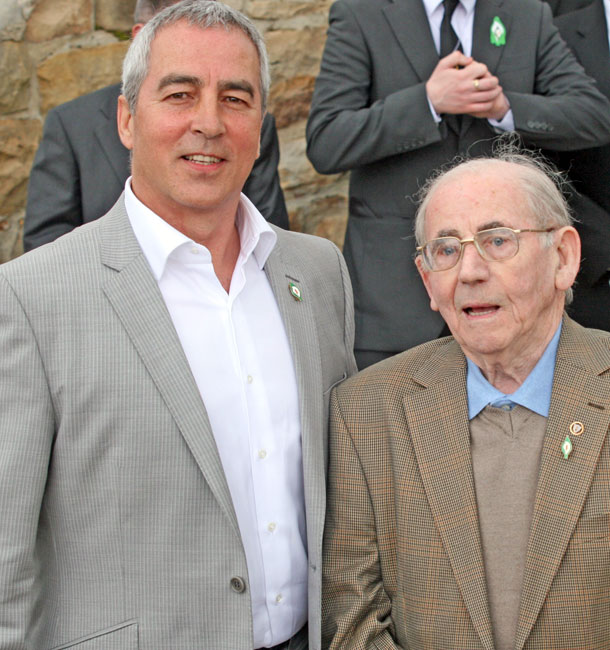 In October 1964, when Sinn Féin was a banned organisation under the Special Powers Act, Leo was one of 12 republican candidates who stood in Antrim in the general election
LEO WILSON died on 4 January. On behalf of Sinn Féin I want to extend my condolences to Leo's wife Maureen, to daughter Fiona and sons Cormac, Paul, Gearoid, and Pádraic, and the entire Wilson clann.
Ba mhaith liom mo chomhbhrón a dhéanamh leis an gclann ar fad I Leo Wilson.
I have known Leo for a very long time. At 91, Leo was a republican activist for most of his adult life. In October 1964, when Sinn Féin was a banned organisation under the Special Powers Act, Leo was one of 12 republican candidates who stood in the general election. He polled a very credible almost 4,000 votes in the South Antrim constituency.
He was active in the civil rights movement and, following the pogroms of 1969, the introduction of new repressive laws and the introduction of internment, he and a small number of dedicated human rights workers (including Clara Reilly and Fr Brian Brady and others) established the Association for Legal Justice (ALJ). They worked tirelessly, day and night, providing legal advice to families of citizens detained by the British forces.
His door was always open to those in need. The ALJ also played a key role in exposing the torture and brutality of the British Army and RUC toward detainees.
Leo was a spirited and sprightly soul and an enthusiastic Irish-language speaker. He loved ceilí dancing and often acted as Fear an Tí, calling out the dances. He was one of those who over many elections signed my nomination papers for west Belfast. In his early 70s, Leo graduated with a degree in political science and it was his understanding of the importance of access to books that saw him four years ago in the High Court in Belfast, at the age of 87, in defence of library facilities in west Belfast.
Leo was also an active member of the Belfast National Graves Association and last year he unveiled the new County Antrim Memorial in Milltown Cemetery.
The stories about Leo's activism are many. He touched the lives of a huge number of republican activists providing advice, help and even a roof over their heads when they were in trouble.
Leo will be sadly missed by all of us who have had the privilege and honour to have known him.