12 January 2014 Edition
After Haass
Editorial | Eagarfhocal
The DUP and UUP declined to sign up to the Haass document.
THE CONCLUSION of the protracted Haass Talks on New Year's Eve without an agreement on parades, flags and emblems, and the legacy of the past in a the Six Counties was undoubtedly a disappointment – but that's not the end of it.
The painstaking work done over several months between Sinn Féin, the SDLP, Alliance, the DUP and the Ulster Unionist Party with US facilitators Dr Richard Haass and Professor Meghan O'Sullivan does provide a basis for further negotiations.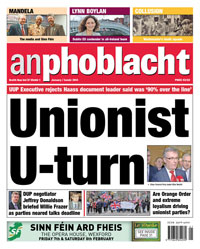 The final draft agreement presented by Dr Haass and Professor O'Sullivan on New Year's Eve was not all that Sinn Féin wanted but compromise is what negotiating between political adversaries is all about.
The Sinn Féin talks team, mandated by a special meeting of the Ard Chomhairle, considered there was enough there to recommend for acceptance as a basis for going forward.
The DUP and UUP declined to sign up to the Haass document.
It is now incumbent on all the parties and the British and Irish governments to build on the work by everyone involved in the Haass Talks.
Sinn Féin is up for the challenge – are the two governments and the unionist parties?