19 December 2013
Madiba's legacy of hope – Gerry Adams on being at the funeral of Nelson Mandela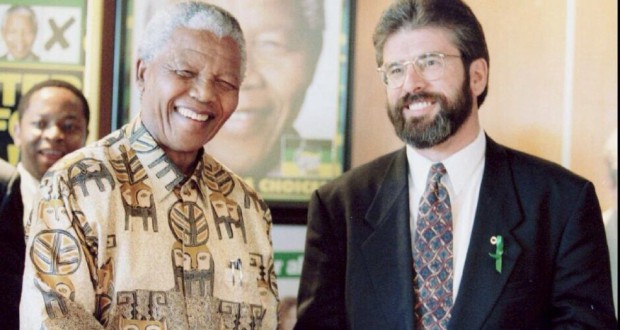 Irish republicans have a long association with the ANC going back many decades. We supported each other in struggle and in our respective efforts to achieve peace. Nelson Mandela and others in the ANC leadership were and are hugely supportive of the endeavours of Irish republicans

THE green rolling grasslands of Qunu were coming alive in the early morning dawn light as we climbed down off the bus last Sunday morning. It had been a three-and-a half-hour journey from the airport at East London, in the Eastern Cape, along dark and twisting roads. Qunu is Madiba's home and it is where he chose to be buried.
As the sun slowly lifted itself above the hills, its light revealed a landscape similar to others I have seen in the west of Ireland. A big blue sky and distant homes scattered across hills. It was here that Madiba was born and had grown up. And it was to Qunu he returned. He was home with his clann after nine days of national mourning in South Africa.
Richard McAuley and I had arrived in Pretoria on Thursday. Irish republicans have a long association with the ANC going back many decades. We supported each other in struggle and in our respective efforts to achieve peace. Nelson Mandela and others in the ANC leadership were and are hugely supportive of the endeavours of Irish republicans.
It was right and proper that Sinn Féin should be represented at his funeral but it was equally important that we participated as comrades in struggle honouring a comrade for whom we have the greatest admiration and respect.
Lying in state
The day after we arrived, the ANC brought us to Union Buildings in Pretoria where Madiba was lying in state. Richard and I had been here before several times, meeting Thabo Mbeki in 1995 when he was Deputy President of South Africa and later when Thabo was President. Union Buildings are impressive. It sits on the highest hill in Pretoria looking down on the city. It is the official seat of government and is where the President's office is located. This month it celebrated its 100 birthday and it was declared on Monday, the day after Madiba's funeral, as a national heritage site.
Between the two wings of the building is a 9,000-seat Greek-style amphitheatre which is used for national ceremonies. Nineteen years ago it was here that Madiba was inaugurated as South Africa's first democratically-elected President. It was fitting therefore that it was here that a special protective cover was erected within which his body rested and through which two rivers of citizens passed by on either side for three days.
The queues of ordinary South Africans stretched for miles, winding their way down the hill and through the streets of the city. They began arriving at 4am each morning and waited patiently in burning heat to pay their respects to their leader. One estimate put the number of people who quietly, sombrely, respectively passed by Madiba during those three days at over one hundred thousand.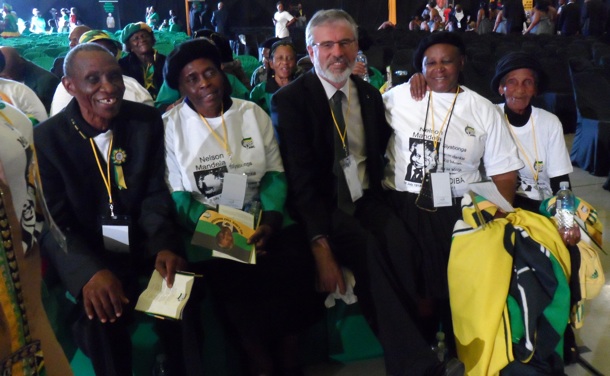 We met our ANC comrades at Oliver Tambo Building and were taken directly to the front steps of Union Buildings. We joined in with one of the steadily-moving queues of citizens. Fr Barney McAleer, a Tyrone man who has been in South Africa for almost 50 years, accompanied us.
There were four military with rifles pointed down standing at each corner of the coffin. The only sound to be heard was the shuffling of feet as we all solemnly moved forward. One behind the other, we approached his remains. The top of the coffin was opened and under a glass cover could be seen Madiba.
It was an emotional moment, a deeply sad moment. Many of those passing by were crying quietly to themselves. And then we were passed.
It was at this place in 1994, as he took on the mantle of President of a free and democratic South Africa, that Madiba said:
"We understand it still that there is no easy road to freedom. We know it well that none of us acting alone can achieve success. We must therefore act together as a united people, for national reconciliation, for nation building, for the birth of a new world.
"Let there be justice for all.
"Let there be peace for all.
"Let there be work, bread, water, and salt for all…
"Let us as a Rainbow Nation keep this in focus and move forward."
The 'send-off ceremony'
For eight days the South African Government was responsible for the state funeral of their President. But on Saturday, as they prepared to fly him south to Qunu, Madiba's 'send-off ceremony' from Pretoria was given over to his comrades in the ANC and to the veterans of Umkhonto we Sizwe (Spear of the Nation), or MK, the military arm of the ANC, which Madiba founded on 16 December 1961.
The programme began at 5:30am. Robert McBride, a former MK activist and political prisoner, who has been to Ireland many times, drove us to the South African Air Force Base at Waterkloof. A huge air force hangar had been transformed into an auditorium.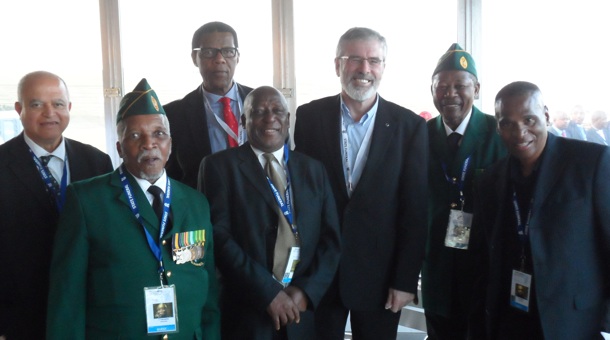 •  Gerry with MK veterans who were in the training camps in the 1960s
Two thousand specially-invited ANC and former MK activists, and international guests from liberation and solidarity movements, were present in solidarity with the family, to give an ANC farewell to their former Commander and President.
A space was left in front of a stage for the coffin to sit. As we awaited Madiba's arrival it was an opportunity to mix and reconnect to comrades we hadn't seen for a while. Occasionally, groups of ANC activists, many of them elderly women dressed in traditional clothes, would toyi-toyi their way back and forward across the front of the hall, chanting and singing songs of Madiba and of resistance to apartheid. It was a joyous celebration of the life of their leader, of the man they called 'Tata', which in Xhosa means 'father' and is a term widely used during the 10 days of mourning by political and church leaders, political activists, ordinary citizens and by the media. Madiba was a father to them all.
When his remains arrived at 7am, the South African national flag was removed and replaced by the flag of the ANC. Groups of activists – veterans in the main of the ANC and MK – took turns to provide a guard of honour around the coffin. We were greatly honoured when asked to participate in this. Richard and I took our assigned places and stood silently, paying our private respects to a great leader on behalf of Irish republicans everywhere.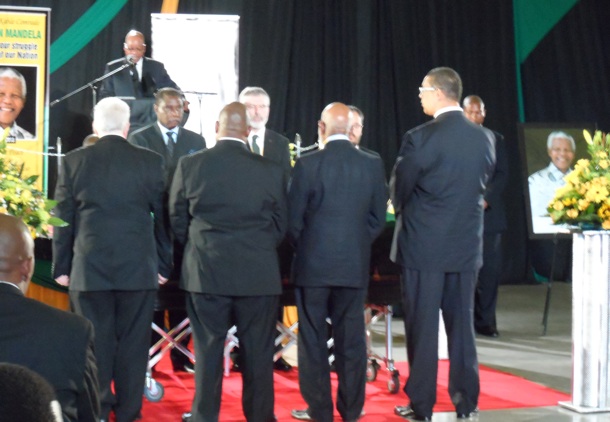 •  Guard of honour: Sinn Féin's Richard McAuley (left) and Gerry Adams with Urko Aiatza of the Basque organisation SORTU
Several hours later, after messages of support from the Congress of South African Trade Unions and the South African Communist Party and others, a stirring speech by President Jacob Zuma and much music and song and poetry, the ANC flag was removed, folded and given to the Mandela family. Madiba was then taken from the hall and flown south to his home in Qunu.
Madiba goes home
A few hours after that we took a flight to East London where we met some of the other 4,000 guests invited to attend the funeral. A convoy of buses left the airport around 1am on Sunday morning for the long journey to Qunu. It was impossible to see anything of the countryside. The night was dark and there were few lights along the road except those of our buses.
Sunday was the last day of official mourning. Ten long days for South Africa and ten long days for a grieving family sharing their husband, father and grandfather with the rest of the world.
Qunu is an isolated part of the Eastern Cape. For days it had rained and officials were worried that more rain could prove difficult for the funeral arrangements. But as it turned out there was no rain. The day was clear and the sky clear. It was a hot summer's day when Madiba left his family home for the last time on the journey to the huge Marquee that had been erected to hold his funeral ceremony in.
Walking into this huge space was akin to entering a cathedral. The South African Government had succeeded in creating a beautiful space in which Madiba's life could be celebrated. The ceiling was high, the air cool, and the colours of the huge lights changed in the course of the ceremony from blue to gold. The centrepiece of the stage was a portrait of Madiba behind 95 candles to mark each of his 95 years.
On one side musicians provided music and on the other a choir occasionally raised their voices in song and filled the auditorium with vibrancy and emotion. The event was hosted by Cyril Ramaphosa, who has close associations with the Irish Peace Process. Other contributors included President of Malawi Joyce Banda and Tanzanian President Jakaya Kikwete, who recalled Madiba's first visits there seeking support for training camps for MK. Kenneth Kaunda, the former President of Zambia.
They all spoke movingly of Mandela's contribution to South Africa, to Africa and to the world. They recalled his many qualities and talents. But all stressed the importance of his legacy and the need to live up to the ideals of peace and reconciliation that he exemplified.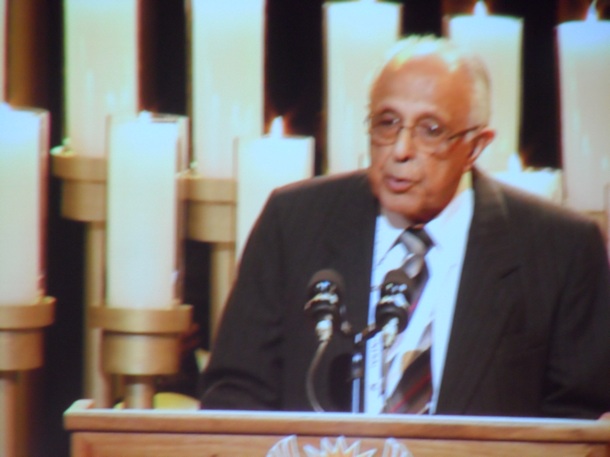 •  Mandela's Robben Island comrade, Ahmed Kathrada 
The most moving speech of those delivered was by his close friend and fellow Robben Island prisoner Ahmed Kathrada (pictured), who spent 26 years in prison. Frail and obviously distressed, Kathrada described how he and Madiba called each other 'Madala' or 'Elder'. He said:
"Madala, your abundant reserves of love, simplicity, honesty, service, humility, care, courage, foresight, patience, tolerance, equality and justice continually served as a source of enormous strength to many millions of people in South Africa and the world.
"You symbolise today, and always will, qualities of collective leadership, reconciliation, unity and forgiveness. You strove daily to build a united, non-racial, non-sexist and democratic South Africa."
But at the end his voice broke with emotion as he said:
"When Walter [Sisulu] died, I lost a father and now I have lost a brother. My life is in a void and I don't know who to turn to."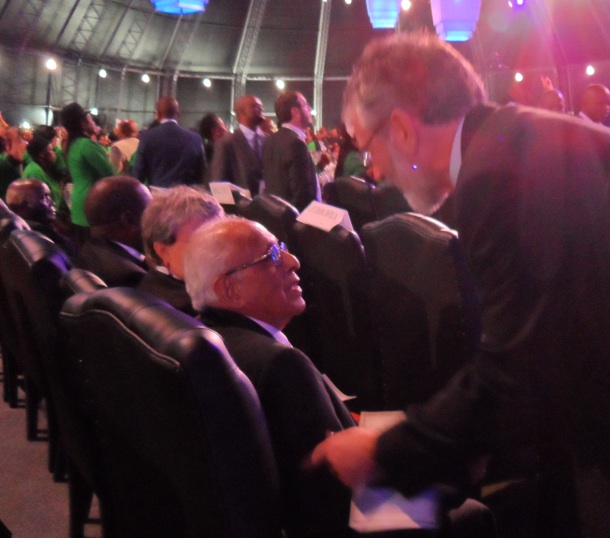 •  Gerry Adams talks with Ahmed Kathrada 
At the end of the ceremony, Madiba's remains were taken outside the marquee and placed again on the gun carriage. Most of the 4,000 guests stayed and watched the graveside funeral on the huge video screens above the stage but we were invited to the graveside to watch and mourn as Madiba's remains were placed in the earth. The language might be different and hymns unfamiliar but as family members placed a flower in the grave and took some dirt to drop in on the coffin the similarities with our own experience in Ireland were obvious.   
Madiba's grave is on top of the hillside in which a small garden has been built. It has a magnificent view of Qunu and of the hills where Madiba played as a boy.
When it was over, Richard and I slowly made our way down the hillside and the bus back to East London.
Madiba is gone. But his words are all around us. The legacy of hope and courage and forgiveness and of reconciliation is one we must aspire each day to achieve. In our several conversations about the Irish Peace Process, Madiba understood at once the complexities but also the only direction we could go to avoid decades more of conflict. He supported the Peace Process in Ireland unequivocally and on the basis of equality and inclusivity. He knew that we all had to be part of solving the problems.
Richard Haass and Meghan O'Sullivan will shortly produce their proposals for moving forward on the difficult issues of flags and emblems and the past. In the days ahead as we seek to find solutions we need to remember the words of Nelson 'Madiba' Mandela:
"No one is born hating another person because of the colour of his skin, or his background, or his religion. People must learn to hate, and if they can learn to hate, they can be taught to love, for love comes more naturally to the human heart than its opposite."
– Nelson Mandela, Long Walk to Freedom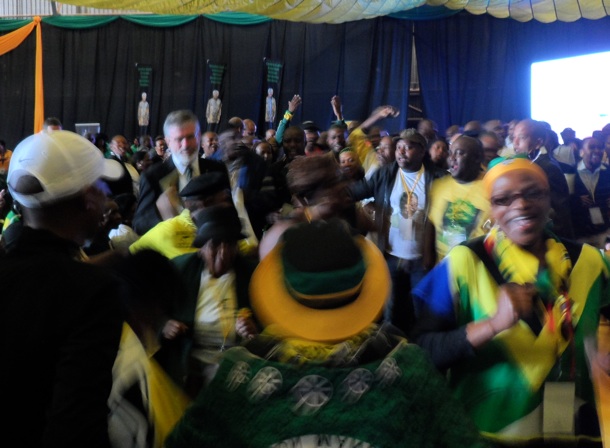 •  Gerry Adams joins the toyi-toyi with ANC activists
An Phoblacht on Twitter

An initiative for dialogue 
for reconciliation 
— — — — — — —
Contributions from key figures in the churches, academia and wider civic society as well as senior republican figures