3 November 2013 Edition
'The Spanish state still has the boxing gloves on'
The Basque peace process is under relentless attack from Madrid securocrats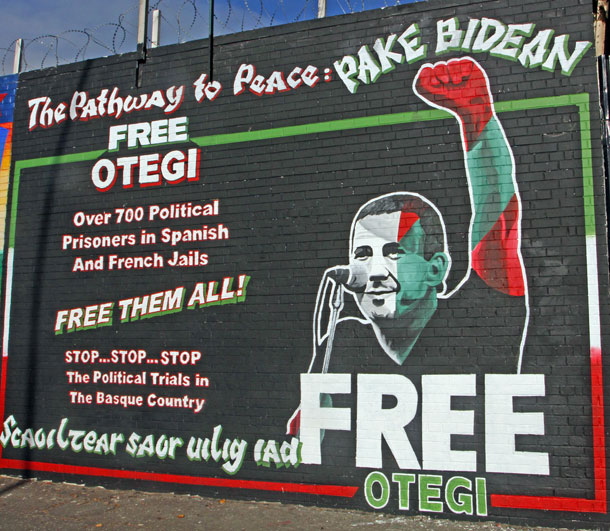 A United Nations Special Rapporteur has been critical of the broadening by the Spanish Government of what it considers a 'terrorist organisation' to include any organisation which shares similar aims (such as Basque independence) to ETA
ARMED SPANISH POLICE SQUADS were smashing in the doors of Basque NGOs and priosners' rights activists as a delegation of Basque political activists was arriving in Ireland to give an update on the peace process to Irish politicians.
Eighteen members of Herrira, the Basque political prisoners' support group, were arrested in the raids on 30 September. As the NGO (among many others) supports the repatriation of prisoners, the Spanish police use the excuse that because ETA supports repatriation then anyone else doing so is effectivley part of an ETA conspiracy.
The Basque delegation meeting An Phoblacht includes Senator Urko Aiartza Azurtza of the pro-independence Amaiur party; Sabin del Bado, a former MP in the Basque Parliament who is charged in a case against Herri Batasuna activists of supporting ETA; and Ion Telleria, charged with "membership of a terrorist organisation" in a case against alleged former members of the outlawed youth organisation Segi.
It is now two years since ETA called an end to its armed campaign.
"For two years the position of the conservative Spanish Government has been to do nothing," says Urko. "They are demanding the disarmament and disbandment of ETA and if this happens they may be willing to speak about something. But that's just another excuse. Previous to this they simply wanted an end to the armed campaign. There is not any attempt by the Spanish Government to take a position on the peace process. They are deliberately attempting to spoil the process."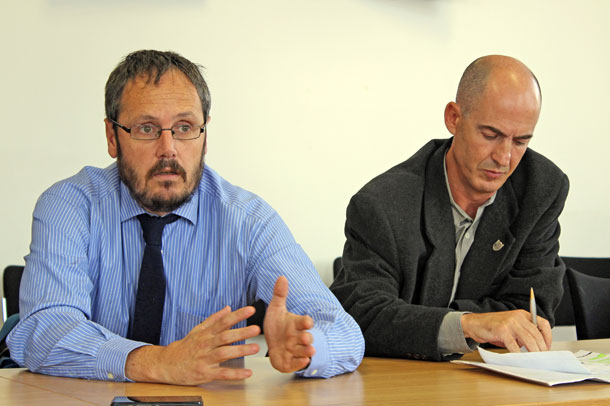 • Senator Urko Aiartza Azurtza and Herri Batasuna accused Sabin del Bado
Sabin del Bado was one of 36 members of Herri Batasuna – including 11 members of the Basque Parliament, one senator and a former MEP – who are charged with ETA membership based solely on their political activities with the pro-independence party. The Spanish state accused the party of being the political wing of ETA and outlawed it. When Sabin was arrested in 2000, Herri Batasuna was still perfectly legal.
"Years later we have to face these charges. We are looking at eight and twelve years in prison depending on our positions in the party," Sabin tells An Phoblacht. Speaking about the recent arrests of Herrira activists, Sabin adds:
"We thought this was all in the past but even now the Spanish Government is attacking civil and political rights."
A United Nations Special Rapporteur has been critical of the broadening by the Spanish Government of what it considers a 'terrorist organisation' to include any organisation which shares similar aims (such as Basque independence) to ETA.
In 1998, staff and contributors to the daily Basque newspaper Egin were arrested and charged. More than one hundred Basque social clubs have being closed down and are facing charges of raising funds for ETA's 'network' over their work on behalf of political prisoners and their families.
•  Basque activist Ion Telleria who is facing six years imprisonment for alleged membership of Segi
Ion is accused of membership of Basque youth organisation Segi, a sister group of Sinn Féin Republican Youth. The organisation was outlawed and then declared a 'terrorist' group.
"We all have served two years already. And now we are facing six years of prison. We were arrested in 2009 in a big raid against the youth movement in both the French and Spanish parts of the Basque Country along with others in Italy. Between 2007 and 2010 they arrested more than 200 people for membership of Segi. Just to be an activist with this political youth organisation is enough to be accused and condemned."
The recent waves of raids are an attempt to frighten people, he says: "It's sending a message that supporting the peace process is dangerous."
Urko believes the Spanish Government is more comfortable being engaged in an armed conflict rather than political dialogue.
"Spain is facing a financial crisis and huge support for independence in Catalonia. So the Spanish Government wants to stop any development of a peace process in the Basque Country. There is an attempt to put us in a corner. There is a strong feeling that all of these arrests are part of a concerted attack on the peace process.
"We say that for years we have been boxing with the Spanish Government. Then suddenly we took the gloves off and put a chessboard in front of them. But they still have the gloves on, smashing the chessboard."
Urko tells An Phoblacht that the work to create a strong peace process needs to continue.
"The Spanish Government needs to be forced into the peace process. So we need a common position among all parties and unions in the Basque Country, and we need international solidarity."