3 November 2013 Edition
Shooting history
Liberties native and Kilmainham Jail guide Liz Gillis talks to 'An Phoblacht' about her new photographic history, 'Revolution in Dublin'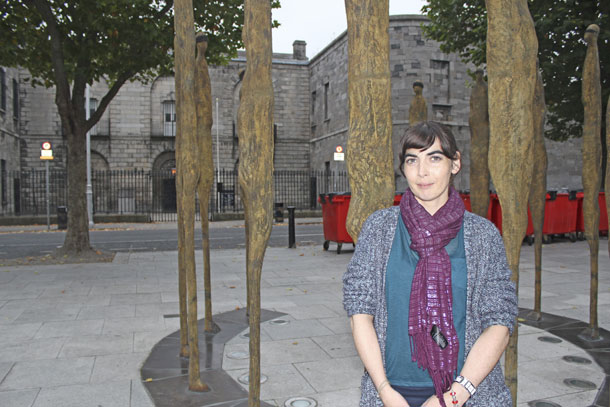 'Revolution in Dublin – A Photographic History 1913 to 1923' has archive images, many of them never before published, of ten years of momentous events taken in real time
IZ GILLIS meets me in The Patriots Inn, which sits in the shadow of Kilmainham Jail, on the south bank of the River Liffey.
Liz has been working as a tour guide in the jail since 2006, beginning two weeks before the 90th anniversary of the Easter Rising. She is the author of  The Fall of Dublin, released in 2011 as part of Mercier Press's 'Military History of the Irish Civil War' series.
"It was an area I was always interested in because nobody talked about it," Liz explains.
Her latest work, Revolution in Dublin – A Photographic History 1913 to 1923, has just been released. Using archive images, many of them never before published, the reader is brought on a journey through ten years of momentous events in Dublin, with the focus firmly on the ordinary men and women of the city.
"History was always a big thing in our family," the Liberties native tells me. "My whole area of interest is the 1913 to 1923 period, that stems from my dad. When I was a kid I was being brought around places like the GPO and told what happened there. So to get a job working in Kilmainham Jail was like a dream come true."
Of those involved in the Easter Rising, Tan War and Civil War, Liz says:
"These were ordinary people who did extraordinary things, and when it was all over they were expected to be a wife, a husband or a son, but nobody told them how to live that life.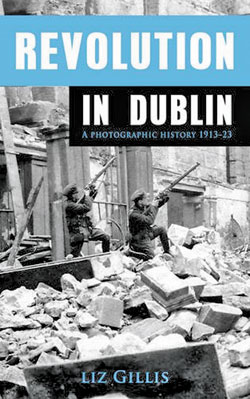 "Many of them couldn't deal with what happened because they were so young. You never hear people talking about post-traumatic stress disorder in Ireland in 1922. People often don't consider these people as victims, but when you talk to their families you get that side of the story."
As well as Dublin City in turmoil, other images highlight the day-to-day  lives of these revolutionaries. One image which stood out to me shows Cumann na mBan Volunteers Ita O'Gorman and Mary Coyle with friends enjoying a picnic in the Dublin Mountains during the Truce. It could have been a picture of any ordinary Dublin family; there is certainly nothing in the photo to hint that, only days earlier, these women had likely been involved in military operations and weapons smuggling. The Truce gave them breathing space to return to some of the normality of family life.
Liz says it was the inclusion of these types of images which was important.
"Creating this book was a huge challenge because so many brilliant photo books are already out there. Look at Pádraig Óg Ó Ruairc's book, Revolution. A lot of the images in that are from Dublin, so it was about making this different. From working in Kilmainham, I've met so many relatives of the men and women who took part and that's why I decided to focus on the people and their stories."
Many of these families helped by either submitting photographs or identifying those in images already held in the archives. Liz even ended up including a relative of her own in the book, something she hadn't planned to do.
"I included my great-uncle, Peter Lynam. I didn't even know what that man looked like. Last year I managed to get a photo of him with other survivors from 'A' Company, 3rd Battalion, Dublin Brigade. He was shot and wounded during the War of Independence and never married."
Modern digital photography makes it very easy to assign dates and locations to images. In the early 1900s, though, unless it was written on the back of the photograph, it was almost impossible to identify who, what and where the image is from. When those who know the history of the image pass away, valuable information can be lost forever.
"In some of the photographs it was impossible to identify who the people are. So if anybody knows anyone in the images, please contact me as I'd love to update it for future editions."
Liz says she has already had people contact her to point out relatives who have remained unidentified in the archives all these years.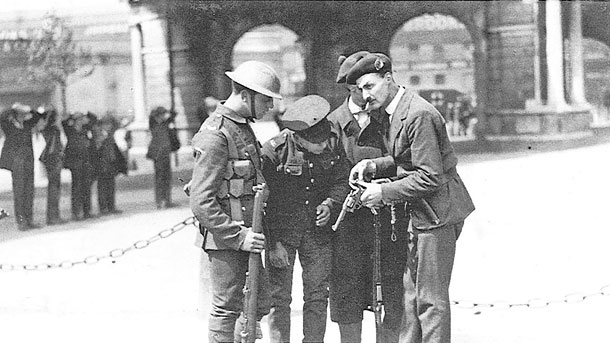 • After the burning of the Custom House: British soldiers and Auxiliaries reload their weapons. In the background are a number of IRA Volunteers after their capture, hands held over their heads
One of the most impressive sections in Revolution deals with the IRA's assault on the Custom House on 25 May 1921. As the administrative heart of the British Government's presence in Ireland, it had long been considered a valuable target for republicans. Liz says the Custom House chapter was a section she was determined to include.
"It all started out with a photo album in Kilmainham Jail of 68 men. Who were they? We had little to no information on them."
Further research by the staff in Kilmainham indicated they had all been captured  during the burning of the Custom House.
"When anybody recalls that attack, they automatically think it was a disaster," she says. "But when you begin looking at the witness statements, the Volunteers themselves did not believe it was a disaster. The objective was to bring international attention on Ireland; that was achieved. And they wanted to destroy the contents of the building; that was achieved. Although 90 men were arrested, the British were not going to execute that many people."
Many historians argue that the attack was the end of the Dublin Brigade IRA as a fighting force. But Liz says information from families and others involved on the periphery show there were far more than 120 people involved, possibly as many as 300.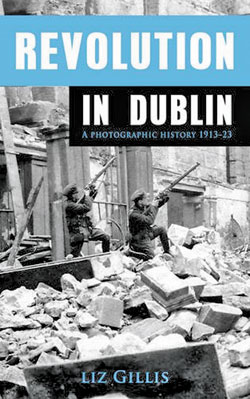 "While the weapons were lost, that very night the IRA were out ambushing the Auxiliaries with incendiary devices. It was psychological warfare, small units carrying out the attacks but making it look like a much bigger operation."
The IRA were determined to demonstrate that, even after losing 100 men, they were still capable of mounting attacks across the city.
The images of the Custom House attack are unique as they are taken in real time. While many other famous photos from the Easter Rising and Tan War were posed by British troops after the events, this massive attack was captured as it happened by a number of different photographers across the city. Similar real-time photos also came out of the Civil War as journalists were embedded with Free State troops for much of the campaign.
The British were not the only side capable of producing staged photographs. Two images which are incuded in Revolution were distributed by republicans during the Tan War to reflect the brutality of British forces. While the torture of suspects by British troops was common knowledge amongst the general popualtion, there was no photographic evidence of the brutality. To get around this, IRA Volunteers donned Auxiliary uniforms and photographed themselves engaged in the mock torture and interrogation of one of their comrades. The images were then widely used to depict the British occupation forces 'questioning' a civilian.
"Do not underestimate the power of republicans to use propaganda," says Liz. "They excelled at it, particularly the women. That's why so many were arrested by the Free State early in the Civil War."
Revolution in Dublin provides a fascinating insight into the momentous events of 1913 to 1923, particularly into the lives of ordinary citizens of Dublin, whether involved as combatants in the conflict or simply spectators to the turmoil unfolding all around them.
"Every revolution has to have leaders but you would have nothing without the orindary men and women to pursue that revolution," Liz notes.
The Revolution in Dublin - A Photographic History 1913 - 1923 is in shops now.
• Liz is currently working on a photo-book on women in the revolutionary period. Anybody who has material or photographs which they believe may be of use to the project please contact her via email at [email protected]