3 November 2013 Edition
Homeowners warned against buying into loopy 'legal protection'
Scheme described in Oireachtas to 'bear all the hallmarks of a scam'
Karl Deeter, financial analyst with Irish Mortgage Brokers, wrote an article headlined 'Let the Bullshit begin: The document behind the Kilkenny trust'
DESPERATE HOMEOWNERS hoping to avoid repossession are being warned against paying a Kilkenny-based organistaion hundreds of euro for 'a secret loophole' that does not exist and will not stop their homes being seized by the banks.
A new quasi-spiritual trust based in Kilkenny claims it will protect homeowners facing repossession – 'all they have to do' is sign over their property to it and pay for the privilege.
It may sound like a crazy idea but the Rodolphus Allen Private Family Trust has already received hundreds of thousands of euros in payments from desperate homeowners scrambling to protect their properties from repossession.
The man behind the trust, Charles Allen, claims it has accepted assets worth €2billion from at least 2,000 debtors at a cost to each depositor of between €250 and €525 per property. The trust often references Brehon and common law and claims it is taking advantage of a loophole in Irish law to protect properties.
Legal experts have politely dismissed such claims as nonsense.
The Law Society of Ireland has advised borrowers in difficulty to avoid groups and individuals that have no formal legal training but claim to have a "secret formula" for circumventing Irish law based on "false imaginings of what the law might be".
It was said in the Oireachtas to "bear all the hallmarks of a scam".
Charles Allen – a gardener with no known legal training or background – is currently living north of the Border after a bench warrant was issued by the Dublin High Court for his arrest. Along with Direct Democracy Ireland leader Ben Gilroy, he is under investigation following an attempt by the Trust to retake a stud farm from receivers in Kildare. The pair are accused, along with another man, of breaching orders not to interfere in the receivership.
Despite him being a fugitive, Allen's trust has reportedly taken in €40,000 in October alone through events in Newry and Armagh. When confronted by an Irish Examiner reporter during a 'signing-in' at a Newry hotel to explain how it works, Allen refused to answer and dodged a string of questions by saying: "I owe you no explanation." He also refused to say whether he had disclosed the money being taken in to the tax authorities.
The trust is reported to have taken in at least €500,000 this year.
A copy of the eight-page document signed by those wishing to become part of the trust along with other affirmations and documents marked "Strictly Private and Confidential" has been seen by An Phoblacht. These documents do not explain how the Trust plans to keep the banks from repossessing the properties and do not contain any reference to any particular law. They also include a clause that the person signing over their property will lease it back for a fee of €100 per year.
A 'Certificate of Acknowledgement' is also included which grants Charles Allen power of attorney and also guarantees to indemnify him against "all claims, losses, costs, expenses, damages or liability" in this capacity.
Membership also requires a bizarre affirmation which commits members to "identify, engage, and fulfil our true purpose on this planet, as unique fragments of divine consciousness, in our eternal spiritual quest for self-realisation".
Solicitor Bill Holohan says much of the documentation is nonsense:
"If people have liabilities to creditors and if they think that they can avoid those liabilities to creditors by putting property into a trust utilising a document such as this trust document, then they would be sadly mistaken."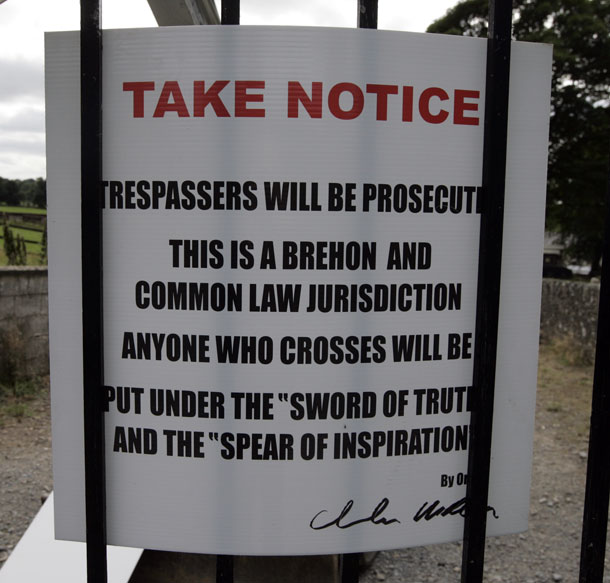 Karl Deeter, a financial analyst with Irish Mortgage Brokers and Advisors.ie, who attended a presentation given by the group in August, is more direct. In an article headlined Let the Bullshit begin: The document behind the Kilkenny trust, he describes it as "a copy and paste job".
The appearance of this trust coincides with a dramatic increase in the number of 'Freeman on the Land' style of defences being used in courts across Ireland. This ideology has its origins in far-Right anti-government groups in the USA and has recently reached Ireland and Britain. Followers often refer to themselves as 'Sovereign Citizens'.
In Canada, a 156-page ruling by Justice John D. Rooke criticised what he described as the increasing use of  "Organised Pseudo-legal Commercial Argument (OPCA)" in courtrooms. He described the OPCAs as groups which people often paid for access to, headed by gurus who proclaim to know secret principles and law.
"The story and process of an OPCA scheme is not intended to impress or convince the courts but rather to impress the guru's customer," the judge said.
Are the 'gurus' like the green-fingered Charles Allen leading Irish homeowners up the garden path?
• Sinn Féin's Pearse Doherty TD moved the Land and Conveyancing Law Reform (Amendment) Bill 2013 in October to offer the family home genuine legal protection against repossession.