3 November 2013 Edition
'We need a fighting, radical and independent trade union movement'
Says Sinn Féin's new National Co-ordinator for Trade Unions, Senator David Cullinane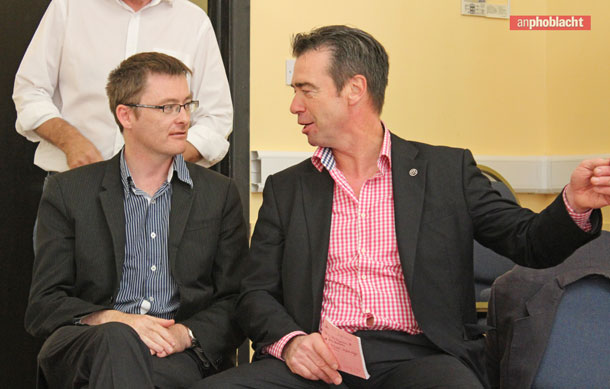 'We need to be part of shaping the future of the trade union movement'
PINNED to the Leinster House office door of Sinn Féin Workers' Rights spokesperson Senator David Cullinane is the front page of the Mandate Trade Union newspaper Shopfloor with a withering criticism of the Fine Gael/Labour Government's austerity Budget.
The Waterford senator is busy making final arrangements for the 'In Common Cause' 1913 Lockout commemoration event to mark the links between the Irish and USA trade union movements.
David has recently been appointed Sinn Féin's National Co-ordinator for Trade Unions. He aims to co-ordinate and increase co-operation between Sinn Féin in the Assembly and the Oireachtas and the Irish trade union movement. He has already been busy meeting with the Irish Congress of Trade Unions (ICTU) and individual unions to get their views on policy and workers' rights issues.
"We need to be part of shaping the future of the trade union movement," David tells me. "And we need to be involved at all levels. We are part of that battle against austerity alongside the trade unions."
When Mandate's John Douglas spoke to An Phoblacht following his election as ICTU President in July, John was critical at the lack of solidarity across different sectors of the trade union movement. It's something David also recognises as a problem.
"Obviously trade unions have to represent their members but they also have a responsibility to be part of a broader movement which is about more than just representing their own sectors. We want to see trade unions much more engaged on social, economic and democratic issues.
"There's no reason, for example, why unions can't be more energised on issues such as the demand for a Border Poll and the implementation of a Bill of Rights for the North, key parts of the Good Friday Agreement. The same goes for economic issues. They have to represent unemployed people as well as those who are working."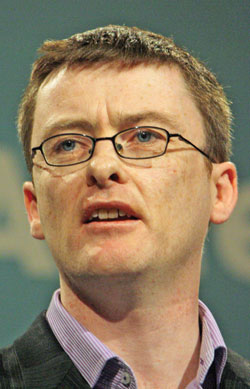 He says Sinn Féin activists should ensure they are members of a trade union.
"If we want to be in Government in this state, if we want more rights for citizens, and if we want to achieve our objectives, then we have to work with the trade unions. They are very influential so we have to be engaging with them."
He also agrees with a point made by Mary Lou McDonald during the Lockout 1913 conference in Liberty Hall earlier this year when she said that some trade union leaders had "lost their way".
"There are trade union leaders who are members of the Labour Party and they're entitled to that. But what we want is not a Labour Party trade union movement, or a Sinn Féin party trade union movement — we want a fighting, radical and campaigning trade union movement."
David feels very strongly that trade unions in Ireland should be independent with no official affiliation to any one political party.
"But they should be working constructively with parties that are active on labour, social and political issues. That is where the movement needs to be. Of course we have legacy issues with the affiliations of some of the big unions with the Labour Party. We don't agree with that but as long as it's there we have to work with those leaders."
He tells An Phoblacht that a strong trade union movement is extremely important in putting forward a genuine alternative to the right-wing policies of the current Fine Gael/Labour Government.
"In the year of the 100th anniversary of the Lockout we still don't have collective bargaining or trade union recognition. That is an absolute scandal.
"If we look back over the last couple of years – people being locked out of their jobs – it's not something that ended in 1913. We had Waterford Crystal, Vita Cortex, Game, HMV, La Senza, Lagan Brick – the struggle for workers' rights goes on.
"We are part of that and we have to be encouraging the trade unions to take up issues of social and economic justice and democratic issues which will shape the future of politics on this island. Trade unions must be part of building the new Ireland that we all want to see."