3 November 2013 Edition
Challenging times
Liadh Ní Riada on bringing a strengthened republican voice to Europe with Matt Carthy, Lynn Ní Bhaoighealláin and Martina Anderson MEP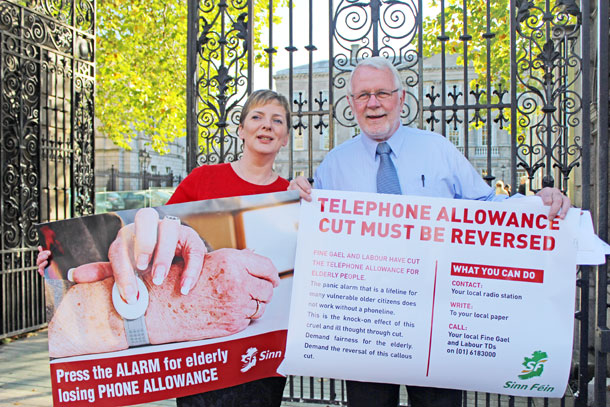 Now is the time to act and to work hard to ensure that we get as many of our local reps elected, to ensure that we do our very best to help put this country of ours in a better position where equality, fairness, and social justice prevail
ANOIS agus mé ag tabhairt aghaidh ar feachtas mar an MEP candidate do Sinn Féin san Deisceart, reality is setting in and the logistics of how to cover nine Counties is somewhat of a challenge.
Cé gur mhóir an pribhléid é gur roghnaíodh mé, caithimé rá go bhfuil laethanta ann agus mé ag filleadh abhaile go dtí tigh go bhfuil  níochán  le déanamh,  mar aon le gach rud eile a bhaineann le bheith I bhfeighil tí, ceapaim go bhfuilim beagáinín as mo mheabhair ag samhlú gur féidir an dá thrá a fhreastal. However, when I meet people who are desperate and who are just existing, I am reminded of why I chose this path.
I meet the elderly who are frightened and more vulnerable than ever now that they can no longer afford a landline, or a medical card, where they have to make choices between heating, human contact or their health. I meet young people who cannot afford to emigrate and nor can they afford to live on €100 a week – damned either way. I meet seriously ill people who no longer have a medical card and then there are those who worry about funeral costs and how can they bury their loved ones. These are the obvious Budget cuts – the devil is in the detail and, wearing my Gaeilge hat, I see that once again the arts and culture have taken a big hit which will have a direct bearing on local economies as well as the reputation and reality of the life of a nation that boasts to the world a poet as President of Ireland.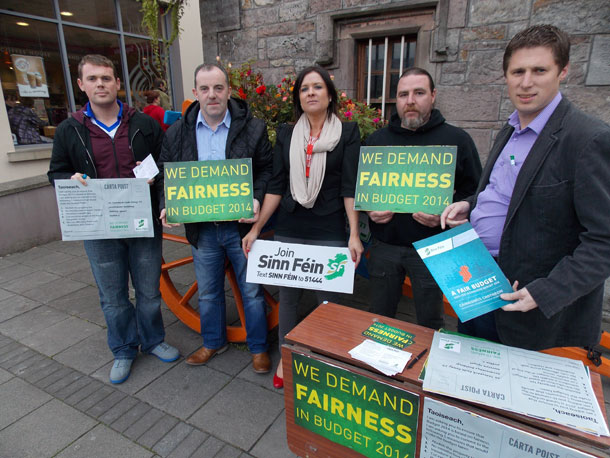 • Midlands/North-West EU candidate Matt Carthy (right) at a local launch of Sinn Féin's Alternative Budget
It is the hidden costs again which will target a people already under pressure. This is not the Ireland that we should have. It is so wrong on so many levels and the present government shows no humanity to its citizens.
Now is the time to act and to work hard to ensure that we get as many of our local reps elected, to ensure that we do our very best to help put this country of ours in a better position where equality, fairness, and social justice prevail. I will certainly do my part to get elected as the European Parliament candidate and to bring a strengthened republican voice to Europe along with Matt Carthy, Lynn Ní Bhaoighealáin and Martina Anderson MEP. We need your help.
• Dessie Ellis TD with Sinn Féin Dublin EU candidate Lynn Ní Bhaoighealláin
I certainly need your help and support considering that my back garden is now covering ten counties. It may seem like a long time away yet when you consider that the election will not take place until May, but now is the time to do the groundwork, organise events, organise meetings. I want to hear and listen to our farmers, our fishermen, our unemployed, our health workers, our frontline workers, young people, older people, families, so that I can address their concerns and make a real difference.
I want to offer hope to those people who only exist, help to give them a real chance where they can realise their full potential instead of being consistently browbeaten. I am not naive enough to think I can do this on my own; we need to affect change collectively as a party and as a community.
And so, a chairde, the next time you are out there in all the towns, cities and the byroads soaking wet, cold and miserable, remember why you are doing it in the first place. Our people are relying on us. They need Sinn Féin to stand up for them because the other crowd are certainly not doing it, have never done it and will never do it.
I am humbled by the amount of genuine, hard-working activists I meet and who are all willing to take the road less travelled for the betterment of our society. I am honoured to be part of such a team. Someone once told me to never get out of an old comfort zone just to create a new one. I am certainly following that advice and it is truly rewarding – my house is maybe in a mess but the country is in a bigger mess so priorities prevail agus ar aghaidh linn go dearfach. Beart de réir ár mBriathar.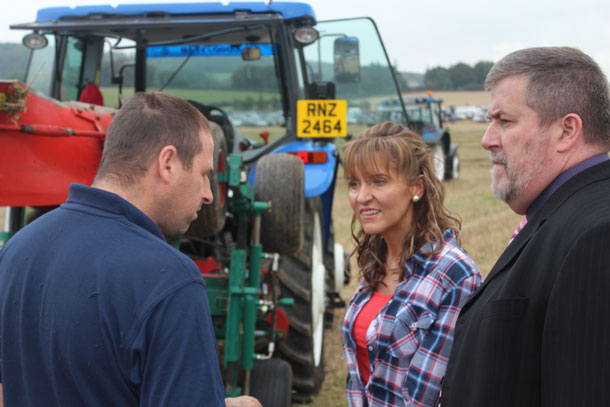 • Martina Anderson MEP and Cathal Ó hÓisín MLA with farmers at the Ploughing Championships