3 November 2013 Edition
UDR, RUC and British Army in the dock with UVF
Collusion: State forces' death squad allies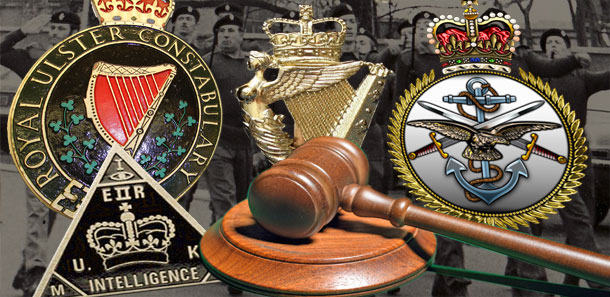 COLLUSION between unionist death squads  and British state forces – the Royal Ulster Constabulary, the Ulster Defence Regiment and the British Army, and British Intelligence – fuelled the conflict.
The British Government knew this, unionist politicians knew this, and nationalists – who felt the full force of this 'dirty war' – of course knew this.
As An Phoblacht goes to press, news comes of two events that are thrusting collusion back in the spotlight.
Survivors and families of the 1975 Miami Showband Massacre are to sue the British Ministry of Defence and police authorities over their links with the Ulster Volunteer Force death squads and serving British Army soldiers in the UVF (see back page).
Anne Cadwallader's new book, Lethal Allies: British Collusion in Ireland, shows that, between 1972 and 1976, more than 120 people were killed by unionist paramilitaries, many of them working hand in glove with the RUC and the Ulster Defence Regiment of the British Army if not actually serving members of these state forces.
Cadwallader (whose parents and sister served in the British Army, and whose brother is a retired police officer) puts the British authorities in the dock in what Vincent Browne describes as "a revealing and forensic insight" and Susan McKay "a shameful history".
At the publication of Lethal Allies, Sinn Féin President Gerry Adams TD called on the British Government to move speedily to establish the inquiry into the killing of human rights lawyer Pat Finucane which it agreed to at Weston Park in 2001.
The book's examination of links to attacks south of the Border (including the Dublin and Monaghan bombs which killed 33 people and the attack on Kay's Bar in Dundalk in December 1975 in which two men were killed) places "a very particular onus on the Irish Government to hold the British Government to account on all of these matters", the Louth TD said.
Anne Cadwallader says:
"Breaking the law to defend the law simply does not work . . . For the health of the British politic, quite aside from pressing questions of justice and fair play in Ireland, those in London who have the power to set the truth free should now take the first step."