29 September 2013
British military join Rangers fans in loyalist displays at Ibrox 'Armed Forces Day'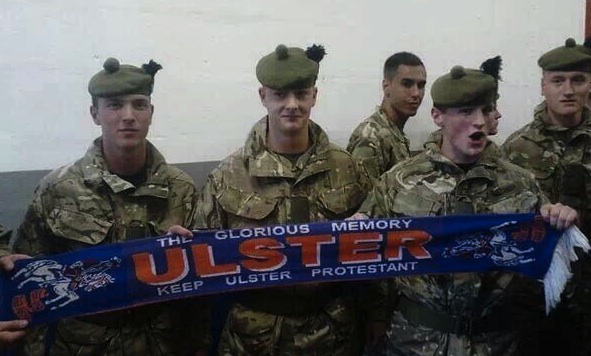 Ministry of Defence and Scottish authorities challenged after British crown forces personnel join in chanting while senior officers look on from directors' box
CALLS have been made for the Ministry of Defence and Scottish authorities to take action after hundreds of British miltary personnel taking part in an 'Armed Forces Day' at Ibrox Stadium in Glasgow on Saturday posed with Ulster loyalist emblems and apparently joined in as fans chanted about the death of Bobby Sands while senior officers looked on from the directors' box.
• Above: Senior British military officers in the Ibrox directors' box witness their troops' antics below
British Army, Royal Navy and Royal Air Force personnel, full uniform, were captured on video dancing and clapping as the Ibrox crowd sang about guarding Derry's walls before the Rangers v Stenhousemuir game kicked off. (The chants about Bobby Sands being dead are at 4:57 and 5:22.)
The event came less than a fortnight after 37-year-old Gary Moore was convicted of "sectarian and offensive conduct" during Dundee United's Scottish Premier League match with Celtic in November last year for singing the H-Blocks Hunger Strikers song, Roll of Honour.
Moore received a Football Banning Order for three years and was fined £600 by Sheriff Alastair Brown at Dundee Sheriffs' Court.
The judgement came amid growing concern in Scotland that the Scottish Government's Offensive Behaviour at Football and Threatening Communications Act is criminalising political speech from football fans.
Celtic fans took to social media as footage of the video at Ibrox circulated online and have argued that the event highlights double standards by the authorities.
Saturday is not the official armed forces celebration day in Britain (that falls in the close season), so the Ibrox club adopted the September holiday weekend as an opportunity to hold their own event. The club did so with the full approval of the British military.
The video circulating online is likely to heighten concerns that the new club trading as Rangers is pandering to the lowest element of the home support and jingoistic sectarianism.
• The Ibrox club hierarchy has been accused of hypocrisy after Rangers FC were liquidated last summer while owing the British Government tens of millions in unpaid taxes while British forces have reportedly suffered higher casualties in military operations in Afghanistan because of budget restrictions affecting equipment availability.