29 September 2013 Edition
Are promises on the Irish language being kept?
15 years on from the Good Friday Agreement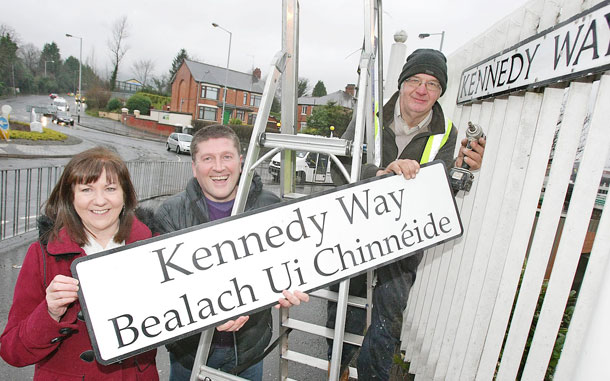 At the last count almost 3,600 had signed up to Líofa, including around 200 members of the PSNI, the broadcaster William Crawley and a DUP councillor
AS A SINN FÉIN ACTIVIST and MLA I am very proud of the contribution the party has made to the promotion and development of Irish since 1998 and the Good Friday Agreement and also prior to that.
The Good Friday and St Andrews Agreements – as well as the European Charter – require the British and Irish governments to take specific actions in relation to the Irish language. In all honesty, there has been very little proactivity from either of them.
The Assembly in the North has obligations also but that forum has been prevented from fulfilling its commitments due to the negativity, hostility and downright opposition from political unionism.
Sinn Féin, however, has endeavoured to use whatever power and energy it can muster to make progress on the language. The actions taken by the party show that, despite having to operate within a sometimes hostile environment, there has been significant progress over the last 15 years.
IRISH WITHIN THE POLITICAL INSTITUTIONS
In the formal political arenas, Sinn Féin has undertaken to promote and normalise the Irish language by ensuring it is spoken, heard and visible.  Actions include:
Encouraging all our members to use as much Irish as possible in Stormont, in the Oireachtas, local councils and the European Parliament;
Holding Irish classes for party members and staff;
Pressing the Assembly Commission to introduce a strong Irish-language policy;
Encouraging Irish schools and organisations to visit the Assembly;
Hosting events promoting the Irish language, particularly during Seachtain na Gaeilge.
Within government departments where Sinn Féin holds the ministry, we have promoted Irish by initiating:
Bilingualism within departmental documents, reports and speeches;
Bilingual advertisements;
Bilingual signage at departmental headquarters;
Irish included on websites;
Irish classes available for departmental staff;
Facility for public to write and receive correspondence and phone calls in Irish.
When Conor Murphy was Minister for Regional Development, he introduced many measures to promote the Irish language, including:
Translink timetables and safety information in Irish;
Bilingual bus stop signage in west Belfast;
Bilingual destination signage on buses going through the Gaeltacht Quarter;
Bilingual signage in new train station in Newry;
Information leaflets and application forms in Irish
Identification of staff with Irish-language competency to receive further training;
Placing of adverts in Irish-language newspapers;
Employment of facilitators with Irish to deliver bus safety training to IME schools.
When Sinn Féin took over at the Department of Culture, Arts & Leisure, action was taken to promote Irish by:-
Initiating action to bring forward an Irish-language strategy and an Irish Language Act;
Bringing forward the Líofa initiative;
Looking at the feasibility of an Irish-language academy.
LÍOFA 2015
Líofa 2015 is an initiative launched by DCAL Minister Cáral Ní Chuilin in September 2011 when she publicly pledged to become Líofa by the end of her term in 2015. She also undertook to enlist 1,000 others to do likewise.
This target figure was achieved and surpassed within three months and at the last count almost 3,600 had signed up to Líofa, including around 200 members of the PSNI, the broadcaster William Crawley and a DUP councillor. A new target of 5,000 has been set.
IRISH IN THE UNIONIST COMMUNITY
An Irish-language officer has been appointed with funding from Foras na Gaeilge to develop the Irish language in the east Belfast area. While there has always been a number of unionists who are passionate about the language, the East Belfast Mission takes things in a new direction. Under the stewardship of Linda Ervine, there are now more than 40 grassroots unionists attending Irish classes in their own community.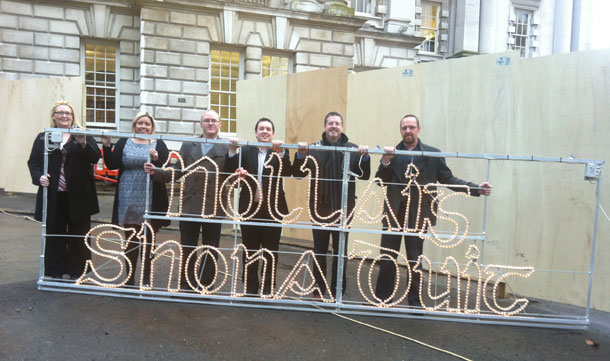 • Sinn Féin MP for West Belfast Paul Maskey joins Sinn Féin Belfast City Councillors Emma Groves, Deirdre Hargey, Conor Maskey, Jim McVeigh and Gerard McCabe at the erecting of the Nollaig Shona Duit sign on Belfast City Hall
BELFAST CITY COUNCIL
In Belfast City Council, Sinn Féin established an Irish Language Working Group which produced a small internal guide book for all councillors on how best to promote the Irish language. Actions to date include:
Increased number of Irish speakers within the council group;
Provision of Irish-language tours of City Hall;
Seachtain na Gaeilge events in City Hall;
Support for provision of facilities in the Gaeltacht Quarter;
Arts funding for Irish-language groups.
For the first time Belfast City Council will be funding capital projects through the Local Investment Fund, namely Glór na Móna Community Facility and An Cumann Chluain Ard.
BILINGUAL STREET-NAME SIGNS
Our councillors and local party activists across the city have been working closely with residents in their local electoral wards, feeding requests into the council to have bilingual street names erected.
To build upon the work of Forbairt Feirste in making local shop signage bilingual, when he was the local MP in west Belfast, Gerry Adams convinced Sainsbury's supermarket to use bilingual signage throughout the premises, which has been hugely popular and successful. Asda have now introduced some Irish in their signage.
EDUCATION
Irish-medium education is undoubtedly one of the success stories of the Irish Language Revival in the North.
When Martin McGuinness became the first Sinn Féin Education Minister after the Good Friday Agreement, 1,461 pupils were being educated through Irish in 18 schools;  today the figure is 4,633 in 67 schools and units.
Martin established Comhairle  na Gaelscolaíochta and Iontaobhas na Gaelscolaíochta to enable the strategic co-ordination and development of Irish-medium education into the future. His successors, Caitríona Ruane and John O'Dowd, have built on that progress by:-
Transforming the relationship between the Department of Education and the Irish-medium sector;
New-build investments at Bunscoil an tSleibhe Dhuibh; Gaelscoil na Móna; Scoil na Fuiseoige; Bunscoil Bheann Mhadagáin; Gaelscoil Uí Dhochartaigh; Gaelscoil Uí Néill and Coláiste Feirste;
A £2million investment in classroom resources at pre-school, primary and post-primary levels;
A further £2million investment in Iontaobhas na Gaelscolaíochta which has provided new buildings for Bunscoil Bheanna Boirche, Castlewellan and Gaelscoil Éanna, Glengormley;
Approval of statutory status for Irish-medium pre-school provision in ten different areas and providing a significant improvement in funding levels and standards for pre-school provision;
Approval of Irish-medium primary provision in six areas that did not previously have this, including Glengormley, Crumlin and Magherafelt;
Increase in the number of positions for trainee teachers in Irish-medium education.
In addition to the above, the Department of Education now also funds:
Irish-medium youth facilities;
Irish-medium resources within English-medium schools, including the Léargas project in Derry;
Irish-medium projects within extended schools, including the recent £234,000 per annum Líofa initiative.
Despite the overwhelmingly positive developments, Sinn Féin is acutely aware of the outstanding transport issues affecting Coláiste Feirste and we are doing our utmost to assist in resolving these.
FORAS NA GAEILGE
Foras na Gaeilge was established under the Good Friday Agreement as the cross-Border funding body for Irish-language projects with a remit also to promote, aid and contribute towards the funding of publications in Irish.
Over 100 books on average are published in Irish each year. They range from academic works to children's stories, dictionaries, biographies and many others involving over 20 different publishers throughout the 32 Counties.
In addition, at least six periodicals have benefitted from Foras support.
IRISH LANGUAGE BROADCAST FUND
Sinn Féin negotiated for the establishment of the Irish Language Broadcast Fund to finance the production of high standard television programmes and also to foster an independent Irish speaking production sector in the North.
At least 70 hours of Irish-language programming has been achieved yearly, these programmes going out on TG4, RTÉ and BBC.
Training for Irish-speaking production staff is an important element of this work which has supported the expansion of the sector. The expansion of TG4 into the North by 2005 as part of the Good Friday Agreement has been a very popular measure. 
Sinn Féin negotiated a further £12million for the Irish Language Broadcast Fund in 2010 which has contributed hugely to the visibility, status and promotion of Irish in the televisual media.  Because a minimum of 70% of production costs must be spent in the North, this gives local employment a much-needed boost.
THE ROAD AHEAD
There's naturally a focus on the fact that we still have no Irish Language Act and while that is the case, it is abundantly clear that much has been achieved without it.  We must still call for the Act and lobby for it at every opportunity.  But let's not lose sight of the huge achievements that have been made without it. 
Ciste Infheistíochta Gaeilge will continue to help build cultúrlanna and Irish-language infrastructure throughout the North and Sinn Féin ministers will support the language where possible through their departments. But the bulk of the work on the language will continue through our schools, community organisations and by our activists on the ground.
Let's see what we can achieve together in the next 15 years. Plenty has been done and there's still plenty more to do.