29 September 2013 Edition
'We Serve Neither Murphy Nor King'
1913 Lockout: Grassroots night of music, drama and poetry trumps bland Government ceremony
We Serve Neither Murphy Nor King – the perfect panacea to 'Government approved' and sanitised Lockout commemorations
AS I ARRIVE in The Workman's Club  on Eden Quay in Dublin there's already a stream of people waiting to get in.
Marcus Maher,  the creator of Lockout 1913: We Serve Neither Murphy nor King, sticks his head out from behind the door an asks me to follow him inside. He is running around like a man possessed, getting final preparations finished before the doors open.
Five hours earlier, the official Irish state commemoration of the Lockout took place a few hundreds metres away on O'Connell Street. It wasn't a particularly enthralling event. "Just a bunch of men in suits shaking hands, wasn't it?" says Marcus as he plonks himself down on a seat next to me.
Actors and performers  are on stage getting last-minute soundchecks for Marcus's concept piece which aims to fuse live theatre and music in an homage to men and women of 1913.
"I couldn't believe they were searching people on the way in," he says of the heavily-policed and much criticised state commemoration.
"An event to remember standing up to oppression and your belongings are being rooted through by gardaí under the supervision of G4S private security guards on the way in! Maybe Eamon Gilmore was worried there'd be a protest banner unfurled or something. I thought it was very insulting."
Marcus comes from a Liverpool-Irish background. Growing up he says his family were very political.
"We were very aware of politics," he says "especially in a city that was so removed from the parliament in London. We couldn't help but be political."
It's standing room only by the time the fantastic The Annulments band take to the stage with their brilliant folk, roots and Irish style. They're followed by Dundalk's one and only Jinx Lennon with his ecclectic mix of rap, punk and poetry. He hits the nail on the head when he describes the state commemoration as "the Government's Gathering-approved" version of 1913.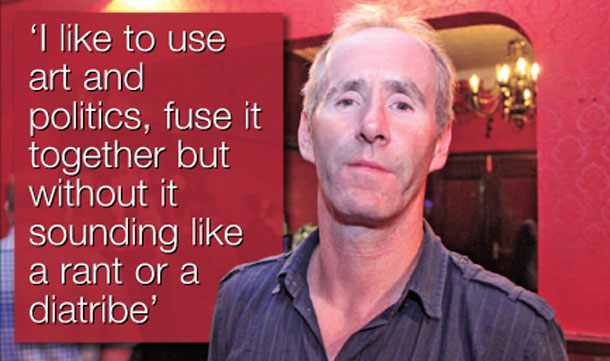 "I wanted to make the show as diverse as possible," Marcus says as actors take to the stage to deliver scenes from the Lockout and the lives of Connolly and Larkin.
"I like to use art and politics, fuse it together but without it sounding like a rant or a diatribe." He laughs: "I don't want to say 'edutainment' but a way for people to learn through art." In Marcus's opinion, the Lockout deserves a greater legacy than the one shown to it this year in Ireland. "It still feels like the elephant in the room," he says.
American singer-songwriter Jimmy Page is a firm fan favourite as the crowd joins in his protest song Over my Dead Body with lyrics like "We will not be dissuaded and we will not turn around/We will face the barricades and we will tear them down". Marcus says it's artists like these he believes best capture the spirit and the message of the Lockout.
"I didn't have any Fine Gael, Fianna Fáil or Labour people – the people I wanted are ordinary men and women who speak for all of us."
Jimmy is followed by the brilliant Ian Prowse from Liverpool (formerly of Indie rockers Pele) who gives us some great working-class anthems such as Raid the Palace.
• Andy Irvine performs at the 'We Serve Neither Murphy Nor King' event
Legendary Irish musician and founder of Planxty, Andy Irivine, puts the focus firmly back on Ireland with such classics as James Connolly.
Poetry remembering the Lockout is also read to add to the emotion and atmosphere of the occasion.
The night finishes with a powerful rendition of the 1930s US miners' ballad, Which Side Are You On?, led by Andy Irvine and the entire cast of actors, performers and with the audience heartily joining in.
"I wanted to do a show where I had something to say. I wanted to make something that had a bit more of a relevance," says Marcus. "I couldn't have wished for a better show."
We Serve Neither Murphy Nor King was certainly the perfect panacea to the 'Government approved' and sanitised commemoration.
Marcus hopes to take his show to Cork, Clonmel, Derry and other areas in coming weeks and months. Keep an eye on the We Serve Neither Murphy Nor King Facebook page for more info.