29 September 2013 Edition
The Revolutionary Rosie Hackett
Only bridge over Dublin's River Liffey named after a woman is in honour of Irish Citizen Army and trade union activist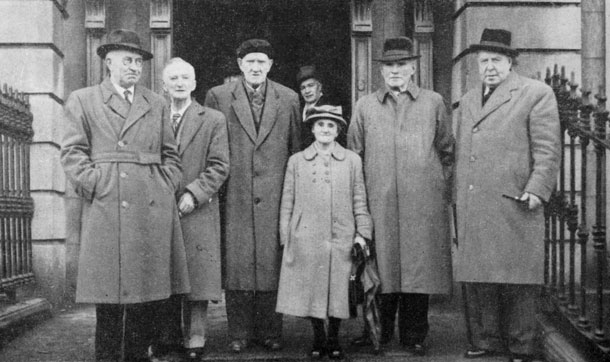 'No one was arrested. If it took 400 police to take four women, what would the newspapers say?'
THE NEW BRIDGE over the Liffey in Dublin near Liberty Hall is to be named in memory of Irish Citizen Army veteran and trade unionist Rosie Hackett. For many it was a surprise result – James Connolly and Bram Stoker were just two of the names considered to be frontrunners, so just who was Rosie Hackett?
Born in 1893 in the tenements of Bolton Street of north inner city Dublin, Rosie began working in Jacob's biscuit factory as a teenager. A member of James Larkin's Irish Transport and General Workers' Union (ITGWU) she and her fellow workers went on strike in 1911 in support of the workers in the bakehouse demanding better pay and conditions. Conditions in the bakehouse at the time were described by Jim Larkin as being so bad that they were "sending the biscuit workers from this earth 20 years before their time".
She was active during the Lockout of 1913, both on the streets and helping poor families, by running the soup kitchens in Liberty Hall. She was present on Bloody Sunday 1913 when 300 strikers were injured and two killed during a Dublin Metropolitan Police attack on the union rally on O'Connell Street as James Larkin began to speak.
Having lost her job due to her involvement in the Lockout, she began working in a manufacturing cooperative established in Liberty Hall to provide work for other women who had lost their jobs. Active with James Connolly's Irish Citizen Army she was highly trusted and often given confidential tasks. This included printing the 1916 Proclamation which would later be read aloud from outside the GPO by Pádraig Pearse. She reportedly handed the first copy, ink still wet, to James Connolly.
During the Easter Rising she was a nurse with the Citizen Army battalion under the command of Michael Mallin and Constance Markievicz in St Stephen's Green and the Royal College of Surgeons. Stationed in the first aid post in the park she recalled:
"It was very exciting there. We were under heavy fire from late on Monday evening. Even when we marked out the first aid post with a red sign they did not recognise it and kept firing at us."
She aided many of the wounded, including the Scottish-born radical Margaret Skinnider, the only female combatant injured during the uprising. Skinnider, who was wounded leading an assault on British Army positions, was mentioned three times in dispatches to the Provisional Government for her bravery. After the surrender Rosie was arrested and brought to Kilmainham Jail, where she was held for 10 days before being released. She immediately plunged back into her trade union activities as well as setting up organisations like Fianna Saoirse "to try and keep things going".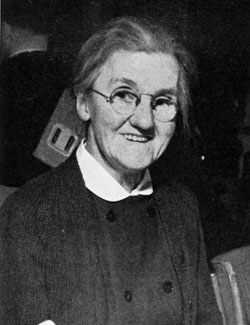 On the occasion of the first anniversary of James Connolly's death, a banner with the words "James Connolly murdered, May 12th 1916" was hung from Liberty Hall. It was quickly removed by the police. In response, Rosie Hackett and Helena Moloney printed up the same banner and hung it from the roof with Tricolours at each end. They barricaded the doors shut and it took 400 police over an hour to remove it. Speaking to the Bureau of Military History, she said:
"I always felt that it was worth it, to see all the trouble the police had in getting it down. No one was arrested. Of course, if it took 400 police to take four women, what would the newspapers say?"
After the Treaty in 1921, she continued her trade union activities and helped re-establish the Irish Women Workers' Union which at its height in the 1940s organised 70,000 women. In 1970, she received a  gold medal in recognition of her 60 years of service to the Irish trade union movement. She passed away in 1976 at the age of 84. She was buried in Glasnevin Cemetery with full military honours.
In her closing remarks recorded by the Bureau of Military History, Rosie said:
"Historically, Liberty Hall is the most important building that we have in the city. Yet it is not thought of at all by most people. More things happened there, in connection with the Rising, than in any other place. It really started from there."
It is only fitting that the new Rosie Hackett Bridge – the only River Liffey crossing named after a woman – joins the capital together in the shadow of that historic building which she was so closely associated with.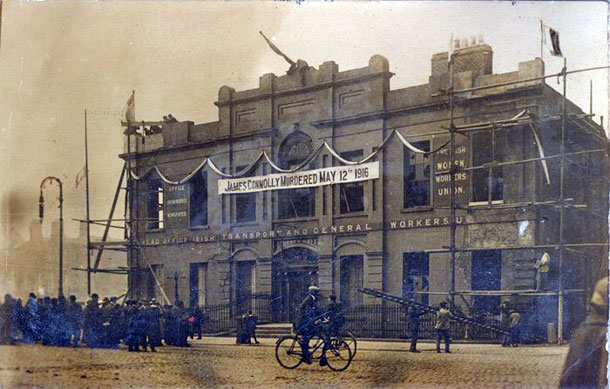 •  A banner in memory of James Connolly is draped from Liberty Hall in 1917 by a group of trade unionists including Rosie Hackett and Helena Moloney