29 September 2013 Edition
Homelessness – 'Out of control'
Peter McVerry Trust annual report shows number of homeless people has incresed 100% since 1996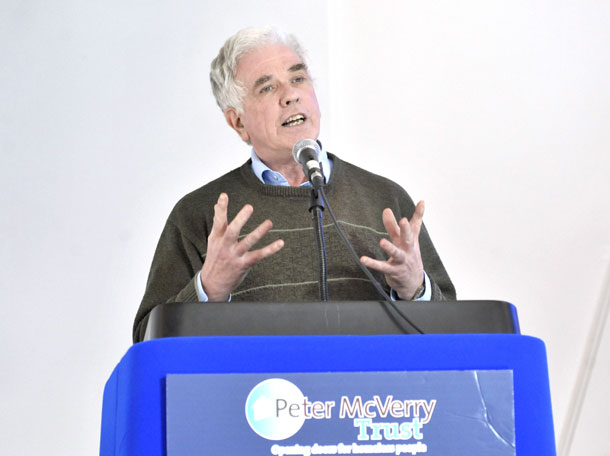 Dessie Ellis, who regularly volunteers with a soup-run for those sleeping rough in Dublin City, says the last five Budgets have made things worse
PETER McVERRY says he looks forward to the day when he can introduce his Trust's annual report for the very last time and simply announce that the problem of homelessness has been solved.
"The reality is very different," he told An Phoblacht. "After 30 years of working to eliminate homelessness, I believe the problem is now worse than ever, perhaps even out of control."
Fr Peter began working with homeless young people in the Summerhill area of north inner city Dublin in 1974. Five years later, he opened a small hostel to provide temporary accommodation. This was followed by setting-up his charity, the Arrupe Trust, now known as the Peter McVerry Trust, which provides a wide range of services ranging from emergency temporary accommodation, under-18s residential services and drug rehabilitation services.
The just-published annual report highlights that homlessness has doubled since 1996 while there has been a 100% year-on-year increase in the number of homeless people accessing the various drug treatment services provided by the Peter McVerry Trust.
Fr Peter says homelessness is a political problem that needs to be tackled by the Government.
"It cannot be solved by charities alone. Ultimately, the problem of homelessness can only be solved by providing homes for homeless people and that is the responsibility of the Government."
Sinn Féin Housing spokesperson Dessie Ellis TD agrees. He told An Phoblacht that, while he accepts that the Government also recognises this as a political problem, "they are unwilling to make the choices which would help reach their target of ending long-term homelessness by 2016 and are instead focusing on the right rhetoric but not the right policies".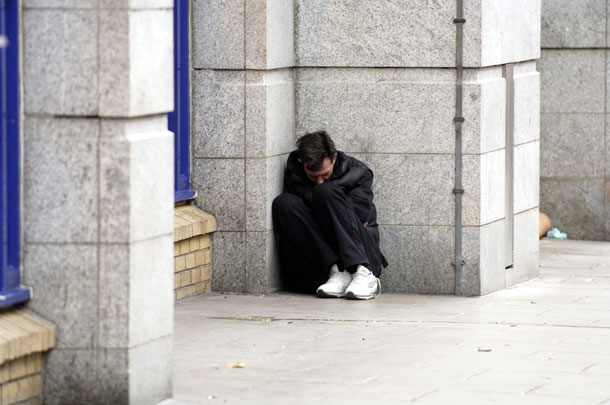 • 'Without a home, it is not possible to live a life with dignity' – Fr Peter McVerry
Dessie, who regularly volunteers with a soup-run for those sleeping rough in Dublin City, also says the last five Budgets have made things worse.
"They have cut savagely from the housing budget supports for people experiencing homelessness and social protections to people vulnerable to homelessness. More than €1billion has been cut from the housing budget as need soars to a record high of over 110,000 applicants."
He says the Government has offered no real solution to the fact that there is simply not enough housing available for those in need.
The key issue, says Peter McVerry Trust CEO Pat Doyle, is the Housing First initiative:
"Securing housing as the first step provides a stable platform from which homeless people can access support in relation to the many other challenges that often present in their lives.
"Access to a place you can call 'home' is a fundamental right," says Fr Peter. "Without a home it is not possible to live a life with dignity."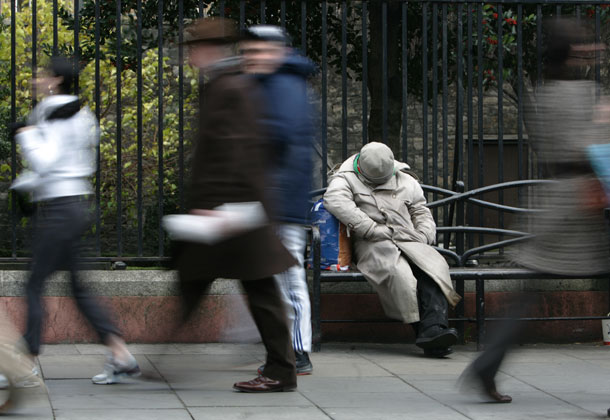 Homelessness in numbers
5,000 (estimated) homeless people in the Irish state
74% of homeless people accessing services are between the ages of 18 and 35
80% of PMVT users are male and 20% female
1,708  people provided with temporary emergency accommodation by Peter McVerry Trust in 2012
20 children between 13 and 18 accessed Peter McVerry Trust residential services
420 people accessed Peter McVerry Trust drug rehab services
57,000 hot meals were provided by the Peter McVerry Trust throughout 2012
Source: Peter McVerry Trust Annual Report 2012