16 August 2013
Altered Images – Whose truth is it anyway?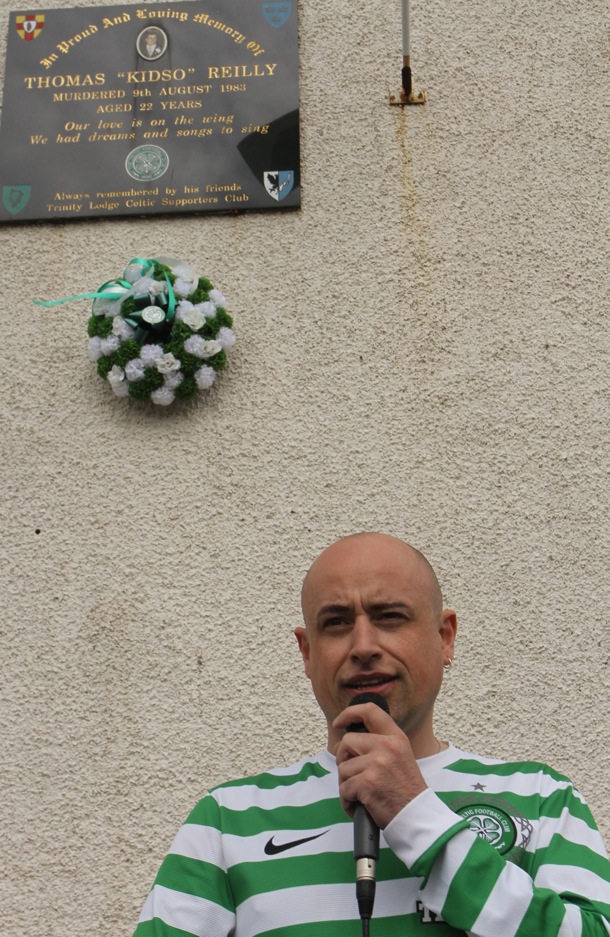 Fleet Street says life should mean life but the British soldier convicted of murder was spirited out of prison within 22 months and reinstated in his regiment
I ATTENDED a commemoration event on Friday 9 August with family and friends at the memorial near his home to mark the 30th anniversary of the death of Thomas 'Kidso' Reilly, shot in the back and killed by a British soldier.
The circumstances of this young man's death are 'controversial' or 'disputed', as the media would say.
Naked except for a pair of shorts, the 22-year-old was shot in the back. He was not armed. He was defenceless. He posed no threat to anyone yet he was gunned down without mercy.
That was on 9 August 1983.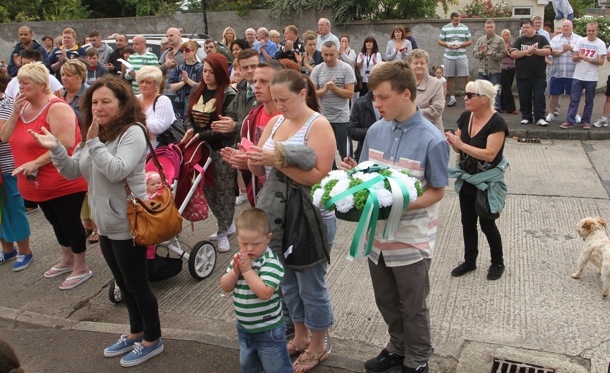 ● Part of the crowd at the commemoration for Kidso
Thomas 'Kidso' Reilly – a road manager for several pop bands – was gunned down by Ian Thain.
Thain, a professional killer in the British Army's Light Infantry regiment, made history in 1984 when he became the first British soldier to be convicted of murder while on active duty in the North.
He was given a life sentence at the height of the conflict when, according to the likes of The Daily Telegraph or The Sun, life should mean life.
Thain need not have worried.
He was spirited out of prison within 22 months on licence and reinstated in his regiment.
Of course, 'Kidso' Reilly not only lost his life at that time, he lost his identity.
He suddenly became the road manager for pop group Bananarama and stopped being the son of Jim and Bridie Reilly from Turf Lodge in west Belfast.
If it were not for the mainstream media's obsession with celebrity and pop culture, Kidso's death at the hands of this British soldier might well have been brushed under the carpet like the 450 or so other state forces killings.
Wreaths were sent to Kidso's funeral by Depeche Mode, The Jam, and Spandau Ballet.
Clare Grogan from Altered Images sent a wreath.
The Altered Image of justice in the North is that all the 'evil doers' were sent to Long Kesh for their 'crimes'.
Those on the side of 'righteousness' sat in their ivory towers (i.e. media studios) and condemned 'the terrorists'.
Yet not one British soldier or RUC member spent a day in Long Kesh and only four British soldiers were ever convicted of a conflict-related killing.
So in the midst of the false debate over Long Kesh peace and reconciliation centre supposedly becoming 'a shrine to terrorists', we should remember that those who carried out the Bloody Sunday killings, the Ballymurphy killings, the Whiterock/Westrock killings, the New Lodge killings or who shot children Stephen McConomy, Carol Ann Kelly, Julie Livingstone and Majella O'Hare will only ever see Long Kesh on a postcard.