5 August 2013
Hunger Strike Commemoration – The revolution has always been in the hands of the young
The Hunger Strikers – Young men who gave so much
The other people in the room covered the spectrum of ages of the ten men who died in Long Kesh in 1981 – not one had reached their 30th birthday
A FEW WEEKS AGO at a press meeting, when I mentioned that we would need to factor into local areas that the National Hunger Strike Commemoration would be held in Monaghan on 4 August, I was asked by a comrade:
"What was it like during the Hunger Strikes?"
I realised that, out of the half dozen or so people in the room, I was the only one that was old enough to have lived through the Hunger Strikes.
I also realised that the other people in the room covered the spectrum of ages of the ten men who died in Long Kesh in 1981 — not one had reached their 30th birthday.
I looked at the youthful faces and wondered how people of similar ages had the courage to embark on strategy that would lead them to death, and would also defeat the British Government's policy of criminalisation and eventually lead to the defeat of their imperialist policies in Ireland.
"It was a sad time," was all I could muster in reply for although we commemorate the 32nd anniversary this year it is still like yesterday in many people's minds, such was the magnitude of the event. I don't think anyone could recall all the emotions of that period in one answer.
There were the highs of the resolution of the first Hunger Strike (in 1980) before anyone died was to be replaced by despair and anger as the British reneged on the deal. Then came the pride — overladen by nervous anticipation — in the determination of the prisoners in fighting back by announcing the second Hunger Strike, then the elation at the election of Bobby Sands as an MP and Kieran Doherty and Paddy Agnew as TDs, only to be replaced by helplessness as the Irish Government and others abandoned Irish citizens to the vindictiveness of Margaret Thatcher followed by the sorrow as our prisoners died one by one.
The ten men are now longer dead than they were alive but their spirits live on today and will forever in the psyche of the Irish nation.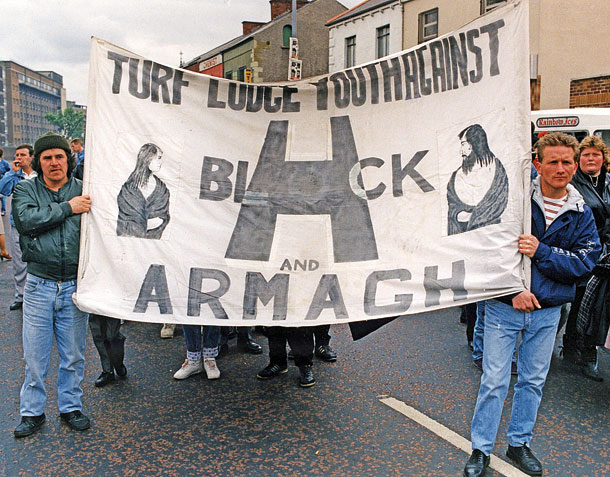 • An original banner from the Anti H-Block campaign is carried on a tenth anniversary commemoration of the 1981 Hunger Strike
Today we are in a better place than 1981, where republicans still stand proud of our history, where we sit as equals in Europe, the Seanad, Dáil, Assembly and local government throughout Ireland.
We have never been stronger or as confident of victory as we work toward the New Ireland that the people on this island deserve.
Our movement now has many people within its ranks who were not born or who were too young to remember the Hunger Strikes but the spirit of Bobby Sands, Francis Hughes, Ray McCreesh, Patsy O'Hara, Joe McDonnell, Martin Hurson, Kevin Lynch, Kieran Doherty, Tom McElwee and Mickey Devine continues to guide them in developing the politics that will deliver that New Ireland.
The republican revolution has come through many stages since Wolfe Tone and the United Irishmen and Irishwomen raised the standard of equality as a guiding principle for delivering freedom for everyone on this island, and as I look at the young people in the party today there is a sense of pride knowing that this generation will finish the job.
A well-educated, articulate generation, free from the scars of sectarian domination, repression and war are taking up leadership positions across the island and doing a great job.
Sometimes when people ask about the Hunger Strikes they want to hear stories of resistance as opposed to revolution as 'the smell of cordite' is always good for holding an audience's attention.
But you don't need to have a rifle in your hand to be a revolutionary and the ten Hunger Strikers proved that.
They are the inspiration to the many young people involved in Sinn Féin who are proving their revolutionary credentials throughout Ireland by championing the rights of minorities, opposing austerity and standing strong for their communities.
The Hunger Strikers were all young men, leaders and an inspiration so it is important that we allow the young people in the party the space to be leaders, to inspire and take our revolution to the next step without smothering their enthusiasm.
When republicans gather in Monaghan Town and pay our respects to the H-Block martyrs and all those other brave republicans who died on hunger strike or in other ways in the struggle for Irish freedom, we also recognise the strength of our youth in bringing about monumental change.
H-Block Martyrs

IRA Volunteer Bobby Sands (aged 27, born Belfast) 9/3/1954 – 5/5/1981 (after 66 days)
IRA Volunteer Francis Hughes (aged 25, born Derry) 28/2/1956 – 12/5/1981 (after 59 days)
IRA Volunteer Raymond McCreesh (aged 24, born Armagh) 25/2/1957 – 21/5/1981 (after 61 days)
INLA Volunteer Patsy O'Hara (aged 24, born Derry) 11/7/1957 – 21/5/1981 (after 61 days)
IRA Volunteer Joe McDonnell (aged 29, born Belfast) 14/9/1951 – 8/7/1981 (after 61 days)
IRA Volunteer Martin Hurson (aged 24, born Tyrone) 13/9/1956 – 13/7/1981 (after 46 days)
INLA Volunteer Kevin Lynch (aged 25, born Derry) 25/5/1956 – 1/8/1981 (after 71 days)
IRA Volunteer Kieran Doherty (aged 25, born Belfast) 16/10/1955 – 2/8/1981 (after 73 days)
IRA Volunteer Thomas McElwee (aged 23, born Derry) 30/11/1957 – 8/8/1981 (after 62 days)
INLA Volunteer Mickey Devine (aged 27, born Derry) 26/5/1954 – 20/8/1981 (after 60 days)
An Phoblacht Magazine
AN PHOBLACHT MAGAZINE:
Don't miss your chance to get the second edition of the 2019 magazine, published to coincide with Easter Week
This special edition which focuses on Irish Unity, features articles by Pearse Doherty, Dr Thomas Paul and Martina Anderson.
Pearse sets out the argument for an United Ireland Economy whilst Pat Sheehan makes the case for a universally free all-island health service.
Other articles include, 'Ceist teanga in Éirinn Aontaithe', 'Getting to a new Ireland' and 'Ireland 1918-22: The people's revolution'.
An Phoblacht on Twitter

An initiative for dialogue 
for reconciliation 
— — — — — — —
Contributions from key figures in the churches, academia and wider civic society as well as senior republican figures