30 July 2013
Gardaí closed ranks over brutality claims by students, says watchdog
Five gardaí batoned students in sit-down protest against fee rises
'How can the public have any confidence in the Garda if they delay and mislead a public watchdog?'
AN Garda Síochána provided misleading and inaccurate information during an investigation into the conduct of their members at a student protest in Dublin three years ago, the Garda Ombudsman says.
40,000 students marched on Leinster House on 3 November 2010 against plans to increase student registration fees. A number of students occupied the lobby of the nearby Department of Finance on Merrion Row (below right) while hundreds of others gathered outside to support the action.
Garda riot squads using batons and police dogs alongside mounted units moved against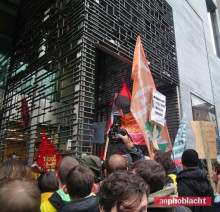 the crowd, resulting in dozens of injuries.
Footage uploaded to YouTube and later broadcast on RTÉ News showed sit-down protesters being batoned while on the ground.
The Ombudsman's report confirmed that at least five gardaí used their batons on the sitting crowd. Forty separate official complaints were lodged over the conduct of gardaí during the protest, most of which said gardaí had used excessive force.
The Ombudsman's investigation also criticised An Garda Síochána for delays in submitting statements and helmet-cam footage. Much of the evidence was not initially disclosed to the investigation and only submitted almost two years later following protracted correspondence. The Ombudsman's office said these delays hindered their investigation.
The report also said insufficent evidence had been submitted to help identify gardaí who had used their batons and may have been subject to allegations of misconduct.
In what was obviously an attempt by individual members of the force to conceal their identity, the report notes that many officers could not be identified as they were not displaying their uniform shoulder numbers or proper identification (as required under Garda Operational Orders). Other evidence submitted by An Garda Síochána was described as 'misleading' and 'inaccurate'.
Speaking to An Phoblacht, Sinn Féin Justice spokesperson Pádraig Mac Lochlainn TD said:
"This is yet another instance which raises serious concern about the conduct of An Garda Síochána. How can the public have any confidence in the Garda if it delays and misleads a public watchdog?"
Meanwhile, the Union of Students in Ireland (USI), which had organised the main demonstration, has apologised to those protesters who broke away from the march to peacefully occupy the Department of Finance. The USI had initially condemned those students but withdrew this criticism this week, saying: 
"USI would like to use this opportunity to officially withdraw that prior position. The actions of the gardaí on the day ran contrary to proper and safe policing. Rather than effectively handling the events as they unfolded, the actions of some gardaí instead lent to an exacerbation of the situation."
• Riot gardaí move down from Merrion Row to St Stephen's Green
An Phoblacht on Twitter

An initiative for dialogue 
for reconciliation 
— — — — — — —
Contributions from key figures in the churches, academia and wider civic society as well as senior republican figures