25 July 2013
Martina Anderson MEP backs repatriation call for Michael Campbell
Lithuanian prison conditions have been criticised by Amnesty International and the Council of Europe's Committee on Prevention of Torture
SINN FÉIN MEP Martina Anderson has signed the petition calling for the repatriation of Michael Campbell from Lithuania to a prison in Ireland as a human rights issue.
"I believe that the conditions in which Michael Campbell is being held do not comply with the humane standards in which prisoners anywhere should be held," Martina Anderson says.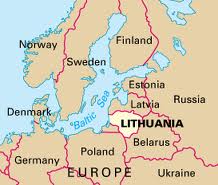 Michael Campbell was sentenced in December 2012 to 12 years' imprisonment for allegedly attempting to purchase weapons for a 'dissident republican' organisation. He is now in his sixth year in a Lithuanian prison. During this time he has endured inhumane and degrading conditions, the Sinn Féin MEP says, adding:
"Signing this petition is not an endorsement of the alleged activities for which Michael Campbell is imprisoned.
"The fact that these inhumane and degrading conditions are prevalent in Lithuanian prisons has been confirmed in reports by representatives of Amnesty International and the Council of Europe's Committee on Prevention of Torture, among others.
"Both Article 3 of the European Convention of Human Rights and Article 5 of the Universal Declaration of Human Rights prohibit 'inhuman and degrading treatment'. It has been established that the conditions in which Michael Campbell is being held breaches both these conventions. These degrading conditions include poor sanitary provision, lack of adequate nutrition and a constant and serious threat of violence.
"It is only right, therefore, that we support the petition to have Michael Campbell repatriated to Ireland so that he can serve out the remainder of his sentence close to family and friends. This is a basic human rights issue."