27 August 2010
Facing down the gangland killers
BY DECLAN KEARNEY | Sinn Féin National Chairperson
DUBLIN neighbourhoods are under a continuous assault by the gangland warfare scourging the city.
The relentless cycle of gangland killings and shootings, the increasing forensic sophistication of the killers, and inability of the gardaí to combat their activities points to the level of deeply-entrenched, home-grown organised crime in the city.
The hub of this is the illegal drugs trade.
The huge profits involved generate an extraordinary willingness to take risks and to take lives and to both disregard and disrespect every norm of human decency and dignity. The corrosive and corruptive influence of such opulence has, in other states, infiltrated agencies of the state itself, including the police.
There is evidence already that members of the Garda and the Defence Forces have succumbed to such corruption. Tackling that reality has now also become integral to the challenge facing this society.
The turf wars and vendettas which inevitably grow out of these criminal underworlds are being routinely played out in depressed and working-class neighbourhoods. Contract killings have now become facts of life across the capital. Few neighbourhoods have escaped the internecine feuding.
The origins of the ongoing feuds stem from fall-outs over drugs and weapons consignments, and the control of the gangs. This has involved a number of individual criminals who previously masqueraded as republicans. In more recent times, some of these criminal gangs have tried to insinuate links to republicanism. No republican is involved or associated with, any criminal activity, including gangland killings, drugs, extortion or illegal security work and debt collection.
Sinn Féin's position is unambiguous: it is one of zero tolerance. All criminal gangs need to be put off the streets, regardless of whether their degenerate activities occur in Dublin or Derry, Limerick or Larne, or Blanchardstown or Belfast.
A series of contract killings have most recently spiralled in the inner city and Finglas, matching the savagery of the continuing gangland feud in Crumlin and Drimnagh. But the social consequences of the attacks run deeper still. The collateral devastation left in the wake of these atrocities has to be carried by the local communities.
The gangs involved appear to operate with impunity; and Garda resources are clearly insufficient to successfully deter or end their activities.
There is a need for courageous political leadership in these circumstances and in particular within the neighbourhoods most directly affected.
Fianna Fáil, Fine Gael and Labour demonstrate the same indifference to this crisis of criminality which they showed to the white-collar and economic gangsterism of the bankers and developers.
Real political leadership needs to be provided in times of crisis. Sometimes that means being prepared to step into the eye of the storm. Standing on the sidelines isn't an option.
Proud historic communities in Dublin are being plagued by the escalation in gang violence. The place for Sinn Féin activists to be is up on the frontline, standing alongside those same communities, facing down Dublin's gangs. Sinn Féin's priority is to act robustly in defence of the right to community safety and ensure that the Gardaí deliver effective policing while the Office of the Director of Public Prosecutions produces effective prosecution strategies. 
Our engagement with the Garda and criminal justice agencies in the 26 Counties needs to secure commitment for implementing improved Garda neighbourhood, crime prevention and detection, policing strategies, methods which close down the gangs and their associates, whilst empowering local communities to initiate localised community safety schemes. And this has to be parallel to Sinn Féin's ongoing work to encourage drugs rehabilitation initiatives, community-based social programmes and both mainstream and detached youth projects.
Community safety needs to be central to an overall policy step-change which prioritises investment in education provision and job creation. The objective must be to fundamentally change the conditions within which our most disadvantaged communities are forced to live.
Multi-agency strategies are essential to putting all of this into place. But, ultimately, the political resolve must exist and the appropriate levels of resources need invested to increase the detective proficiency of the Garda in bringing forward quality, evidence-based and successful prosecutions.
In the coming period, republicans' focus must be upon providing fearless political leadership and taking bold initiatives, building the confidence of local communities and encouraging maximum support for the Garda's efforts.
Sinn Féin pioneered the debate on the need for a new beginning to policing across Ireland. Our critical engagement strategy has permanently changed policing in the North and set the standard with respect to the absolute right of community safety. That work needs to intensify in the Six Counties - continuing to reform the criminal justice system and conduct of policing itself - particularly with the transfer of policing and justice powers to the Executive. But eradicating criminality is also a national priority.
A political lead against the crime lords is required in Dublin. That will mean delivering a new quality of leadership that is tough on the causes of crime and equally tough on criminality itself. Crime and community safety are touchstone issues in modern-day Ireland. The bankers and gombeenmen and gangland killers and drug dealers are flip sides of the one coin. Sinn Féin is absolutely clear: criminality in all its forms, by direct involvement or association, has no place in Irish society.
Irish republicans have a history of courageous resistance against British occupation, of tenacity during political negotiations, and unrivalled commitment of standing up for the rights of citizens, North and South. All that must now be channelled into mobilising active support for the citizens and communities affected by gangsterism and in political opposition to Ireland's gangland killers.
Actions that can fight crime Practical proposals by Sinn Féin
JURIES & WITNESSES: Introduce practical protections. Explore allowing anonymity and segregation of juries or relocation of trials in certain circumstances;
WITNESS PROTECTION PROGRAMME: Develop a revamped, full-spectrum programme on a statutory footing;
SPEED UP TRIALS to reduce the windows of opportunity to intimidate and threaten witnesses;
SURVEILLANCE ACT ENHANCED TRAINING for all relevant law enforcement officers to achieve sound convictions;
END RECRUITMENT EMBARGO AND OVERTIME BAN;
CIVILIANISE all 'back office' roles where possible to release fully-trained gardaí for frontline crime fighting;
GARDA DRUGS UNITS FUNDING increased;
ENHANCED COMMUNITY INPUT into Garda Drugs Units' use and priorities;
INDEPENDENT OVERSIGHT OF INFORMER HANDLING to prevent situations where informants are allowed to amass a criminal
empire because of their relationship with gardaí;
GARDA VISIBILITY and activity in areas experiencing chronic drug problems;
MORE SNIFFER DOGS and handlers skilled in the detection of drugs and firearms;
INTELLIGENCE GATHERING capacity of An Garda Síochána enhanced and strong links between Garda and the communities they serve;
'DIAL TO STOP DRUG DEALING' confidential phoneline to be guaranteed;
PROFILING & PROSECUTION services to be properly resourced, including Director of Public Prosecutions Office, Courts Service and Forensic Science Laboratory at Garda HQ;
SECURE DIGITAL RADIO SYSTEM.
Breaking the grip of drugs and gangs
WHETHER it is in Dublin or any other city on the island, illegal drugs have in recent years tightened their grips on many communities - and it's the drugs trade that is fuelling and financing the criminal gangs.
The Celtic Tiger years brought with it an abundance of cash and drugs and increased the stranglehold on working-class communities already ravaged by the heroin trade in the 1980s. Illegal drugs and their consequences can be found in every strata of Irish society and I have called time and again for the Government to approach this in a multi-faceted way. 
When Foot and Mouth Disease threatened the fabric of Irish agriculture in 2001, the government of the day moved heaven and earth to the tune of €209.65m to eliminate the problem. 
I believe the threat to Irish society of the gangland wars in Dublin, Limerick and beyond are of such a scale now that it is only through such a co-ordinated approach that we as a society can re-establish the norms. It is not just a law and order approach that's needed; that alone will not and cannot work as it doesn't address the demand for drugs, those thousands of young and not-so-young people who are caught in addiction.
It wouldn't either address the failures of successive governments to tackle areas of disadvantage, where much of the murderous trade of the drug gangs is carried out.
It wouldn't focus on the need to properly educate the public, young and old, about the dangers of drugs, the consequences of them and how to deal with it.
Obviously, there is an international dimension but we are an island nation and that gives its own advantages when tackling such issues. The all-Ireland co-operation during the Foot and Mouth crisis showed how to approach a crisis of that scale - the drugs crisis is much, much worse. No shipment of any type moved in this country during the Foot and Mouth crisis without being washed down. Remember each and every drug shipment caught by An Garda Síochána or Customs and Excise has included weapons of a calibre that the IRA would have been glad of during its war with the British Army, such is the desire of drug gangs to protect their profits and their recklessness in retaliating against rival gangs, often resulting in innocent citizens being targeted or being caught in the crossfire. Their armoury has included grenades, rocket-propelled grenade launchers, handguns, rifles and fully automatic submachine guns. 
The gangs in questions are a loose amalgamation of various individuals who have no loyalty to anyone but their profits and who believe because of the drugs they are taking and the sensationalist media that they are invincible. They are not invincible. And there is a challenge for community leaders to rebuild our communities away from the drugs and gangland culture that has gripped areas of the country. Some of this will involve talking to the families and individuals involved to try and wean them away from their insidious activities. Many will have to go to jail for their crimes, and it is here that the time in jail must be used to educate and train them to play a positive role in society in the future. And, importantly, there has to be a massive increase in the rehabilitation supports available to addicts to help them and their families rebuild their lives.
The Government should, as in the case of Foot and Mouth Disease, look at this as an investment - an investment which, if done properly, will pay dividends in the future: fewer deaths, less crime, fewer addicts, less hospital costs, fewer prisoners and a better society for all.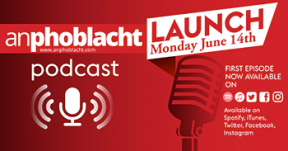 An Phoblacht on Twitter

An initiative for dialogue 
for reconciliation 
— — — — — — —
Contributions from key figures in the churches, academia and wider civic society as well as senior republican figures